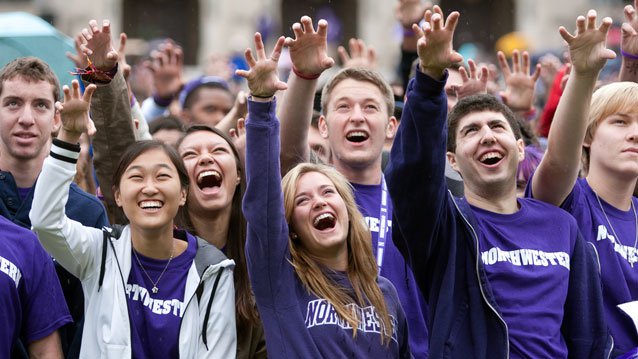 1. You call the Starbucks in Norris, "Norbucks"

If you call the Starbucks in Norris by it's brand name, Northwestern Wildcats will be confused. Norbucks is the place to study, to meet people, to conduct interviews, and yes, drink coffee. It's a place to hangout or to accidentally nap at.
2. Morty is bae

Oh, Morty. Morton O. Schapiro is the sixteenth president of Northwestern University, first assuming the role in 2009. Since then, he has gained the infamous nickname of Morty, and it seems as though every Northwestern student has a love for the president. Chants of Morty erupt whenever he takes the stage for a speech.
3. You know what Dillo Day is

Dillo Day: one of the few enjoyable days at the end of each academic year. At the end of May, Northwestern hosts a music festival that brings big names such as B.o.B. and Nelly to preform for Northwestern Wildcats and others. Between the upcoming finals and the end-of-the-year stress, it's a stress-free day that many Wildcats look forward to.
4. You've painted the rock

The rock is one of the longest standing Northwestern traditions. Originally a fountain, the rock evolved into a epic tradition where students will guard the rock for twenty-four hours before having the privilege to paint it. Many students use it as an advertisement piece, and it is only the bucket list of many Northwestern students before they graduate.
5. You've participated in the Dance Marathon

The Northwestern University Dance Marathon (NUDM) takes place in March every year. Students participate and dance for thirty hours in order to raise money for charity. This philanthropic event is a long-standing Northwestern tradition and one that about a quarter of the undergraduate class participates each year.
6. You know the fight song by heart

During Wildcat Welcome each year, the Northwestern incoming class and transfers struggle together to learn the Northwestern fight song from their Peer Advisors (PAs) and the Wildcat Welcome board. By the second or third football game, the Northwestern class can sing together and root for their Wildcats!
7. Willie the Wildcat is your spirit animal

Willie is such a welcome site. Whether he be at tailgates, football games, basketball games, or other recreational sports or university events, Willie embodies the Wildcat spirit in one sweaty costume. You go, Willie. We're all rooting for you.
8. You embody Purple Pride

It is such a comforting feeling to walk through campus and be surrounded by purple. I may be a little biased since my favorite color is purple, but purple is Northwestern. A purple sea is what I love to see (channeling my inner Dr. Seuss).
9. The "Primal Scream" is a weathered pastime

Every Sunday before finals week, stressed Northwestern students all scream together to release stress and get away from the studying for a while. It's a Northwestern tradition that most wildcats have participated in.
10. You marched through the arch

Besides the tradition of walking through the Weber Arch during Wildcat Welcome week, most Wildcats walk through the arch many, many times throughout their life at Northwestern. It is an entrance to the sprawling paths of the Northwestern campus, and a great spot for your parents to force you to take photos.
11. You've gotten lost in Tech

Northwestern's Technological Institute is the second largest low-rise building (the first being the Pentagon) based on square-footage. It's easy to see how students could get lost in the massive building. The twisting halls and many rooms make it hard to find classes, but with time, even the impossible Tech becomes less of a maze.
12. You've walked down Sheridan enough times to encircle the globe

Sheridan Road is the major road for Northwestern University. The campus is split right on the road, and most of the large buildings require students to cross Sheridan. Students seem to walk the road so much that they can travel the world with how much they've walked.
13. You struggle with north/south campus division

Most students who are in engineering/science tend to house on north campus, since most of the classes are in buildings that are on north campus. Most students on south campus are in journalism or theatre since most of their classes are on south campus. As you can see, many students don't cross into their opposite campus that much, which means students will interact with the same half of the student body.
14. You're a Wildcat at heart

No matter the calling cards, Northwestern students are Wildcats at heart. We love our school (most of us), we love our purple pride, and we love being Wildcats.
---
---
Related Articles