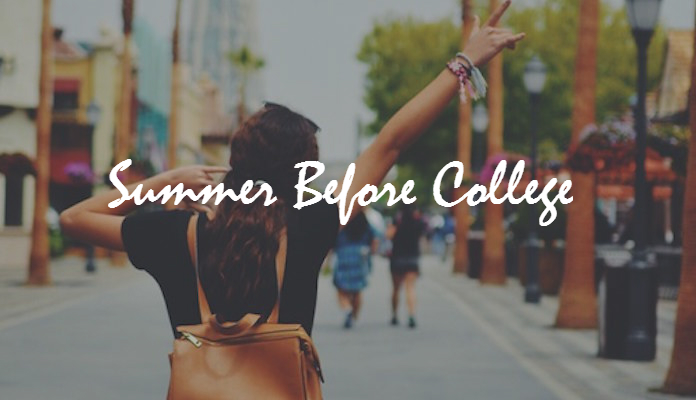 Congratulations! The hard part is over! You're about to start a new, exciting stage in your life so make sure you give your old life a proper send off! There are a few things you should do before you start college in preparation for the big change.
1. Work for Some Cash…And Quit
You don't want to end up starting the new stage of your life empty handed. Textbooks are expensive and living on your own can mean buying your own food and supplies for day to day living. Plus, it's always nice to have some money in the bank for emergencies or self-indulgent mini splurging. Just don't forget to leave on good terms so that you have somewhere to work next summer.
2. Spend Time with Your Family and Pets
You might think you won't miss your family and your annoying siblings, but being far from home really takes its toll when you're forced into independence. Take this time to really enjoy their presence! Don't forget to take a lot of pictures of your pets so you can look through them when you're feeling homesick!
3. Hang Out with Your Friends
It can be hard to keep in touch with your old high school friends, especially when the semester gets going. Plan a road trip with just you and your pals so that you can make cherished memories. College means summer internships and studying abroad so who knows when you'll all be back home at the same time?
4. Catch Up on Books and Movies
It's a good idea to catch up on anything you've missed in the last eighteen years as a way of being current and up-to-date. It's also a good idea to go through those classics you didn't read in high school so that you're able to contribute to discussions amongst your peers. Also, it might be some time before you can read and watch movies at your leisure.
5. Read Up on Current Events
Starting college means starting your adult life, so you want to be informed about the decisions you'll be making. You also want to be able to partake in the inevitable political discussions. Reading up beforehand will allow you to develop your own opinions and make you appear knowledgeable to your peers. Professors will also, without a doubt, bring up current events in their lectures.
6. Research Your School
You want to really know where you're going to be staying for the next phase of your life so reading up on your school can be a fun and exciting way to prepare for the transition. It'll also lessen the blow of being a "freshie".
7. Explore Your City
If you live far away, it'll be a while before you can come back home. It's a good idea to explore your city as a way of saying goodbye. It's also a great way to connect with people who live where you do or nearby by being able to share common experiences.
8. Clean Out Your Stuff
This will make moving out a whole lot easier. You don't want to start packing and realize you have too much junk that you can't take with you but don't want to leave behind. Cleaning out your stuff also gives you peace of mind and helps you become more organized and aware of your belongings.
9. Reach Out to Your Roomie
You should receive your roommate assignments over the summer, so take this as an opportunity to find out who you'll be living with for the next year. You may not become best friends but having a good relationship with your roommate can be vital to your happiness at school.
10. Relax!
You did it! You got into college! You can take it easy for the summer. Go to the pool. Start that instrument you've always wanted to learn. Hang out with your friends and family. College will be great, but it'll also be very different and difficult at times. Take this time now to kick back for a few weeks.
---
---