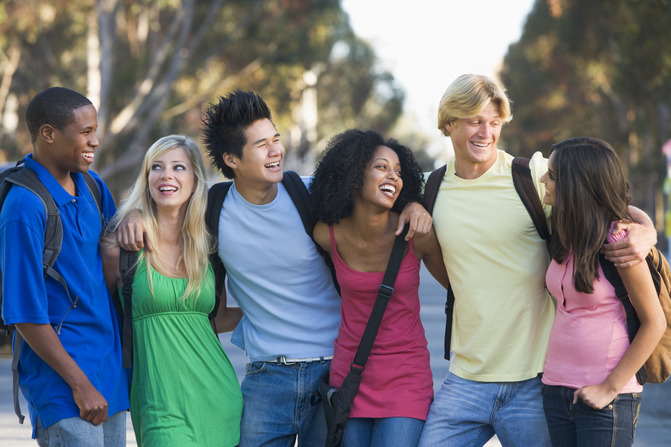 Yes, partying plays a huge role in the classic college experience. And sure, many of your classmates and friends would love nothing more than to throw down 'til the sun comes up. But you definitely don't need to party to have a blast at school. If you'd rather hang out on your own terms than navigate your way through a jam-packed basement, then you've come to the right place! Here are eight ways to make the most of your party-free night.
1. Play cards
Every group of friends should own at least one Cards Against Humanity deck. Seriously, there's enough hilariously grotesque material in that game to keep you crying tears of laughter for hours. Traditional card games more your style? Shuffle a deck and show everyone who the real Texas Hold 'Em champ is.
2. Initiate prank wars
I'm not suggesting you should coat all your floormates' doorknobs in peanut butter. (I've seen it happen before, and, well, let's just say the stunt wasn't well-received.) However, a prank war is the perfect way to kick your creative juices into high gear. My friend once rearranged my room and used my webcam to snap photos of himself modeling half my wardrobe. Top that.
3. Make a microwavable feast
Your microwave's going to get tired of nuking the same ol' bowl of oatmeal, so why not switch it up by swapping in some easy recipes? From mug cakes to ham, egg, and cheese cups, this dorm-approved cooking device is capable of producing a tasty variety of treats. Gather ingredients, invite your crew, and flex your culinary muscles!
4. Color!
If you're trying to find your footing following a particularly stressful week, look no further than the nearest box of crayons. You'll thank yourself for choosing to color your way through Friday night because coloring calms your mind (and gives your hands something to do while you binge watch Friends or Arrested Development).
5. Arrange a pickup game
Are you a sucker for sports? There's a strong chance that other students share your passion, so take advantage of this by posting an open call for pickup players on Facebook. You could also search the site or ask around to see if any existing groups are squaring off against one other.
6. Attend a concert or open mic
Hip hop. Punk rock. Coffee shop. Whatever your flavor, there's a venue waiting for you! Scope out nearby locations to see which musical acts will be gracing their stages throughout the semester. If small-scale performances are more your style, check for cafes and on-campus spots that host open mic nights.
7. Explore the great outdoors
The beauty of this adventure is that it could be pursued with or without a car. Have a set of wheels handy? Hit the road to venture into the suburbs surrounding campus. Journeying on foot? Embark on a mission to find as many parks, gardens, and other nature-y gems as possible. They'll make for fantastic study spots!
8. Blast your favorite childhood songs
Buried within you is an angsty middle schooler who would love nothing more than to jam out to Hillary Duff, the Black Eyed Peas, Jesse McCartney, and the rest of the 2000s' most memorable artists. Make that kiddo proud by pumping up your most cherished childhood tunes and dancing like no one's watching.
---
---
Related Articles