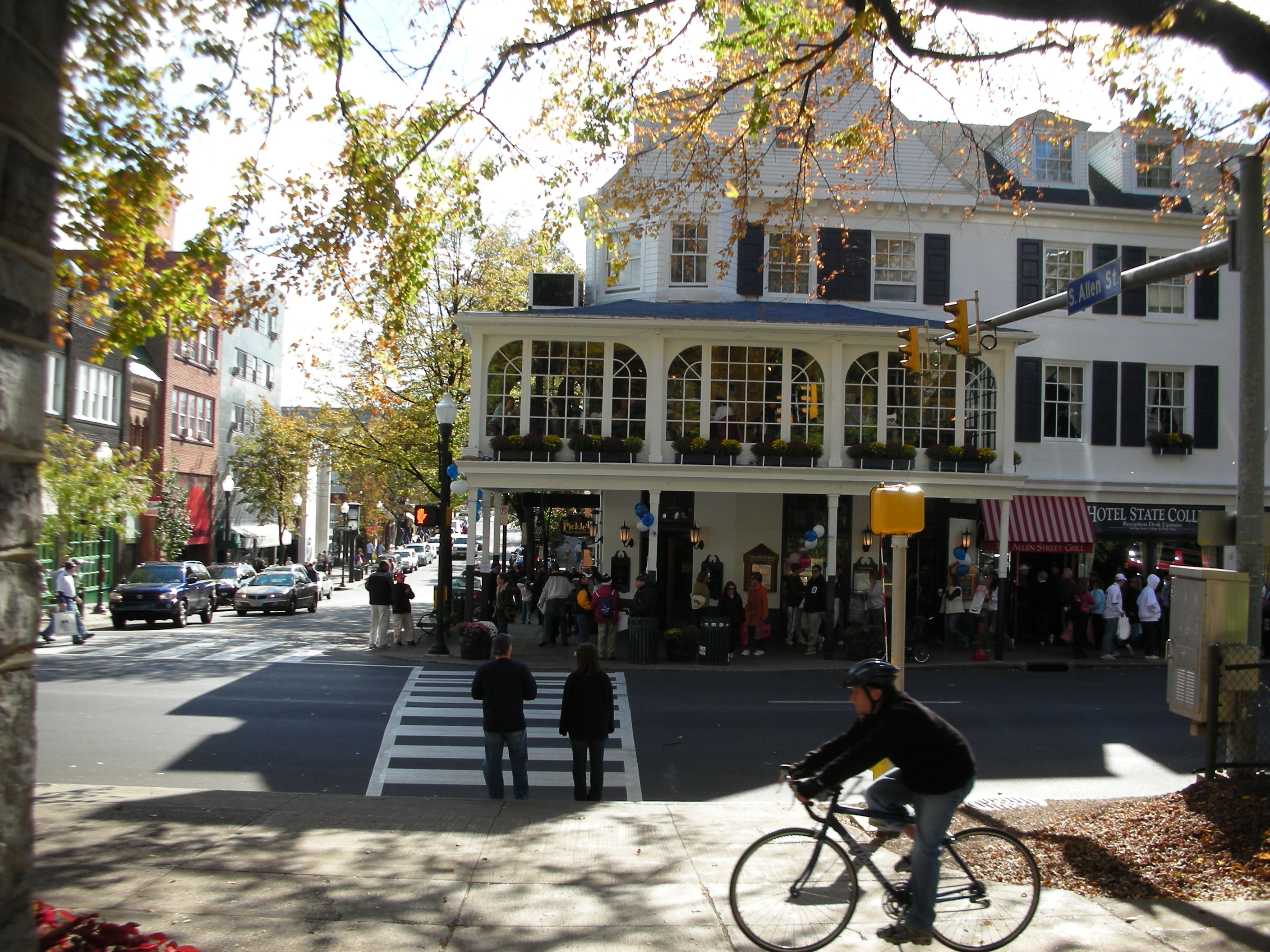 When it comes time to study, all students need to find the "go to" place to study and enjoy a fresh cup of coffee. Whether morning or evening, these café's really know what is up and show it with the extensive menu's, awesome atmosphere, and weekly events. Time to sit down and enjoy this list of 5 incredibly different and unique cafés, all located in the heart of downtown State College.
Saints Café
Saint's Café is easily the most picturesque café on this list. All the coffees are gourmet, and the lattes have the artsy hearts on the top. This place is sure to wow and surprise anyone that walks through the door. Whether it is a gourmet coffee, a tiny pastry, or a yummy tea, Saint's Café has what one needs, all located conveniently in a cute little coffee shop.
Webster's Bookstore
Webster's Bookstore is a huge place with a variety of weekly events. They also have a full menu of brews along with mouth-watering sandwiches. They have a library that features local artists, and even a weekly magician! This place is fun, exciting, and a great place to study if you can handle a little background noise. It is not the traditional café, but it is a great place to sit down and study with a group of friends.
Barranquero Café
The Barranquero Café, as the name entails, is a little different from the other cafés. This café serves a variety of cold teas, pour-overs, and regular coffee, along with some specialty food items. You can get a pastry here, muffin, or even an arepa which is sort of like a stuffed biscuit. This is by far the most interesting café on the list and shows it with its unique menu.
Café Verve
Café Verve is a great place for a quick bite of many vegan specialties. It has a variety of healthy sandwiches that are really interesting and unique. One may find a new favorite at Café Verve because the specials rotate weekly. It is a very interesting place to grab something to eat and maybe read a book or do some other work.
Sower's Harvest Café
Whether you are looking for a fruit smoothie, coffee, or a vegan specialty, Sower's has what you need. Sower's Café is great for studying because of its size. It is kind of small, but it feels very cozy inside. This is definitely a positive for some people! Instead of being at a big name brand coffee shop like Starbucks, Sower's has a great atmosphere that really would be great for anyone to study. Go try one of Sower's homemade pretzels today!
These five café's all have something different and special about them. They all put their own unique twist on an old breakfast favorite: a coffee. They all are located in different spots and share some similarities and differences helping to make them all their own. Stop by one of these shops today to find the next hidden gem!
---
---
Related Articles