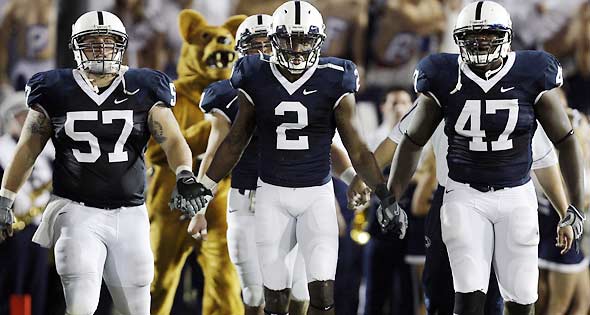 1. You hate winning
Penn State is known for their elite athletic programs and facilities. As the current Big Ten Champions and destined 2017 Rose Bowl victors, Penn State has just added its 100th Big Ten win to its collection. But we are more than football. Women's Volleyball holds the record for the longest consecutive winning streak; 119 back-to-back wins! They also grabbed 4 consecutive National Championships during "The Streak" to top it off. Men's Hockey is sitting at the #3 spot, and was described by Michigan as being a tougher opponent than the notorious Boston College.
2. Fun is just not your thing
With a part at almost every frat house or apartment any given night of the week, 1,053 student organizations, and several athletic events throughout the week, you must really have to hate joy to not attend Penn State.
3. Elite academics are not for you
Penn State academics are consistently ranked amongst the top 50 best programs in the nation. If you hate a challenge, do not want to be taught by some of the leaders in your field, or are looking for internships that primarily have you fetching coffee instead of doing hands-on work, then this is not the school for you.
4. You don't want a job straight out of college
With the #1 ranked career services program and the largest and strongest alumni network in the world, Penn State degrees hold some serious weight and respect. But hey, some of you may prefer to live with your parents for the rest of your life.
5. The world's largest and strongest alumni network does not impress you
If the alumni network noted in #4 does not impress you, move on. It is not like knowing a fellow Penn Stater in every door of every field will not help you out or anything.
6. You could care less about childhood cancer
Penn State is home to THON, aka the largest student-run philanthropic organization in the world. Yes, world. Every year Penn State students work tirelessly with the Four Diamonds Foundation to raise thousands upon thousands of dollars towards ending childhood cancer for good. And at the end of that long year, they host a 46 hour dance marathon to celebrate their achievements, and most importantly, those kids who have truly earned 46 hours of straight fun and bubbles.
7. Large, beautiful campuses turn you off
Maybe you would just rather have a small, boring, dingy campus like Pitt.
8. Flexibility is on your "no-no" list
With campuses all throughout Pennsylvania and even an online World Campus, Penn State is able to offer their world-class education to everyone. Because even people who live in the miserable and useless state of Ohio deserve a Penn State education.
9. You hate bricks
Literally everything is made out of bricks. It's fantastic.
10. You have lived under a rock the past 18 years so meeting people from all walks of life sounds awful
Students from around the world flock to Penn State and bring their culture with them in the forms of student organizations, events, and food! Whatever type of cultural cuisine you may be craving can easily be sent to your doorstep via Order Up. Unless you also hate convenience as well…
11. You would rather be forced into a small group then find your niche
With over a thousand student organizations, 50,000 students on campus, and an alumni organization that spans around the world, you are bound to find just the very spot that you fit in.
12. You have 0 school spirit
State College transforms from a quiet and quaint little town to a roaring sea of Blue and White on football Saturdays. The streets are flocked by students and alumni alike, shouting "We Are!" as they migrate to their tailgates outside of the beautiful Beaver Stadium. But even on a random Wednesday, the campus is covered with student proudly adorned in Penn State apparel. Penn Staters are certainly know for their "We Are the best" attitudes, and rightfully so. Because We Are indeed, the very best.
13. You let your lactose intolerance inhibit you from from the joy of ice cream
The Penn State Berkey Creamery is a magical place filled with every flavor of ice cream you could imagine. It is so good that only one legendary man has ever been able to mix flavors, President Bill Clinton.
14. Being miserable and regretting your choice of college for the rest of your life is appealing to you
This one speaks for itself.
---
---
Related Articles