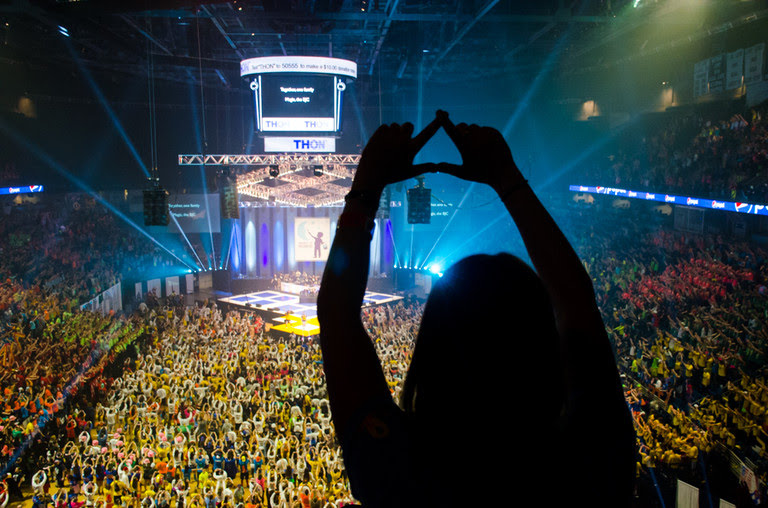 THON is just around the corner at PSU! This is a student-run philanthropy consisting of a 46 hour dance marathon. May I mention that this is the largest student-run philanthropy in the world! Our goal is to raise money to help find a cure for childhood cancer; we THON for a cure and for the kids. At the BJC, thousands of PSU students participate in this fun and tiring couple days. Here are some ways to physically and mentally prepare for the best days of your life:
1. Fundraisers
There are multiple fundraisers throughout the semester to participate in. Some include spaghetti dinners, going to places like Insomnia Cookies or Dunkin Donuts and contributing some of your purchase to THON. Some get creative and sells pies to throw at faces or host a 5k race. If you think there should be more fundraising you can always come up with your own!
2. Become a Dancer
Since this is a dance marathon, we need certain participants to lead and encourage the crowd to continue moving. You are not allowed to sit during THON so it does get tiring, but these dancers will make you forget about this and make sure you're having the time of your life. Months before THON, students sign up and explain why they want to become a dancer. Students get chosen and practice throughout the semester so they are ready for the big day.
3. Sign up for Entry Plan
Since you'll be at the BJC for 46 hours, it would be nice to get an ideal spot for that time. Before THON, a group of students from each club signs up to get to THON early and rush in when the doors open. This is an exciting start to the 46 hours and if you manage to get a good spot by the stage then you'll be good to go. Last year Joe Jonas made a surprise appearance and lets the say the people who got to the front had a great time.
4. Purchase Merchandise
There's no such thing as having too much clothes. Everybody purchases their THON gear before the big weekend. THON stores are opened with the latest merchandise. Clothes are usually tank tops because it gets pretty hot at the BJC with the millions of people in there moving. Fanny packs are also popular so you don't have to worry about your belongings. The colors are bright and fun making the atmosphere very live like and colorful.
5. Prepare the Night Before
This is very important to get you mentally ready for this weekend. Definitely get a good sleep the night before, you'll be up for 46 hours soon so you don't want to be tired at the start. Make sure you're eating healthy and just relaxing. It's also important to eat a good meal before so you're full of energy and ready to dance. Go out to eat with other friends participating in THON so you guys can prepare together.
With these tips, you'll be ready to go the best weekend of your life. Dance and watch everyone around you having fun and be excited for the final four hours of THON. There they will present the total amount of money PSU raised to help the path to curing childhood cancer. This is a very happy and accomplished moment you will never forget. THON FTK.
---
---
Related Articles