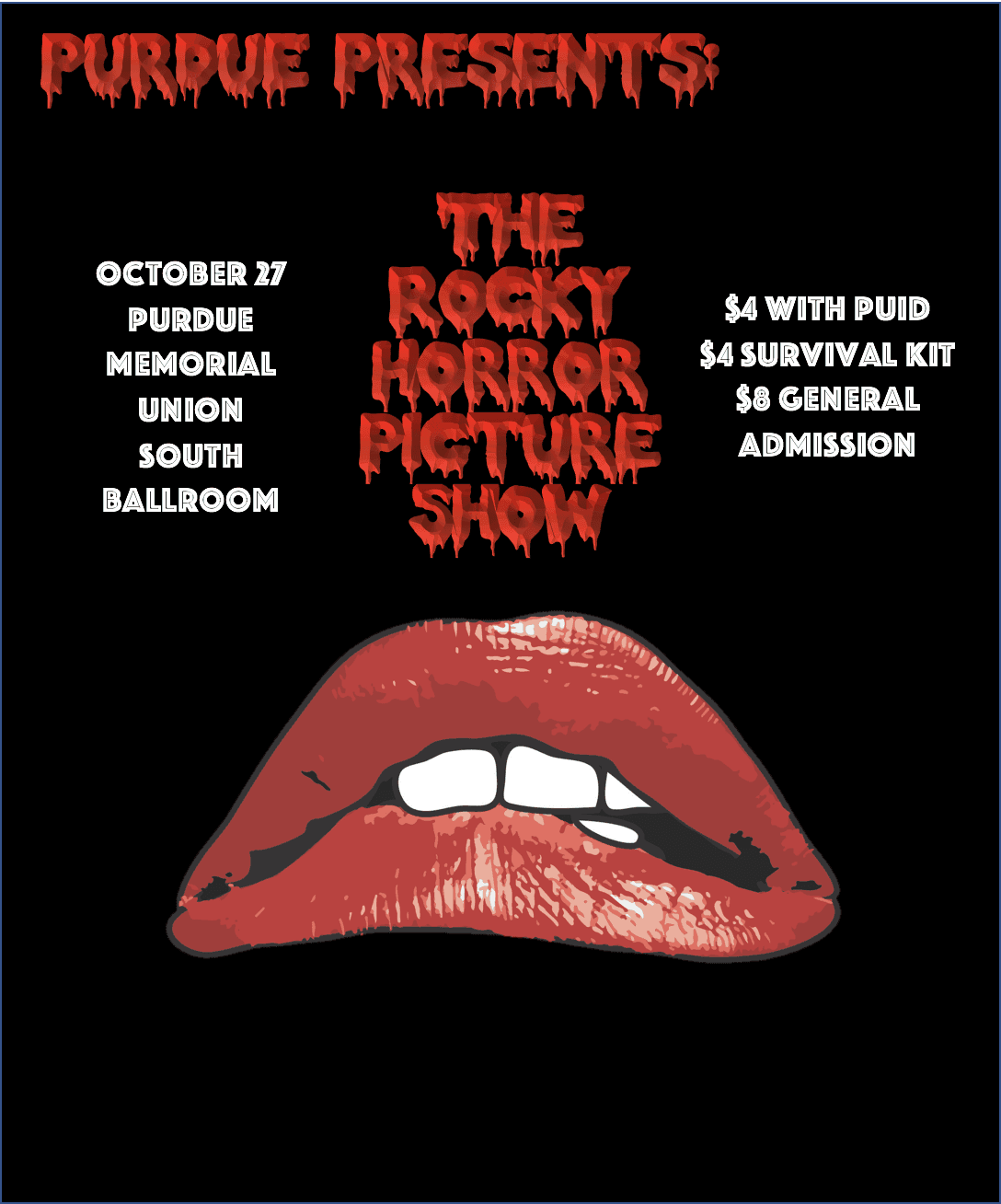 Now babies, don't you panic; Fans of the Rocky Horror Picture Show will be pleased to hear that Purdue University will be putting on a shadow cast performance of the show!
The Rocky Horror picture Show is a movie from 1975 staring Tim Curry,
Susan Sarandon, Barry Bostwick, Richard O'Brien, Patricia Quinn, Nell Campbell, and Meatloaf. The plot revolves around a couple's car breaking down during a storm and seeking refuge in a nearby castle, the only house within range of the car. They chose an unordinary night, as the castle belongs to Dr. Frank-n-Furter, a scientist unveiling his latest creation: A man with the body of an Adonis created for absolute pleasure.
The movie initially flopped, being pulled from over 8 theaters due to small audiences. It wasn't until the first midnight screening that it began to form a cult following. The movie has one of the longest theatrical runs in US cinema, appearing in theaters for 42 consecutive years.
The midnight showings have grown in popularity since then. Fans regularly "dress up" in drag or lingerie. Usually, for a small cost, participants can purchase a survival kit, containing a variety of interactive props. Regular movie goers may even recognize the on queen callbacks that the audience yells during certain times in the film.
The films soundtrack has been known for being quirky and catchy, with iconic songs making it into pop culture 30+ years later. "The Time Warp" was featured in the 2012 game Just Dance 4 and "Sweet Transvestite" was covered in Glee (2009).
Purdue will premiere it's midnight showing on Friday, October 27, begining at 11pm. Tickets are $4 with a student ID, $8 general admission, and $4 for the survival kit. The show will be in the Purdue Memorial Union in the South Ballroom. Tickets will go on sale at 8pm in "A Night at Hogwarts" in Purdue North Ballroom the night of.
Bring your friends to an experience you'll never forget! The show will go until 3 am. Feel free to dress up and get into the show! Let looseand let's do the time warp again!
---
---
Related Articles