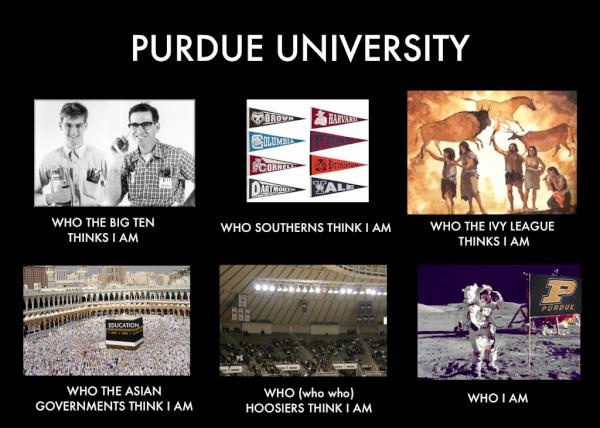 PAL 3.0 is your worst enemy
When you first heard about PAL, the Wi-Fi that is available all-around campus, you thought it was the greatest thing invented, and then you tried to use it. PAL works perfectly fine whenever you are watching Netflix or online shopping, but the second you need to submit a paper that counts for 50% of your grade, it never works. Not to mention that PAL 3.o was suppose to be the new and improved PAL 2.0, so we can only imagine how bad that was.
Construction is a daily part of your life
You know you go to Purdue when you aren't even frazzled by closed roads and sidewalks or orange and white cones. Construction is always going on at Purdue, which is great, but it also can add about 10 minutes to your walk and make you late to class. Pro tip: always watch your eyes when around the construction because when wind blows, it will all blow into your eyes.
Half clothes are black and gold
If black and gold makes up the majority of your wardrobe, you are a Boilermaker. When walking towards academic campus every day, you will definitely see a majority of students wearing something with a Purdue "P" on it.
The Purdue "slang"
Purdue loves to shorten every name possible, so if you notice the Purdue "slang" becoming part of your everyday life, you clearly go to Purdue. Words like the CoRec, the Sloop, and the WALC are just a few of the many acronyms Purdue students have created over the years. Visitors may think we are crazy, but we know exactly what we mean!
Love hate relationship with the Sloop
Speaking of the Sloop, you have a love-hate relationship with it. Whenever you are running late, it is always on time and whenever you are early, it is always late. Sure, the Sloop is super convenient and perfect for the lazy college student, but it also can be the bane of your existence at some points.
Always have an umbrella or raincoat
When an umbrella or raincoat live in your backpack, it is a clear sign that you live in West Lafayette. The weathermen in Indiana clearly have no idea what they are doing, so we are always prepared. When it says it will be sunny and beautiful, we still pack our rain gear, since it clearly will be cloudy and raining within the hour.
You've had all the Purdue food classics
Purdue dining courts have great food, but it is the local food classics that are critical for every student to have at least once. First, you have had all the Triple XXX's classics, meaning the milkshakes, peanut butter burger, root beer floats and breakfast. Den Pop is a go to as well since it fits perfectly within a college budget and has alcohol for those over 21. Finally, a Pappy's milkshake is the only thing that has made at least one of your all-nighters worth it.
IU Sucks is one of your most used phrases
You are definitely a Purdue student if "IU Sucks" passes your lips at least once a week. Around the campus, this is one of the most used phrases. From kickoff at football games to parties, this phrase is always being yelled, since it is of course true!
You've done a fountain run
Fountain runs are a Purdue classic and a must do for all students. Most students do their first fountain run during BGR week, but you will always see people doing them throughout the school year. Just make sure to not run under the Bell Tower!
You've put a bike in a tree
Since we are all nice people here at Purdue, if you forget to lock your bike it won't be stolen, but it will definitely end up in a tree. Bikes in trees is a daily occurrence here at Purdue that it becomes normal to anyone who lives on campus. If you have put a bike in a tree or have had your bike put in a tree, then you are definitely a Boilermaker.
---
---
Related Articles