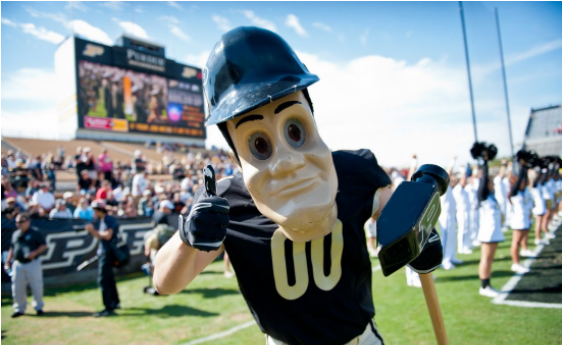 Purdue Pete's heritage traces back to 1940 when University Book Store owners Doc Epple and Red Sammons hired artist Art Evans to create Pete an advertising logo. However, Pete didn't get his name until four years later.
Being selected as Purdue Pete is an honor that has belonged to many people over the past 45 years. There are only four Purdue Petes selected for each year.

In 1944 the Purdue yearbook, Debris, wanted to use Pete on the cover. The editors went to Epple and asked for Petes name. According to one account, Epple out of the blue said "Pete". So the famed Boilermaker was named, and in the 1944 issue of Debris, Purdue Pete was everywhere.
In 1956 athletic director Guy "Red" Mackey gave the go ahead to create a sports mascot to inspire fans at home football games. Larry Brumbaugh was selected to be the first Pete by the Pep Committee.
 Brumbaugh was then faced with the task of finding a costume for Pete. "I tried to contact some costume companies, but I didn't even really know what I was looking for," said Brumbaugh. Finally a woman named Mrs. John Keltnerwas used papier-mâché to make it.
Over the years, Purdue Pete has undergone many changes, as illustrated by the photos in this section. Pete has endured theft, disrepair and changing styles. Pete evolved from a smallish papier-mâché version to a huge fiberglass version that was more harness than head, and finally to a smaller version made of fiberglass as well. 
According to a Petes representative in the athletic office, about fifty people tryout for the role of the mascot each year. Of those fifty, six to ten are selected for the final cut. These finalists must then perform a skit that they themselves create. The selection committee then brings the number of contestants down to a final four.
Purdue Pete is not only a fixture at athletic events but he is involved with the community as well. Pete attends numerous charitable events each year and makes visits to schools to promote A drug free environment. Pete is involved in hundred of events each year.
Pete has lost his head a couple of times, literally. Pete lost his original head in 1962 on the way back from Iowa City. Pete's head was in the back of the Boilermaker Special when a strong gust of wind blew it out into the road. The crew stopped the Special and searched for hours for the head without any luck. The only thing they found was little piece of the shoulder pad.
 Despite his visible and constant on-field presence at Purdue sporting events, Pete is not the official mascot of the university. The official mascot of Purdue is the Boilermaker Special.
---
---
Related Articles