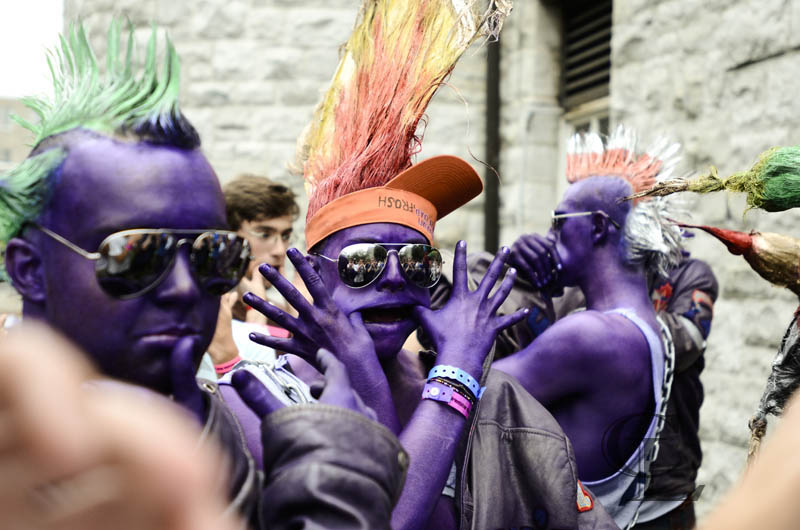 As a soon-to-be Freshman, like many others, I have also gone through the stage of being excessively curious about discovering many facts and details about my new home and academic institution, namely Queen's University, that many do not know.
So, here I present to you 12 very interesting and fun facts about Queen's that I have come across in these few months of investigating, exploring, talking to upper years and visiting Queen's:
1. The infectious and intense Tricolour spirit
Queen's University's flag has three wide horizontal bands of it's official colours: Blue, Yellow and red:
These three colours (a.k.a Tricolour) unite Queen's students and are a symbol of Queen's pride and spirit. Tricolour is everywhere around Queen's whether it be a football game, frosh week or just simple a study date,
Many Queen's students even say that their blood is not only composed of RBCs (red Blood Cells) but also of BBCs (Blue Blood cells) and YBCs (Yellow Blood Cells). We bleed tricolour.
Yes, the spirit is THAT infectious.
2. King Boo Hoo the Eighth
A.k.a Boo Hoo the Bear is Queen's lovable mascot. The one we see now was revived by the Queen's Bands Cheerleaders in his eighth incarnation and thus was named the above.
He can always be seen in frosh week, homecoming, football games and on the cover of many Golden Words issues.
The mascot is based on a real bear who was Bill Hughes's pet and was spotted at several Queen's Gaels football games. When Hughes was hired as a boxing trainer, he brought Boo Hoo with him to Queen's.
P.S: Boo Hoo even had music composed about him, for example: The Mascot: Boo Hoo's March to Queen's Rugby Team composed by Oscar Telgmann in Toronto in the 1920s.
3. Motto , Cha Gheill and the Oil Thigh
Firstly, Queen's motto is Sapientia et Doctrina Stabilitas, which in Latin means "Wisdom and knowledge shall be the stability of thy times." It has been in use since the 1850s.
Secondly, Cha Gheill, pronounced "kay yi-al," is a Gaelic war cry. Gaelic was the language spoken by many Queen's students of Scottish origin in the 19th century. Cha Gheill can be translated as "no surrender." Nowadays this term is used by many Queen's students to mean "Cheers!" or as a salutation at the end of their letters and greetings.
Cha Gheill is also used in the end of Queen's traditional cheer, which is used in the chorus of the Queen's College Colours song, popularly knows as the Oil Thigh Song.
Oil Thigh in general is a song combined with a type of can-can dance. It is a Queen's tradition and is performed usually at University occassions, sports events like football games, etc. The first line of the song is "Oil Thigh na Bangrighin a'Banrighinn gu brath" which is translated to "The college of the wife and of the king forever." This line is from where the song's name comes from.
If you are a current or a prospective Queen's student and would like to learn the Oil Thigh, here is a video to make the learning process easier:
And another video ft. Boo Hoo the Bear for fun:
4. "Green Campus"
Queen's being a research intensive university has also invested largely in the research related to Sustainable energy systems and environment management. A lot of "Green" initiatives are carried out by many Queen's student groups and faculty throughout the year. These initiatives are encouraged by Queen's Sustainability Office.
One such initiative is the College Presidents' Climate Statement of Action signed in 2010 by Principal Woolf. It is a pledge to reduce Greenhouse Gas emissions and conduct more climate Change and sustainability research and to develop a strong Climate Action Plan, for which a 22-member advisory committee has been established.
Some Student Initiatives include:
Vermicomposting: decomposing organic matter in Queen's residences using red wiggler worms.
The Tea Room: in 2011, the cafe became 100% consumer-waste free, i.e all the products in the cafe could be recycled/ composted.
Lastly, Live Building located in Queen's Beamish-Munro Hall is a living lab where the Integrated Learning Centre's mechanical, structural and electrical systems are observed in real-time and left open for people to see how building design can be sustainable. It also consists of a weather station! How cool is that?
5. Canada's oldest University
Queen's was founded and established in 1841 with the Royal Charter of Queen Victoria by the Church of Scotland. This explains Queen's Scottish inspired traditions.
The interesting part is that Queen's was a degree granting institution before Canada was an independent country.
Also, even after about 170+ years, it is standing tall and proud!
Yeah, we are definitely cool cats!
6. The history of BISC (Bader International study centre) aka The Castle
The BISC, located in East Sussex, England, was formerly the Herstomonceux Castle of the Tudor dynasty. It was built 400 years before Queen's founding. It was bought by Alfred Bader, a Queen's graduate in 1992, which resulted in the name change to Bader Castle. Afterwards, the castle was donated by Bader to the University as a study centre where its students could obtain an International experience. No wonder students called Queen's a royal, elite and prestigious University.
You'll likely feel like this:
7. Queen's and the Harry Potter connection
According to Herstmonceux castle tour guides, the castle was used for some "Chamber Of Secrets" scenes. Rumour has it that J.K Rowling also visited the castle once.
Also, in Queen's Kingston campus, Douglas Library's study space's name changed from "1923 Reading Room" to "Harry Potter Room" due to its striking resemblance to Hogwarts' appearance in the films.
One more interesting fact is that Queen's has its own Quidditch club. Quidditch is now an official 'muggle' sport inspired by the game played by Hogwart's students in the Harry Potter series by riding flying broomsticks and playing with four balls.
This Queen's Quidditch club is registered with the International Quidditch Association and has taken part in Canadian Quidditch Cup which started in 2011 and was hosted by Carleton Quidditch team.
8. One of a kind Frosh Week
Like any other University, Queen's Frosh week is full of fun-filled activities, amazing memories, many clubs showcasing themselves, sports events, awesome school spirit, and much more! However, Queen's Frosh week has more than that: it has the Tamming ceremony! During the tamming ceremony, every freshman is given a tam (flat hat with a pom-pom of the colour of the student's faculty on its top) to wear.
The Tamming ceremony is a tradition to welcome new students to Queen's. It is a symbol of Queen's spirit and heritage.
That is why Queen's Frosh week is unique as it is a fusion of old continuing traditions and 20th century fun seen through students wearing coveralls painted with mud, toothpaste, sweat and most importantly tricolour spirit.
The engineers also have a few traditions of their own:
Engineer frosh week leaders dye themselves in purple in honor of the engineers that died on the Titanic.
They also climb a large "grease" pole that was stolen from a football game against University of Toronto.
9. Queen's is in the "Happiest city" in Canada
Kingston was named the happiest city in Canada by Jetpac city guides in 2014. Its travel application counted smiles from about 100 million instagram photos of people's faces, from across Canada. Then, after processing all the photos and measuring the size of each smile, a "smile score" was given to each Canadian city. Kingston got the highest score of 40.2 while Regina came second with a score of 36.2. Many photos from Kingston were of Queen's students!
10. It can be named "The Food Paradise"
Don't get me wrong, I am not joking. Queen's has three large cafeterias which serve all you-can-eat food. If students are still not satisfied and get bored of cafeteria food then they can always go to the 19 retail food outlets around the campus and if during weekends and some other special occasions, their hungry stomachs would like a change, then there are always the 200+ restaurants in the depths of Kingston.
Did you know? Kingston has the most number of restaurants per capita. The cuisines of the restaurants ranges from North-American to European to all parts of Asia to the Atlantic.
Now I know why Kingston was called the happiest place in Canada.
11. Queen's Multiculturalism
Many people think that that Queen's student community is fully homogeneous. However, it is not fully so as about 8.3% of its full-time student population comprises of International students who come from about 109 different countries around the world. There are also many diverse student associations and clubs like the QNSA (Queen's native student association), ACSA (African and Caribbean students association), World Languages club and many more!
P.S what does it matter where Queen's students are from, we have the same tricolour blood flowing through us anyways.
12. The Alma Mater Society (AMS)
It is Canada's oldest undergraduate student government. As fancy as it sounds, the more amazing it is. The membership fees for AMS is included in the obligatory student activity. The AMS council is made of three-person executive, six commissioners (like the Campus Activities commissioner and the Municipal Affairs Commissioner to name a few) and three corporate service director (Hospitality & Safety, Campus and Retail & Design).
AMS' motto is "To serve and represent the diversity of students at Queen's University."
It also provides undergraduate students with various full-time, part-time, internship and volunteering opportunities around the campus.
Since all the 12 facts are now done, so all I have left to say is
You might also like:
---
---
Related Articles