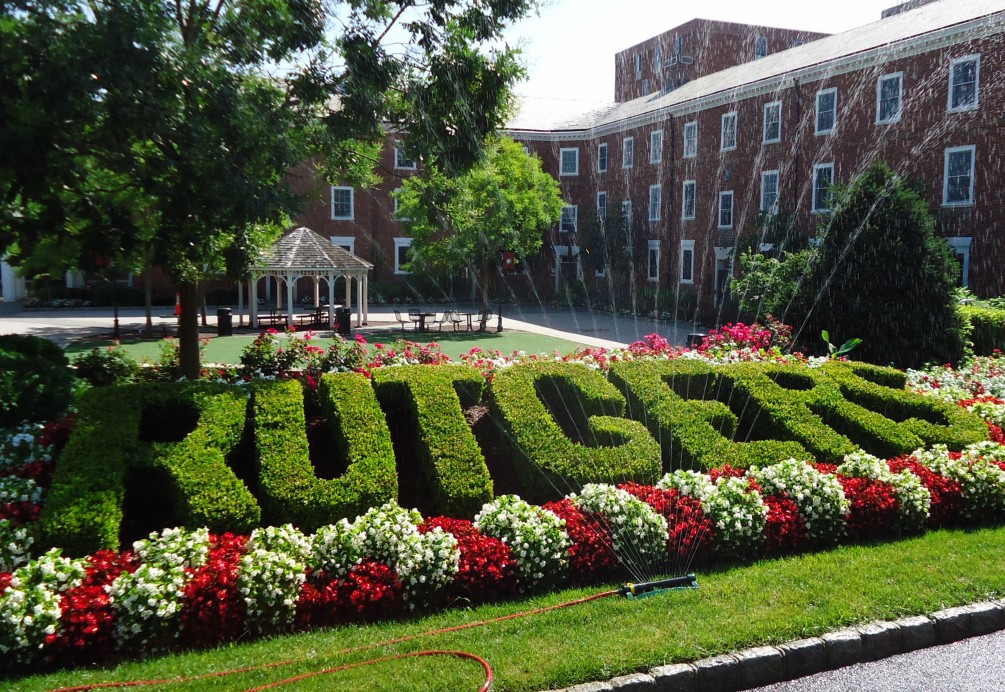 1. IT'S SO BIG I DON'T EVEN KNOW WHERE TO START.
Trying to find your way around over 2,000 acres of land is not easy. Even with their own bus system and a train station on campus, Rutgers University offers countless ways to get lost within their gardens, academic buildings, and countless parking lots. Tip: Don't ask a freshman how to get anywhere, because they will lead you in the opposite direction.
2. THERE ARE TOO MANY CLASSES TO CHOOSE FROM.
From classes about primates, to apocalypse literature, to Beyoncé, Rutgers has it all. It makes it difficult to concentrate on one topic, in fear on missing out on something else. Good news is Rutgers offers a bunch of online classes and summer courses. You can stay here forever (if you've got the money for it)!
3. I AM BASICALLY FORCED TO TAKE PUBLIC TRANSPORT.
Rutgers' bus system is a blessing and a curse. On one hand, if you are like most people and can't bring your car to campus and don't have a bike on you, the bus will save you from having to walk four miles to class. On the other hand, this is public transportation. That means coming face to face (and sometimes nose to nose) with people you don't even know and sometimes don't really want to get to know.
4. I CAN'T STOP EATING.
With four main dining halls and countless restaurants and cafes across campus, Rutgers is the perfect place to gain the dreaded freshman fifteen (which is totally not a myth by the way). We've got fat sandwiches, endless dining hall ice cream, King Neptune night, and immense burritos (the only reason anyone goes to Brower).
5. I AM EXPECTED TO GO TO EVERY SINGLE FOOTBALL GAME.
Rutgers students are blessed to have the chance to go to every home football game for no extra charge. But if you are like me, this doesn't seem like the greatest thing. Going to a Rutgers football games means putting effort into your outfit so it is sufficiently school spirited, taking the bus, interacting with others, tailgating, and cheering until you lose your voice. At the end of the day though, it's all worth it once the Scarlet Knights reign victorious.
6. SOCIAL INTERACTION IS INEVITABLE.
With over 60,000 students on and off campus, you are bound to have to talk to someone eventually. It is impossible to get any privacy at long lengths of time. You will always have someone to talk to, whether it is a teacher, a friend, a student, or alumni. You will always have someone to go out with, and you will never cry yourself to sleep because you have no friends.
7. THERE IS NEVER ENOUGH TIME.
With only 24 hours in a day, it is virtually impossible to take every class you want and eat at that restaurant you were ogling across campus and try that new club out with your friends and go to that karaoke event they were holding at the student center or line up for take-out at Neilsen. It's okay, because lucky you will have many semesters ahead to complete your Rutgers wish list!
8. SLEEP IS NONEXISTENT
What is sleep? I don't even know. It's five in the morning and I'm at the library studying for my bio exam in 3 hours. That's okay though because that means I can go to the dining hall and use some meal swipes I really need to get rid of.
9. MY PATIENCE IS TESTED ENDLESSLY.
What is your most important tool once you step foot on campus? Patience. When you are waiting to get on to the EE bus at Scott Hall you need patience. You are registering for classes and the yellow pinwheel of death appears – patience. You are awake at 2am and want to check WebReg and realizes Rutgers has hours of operation for a WEBSITE – patience. The takeout line at 9pm – patience. Learn to be patient. You will thank me later.
10. I SEE RED R'S WHEREVER I GO.
Once I graduate I will not be able to unsee these. They are everywhere, from t-shirts to banners to wrappers to pens to hats to toys to mugs to shoes and food and websites and even on your own dorm window. Capital R's will always hold a place in my heart.
11. I CAN'T WAIT TO GO BACK WHEN I'M ON BREAK.
The torture of being away from my independence and vast array of food choices and Hans and Griddle will always haunt me. Summer and winter breaks are excruciating, and I count down the days and hours until I finally get back to my dorm and realize I dropped my key somewhere I will never find it (as usual).
---
---
Related Articles