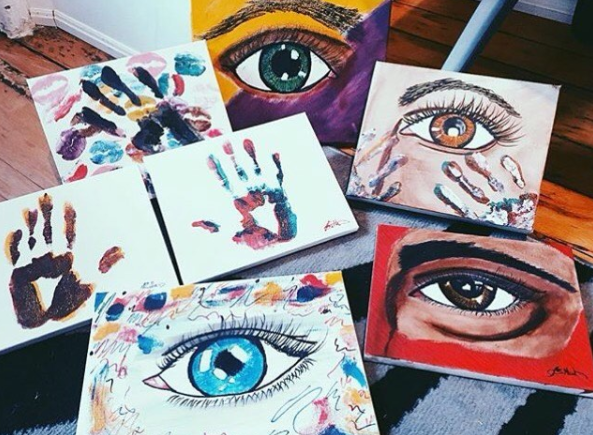 Toronto is a vibrant city overflowing with invention and creativity. It would be no small feat to unearth all these hidden gems but here are 10 Ryerson students worth following:
1. Illuminate is a Toronto-based artist collective co-founded by former Ryerson student Joey Matthews and current student Gianfranc Pipitone. Exposure is hard to come by and that's what Illuminate is trying provide to other artists. The group does it all; film reviews, comics, podcasts so they are defiantly worth a follow. The group claims that:
"Art develops and grows through collaboration, so we wanted to create a platform for those artists of all mediums to collaborate and showcase their skills with one another. There are no limits to what can be found on Illuminate.To, so long as there are artists willing to push the boundaries."
2. Hannah Polinski is an English student at Ryerson currently in her final year. Hannah uses her literary talents to inform the world on her perspective. She does this by exploring her identity in fictional and non-fictional forms. Her blog includes poetry, musing and social commentary. Hannah's passion for the written word moves beyond the page as she started a writing group with her peers called 'The Indie Ryeters.' If you're in the mood for writing that addresses oppressive forces directly, Hannah's work should be on the top of your list.
3. Yaïza Décaudin is a Toronto-based artist and a recent Ryerson graduate. She's a smooth operator across many mediums, applying her wealth of artistic talent in a variety of ways. Her website covers her diverse range as it highlights inspired installations, photos and illustrations. Be sure to check out her conceptual lookbook 'S(h)OCKED'. You'll never be able to look at socks or household items the same way again.
4. Thomas Goustos is an English student at Ryerson who is asking the big questions. With personal refection as his method Thomas deals with identity, selfhood and myth to make sense of the world around him. Thomas' flexes his literary muscles by using articles, memoirs, poems and short stories as the means of this message. Though Thomas describes himself as 'a Ryerson student who doesn't write as much as he should', what he does write is sure to be thought provoking.
5. Engaging shot selection and visual storytelling are just some of the things that await you on Gianfranc Pipitone's website. Gianfranc is a current Ryerson student in the film program. He recently switched out of psychology to follow his passion for filmmaking and photography. Along with his website, his Instagram is proof that the change in program was a good choice. Instagram serves as his platform for a daily journal of street photographs while his website covers the rest of his spectacular depictions.
6. Catherine Hennessey is a Ryerson student and artist who has produced some of the most striking watercolours I've ever seen. Catherine describes herself as a "Biopsych student and Toronto artist, that makes use of watercolour, ink, pencil, glitter, tea, coffee, blood(yes blood)". A few descriptive words don't do her work justice; seeing is believing. Do yourself a favor and follow her Instagram and prepare your eyes for a feast.
7. The Continuist is a Ryerson run student blog and print zine co-edited by Daisy Barker and Kristina Pantalone. This zine provides a platform for Ryerson artists, writers and photographs to showcase their talent. In addition to building a community of creatives The Continusit provides exposure for said creatives. Regardless of form or medium exposure is an essential first step. The online blog is also open to non-print creatives as well. Come as you are all are welcome.
8. Jen Elliot is an artist and English student at Ryerson. What makes Jen's art stand out is that she has a clear and distinct style. It is impossible to forget once you see it and impossible not to love. Her work is bound to put a smile on your face and catch your eye.
'Jen Elliott is currently pursuing an English degree while working on comics. Jen enjoys sipping herbal tea, loom-knitting, and secretly doodling caricatures of transit riders.'
9. Chloe Kirlew is one of those fearless writers. No topic is off limits when it comes to her work. Chloe's style is influenced by the macabre and she is also capable of writing humor. Her new blog listed below will be some of the funniest, most eyebrow raising things you'll read. Her skill and passion for creative writing is demonstrated by the fact she started the creative writing club at Ryerson.
When asked about the blog Chloe claims that:
"The writing ranges from raunchy to academic. From podcast to youtube, this blog is meant to be the embodiment of online performance art through multiple channels"
10. Can words move you? Can they make you feel things you thought you had long since forgotten? If you read Kris Hykel's blog the answer to both is yes. Kris is a Ryerson English student with a passion and talent for creative writing. His poems serve as visceral fragments of memories and places we can all relate to. Be sure to check out his work, you'll be better off for it.
---
---
Related Articles