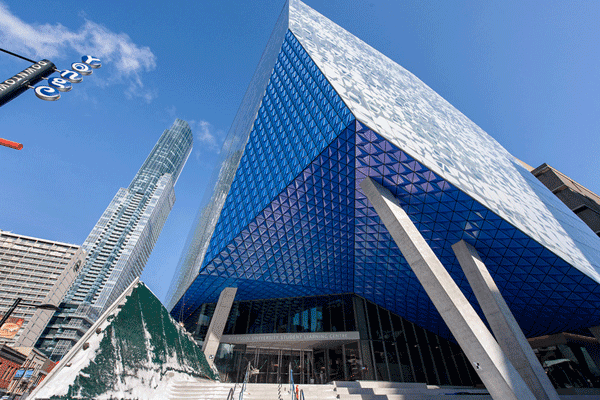 1. Ryerson will make you more aware of your value and the value of others
And this is because Ryerson as a whole is aware of what's going on in the world and what may be going on with their students. Administrators and professors openly encourage students who have been misgendered or otherwise misrepresented to speak up and correct the issue. A great deal of support is given to all members of the LGBTQ+ community through student groups as well as resources in the student centre. In addition, Ryerson has made it a priority to emphasize the importance of consent in romantic encounters. It's important for me to be at a school that is inclusive and involved in the issues that matter. Ryerson is that school.
2. It will show you that your viewpoint is one of many
Toronto is a city full of a massive variety of human life. With Ryerson at the heart of the city, students experience this variety both in and out of the classroom. Walking through downtown, a person can experience a glimpse of millions of life stories. In class, students and professors discuss topics openly in a way that challenges every idea, not to crush the idea but to expand it. As I began to have class discussions, I realized how often professors will both acknowledge and challenge your ideas. Your opinions are respected, but it doesn't stop there. You learn to recognize the mindset of others, which is an important lesson as you make your way towards working in a world with billions of other people and opinions.
3. You will develop the skills to be actively successful
Ryerson became a polytechnic institute in 1966. Despite its transition to a university in 1993, the hands-on style of learning cultivated by the technical school has remained. At Ryerson, a student does not learn how to be a professional simply by reading and listening. At Ryerson, a student learns by doing, which is why you'll find engineering students in the quad creating a device, journalism students in Dundas Square doing street interviews and so on. I didn't come to Ryerson because it was in a fun location downtown with many bars and clubs; I came to Ryerson because I saw that the students were creating work even early on that they could be proud of and take with them as a base for future work.
4. Ryerson will make you realize you aren't simply a student
Being a student won't stop the people at Ryerson from treating you as an adult. As much as I knew university would be different than high school, it still jarred me how much respect my professors gave students. The staff recognizes that what students need is not to be coddled but to be treated as a budding professional. Students are not belittled; instead, students are encouraged to learn and work as adults. It will make you realize you aren't simply a student, you're a budding professional.
5. The people at Ryerson will help you along the way
While the people at Ryerson aren't going to coddle students, that doesn't mean they aren't there to help. Whether it's fellow students, teaching assistants, professors or any other member of the community, Ryerson is a place where confusion doesn't have to last long. Students are willing to lend a hand in navigating the campus or introducing new students to groups. Professors often have generous office hours of which they encourage students whole heartedly to take advantage. While a student may be tossed into the deep end to learn at Ryerson, there's always someone to toss them a life jacket. I came to Ryerson's campus in Toronto from the United States. I knew no one and had very little knowledge about the school and city, but I was immediately greeted by students and faculty that were eager to pull me into the community and help me succeed.
6. Ryerson will provide you with the resources you need
Regardless of what you need, Ryerson can help you find it. Not only are the people an amazing asset, but the school itself creates ways for you to further your ambitions. Everything from research tools to programming to academic or emotional support, Ryerson makes it easily accessible. I've visited many universities where the library is full of amazing information, but with Ryerson, it goes so far beyond that. It gives the people in the community the ability to go beyond the circumstances or struggles they find themselves in and use the opportunities they've been given.
7. You will be able to broaden your horizons
Majors don't exclusively define what students are able to learn at Ryerson. While some schools give students little opportunity to explore, Ryerson offers a huge number of liberal and open electives to allow students to experiment with topics that are wildly different than their major. Instead of having to drag themselves through general credits that don't interest them, students are able to pick courses from many different fields. As a journalism major, I still have the opportunity to explore my love of photography at an artistic level while also experimenting with classes like psychology.
8. At Ryerson, you'll be given a way to express your passion
At Ryerson, in or out of class, the amount of passion for learning and living is evident. The students at Ryerson want to be there and it is shown by both performance in class as well as through engagement in the community. I walked onto campus and immediately found groups of people who cared. Passionate people who want to find others like them and create something amazing. Far too often, brilliance and education are wasted on apathy, but Ryerson is a place where passion is cultivated and encouraged.
---
---
Related Articles