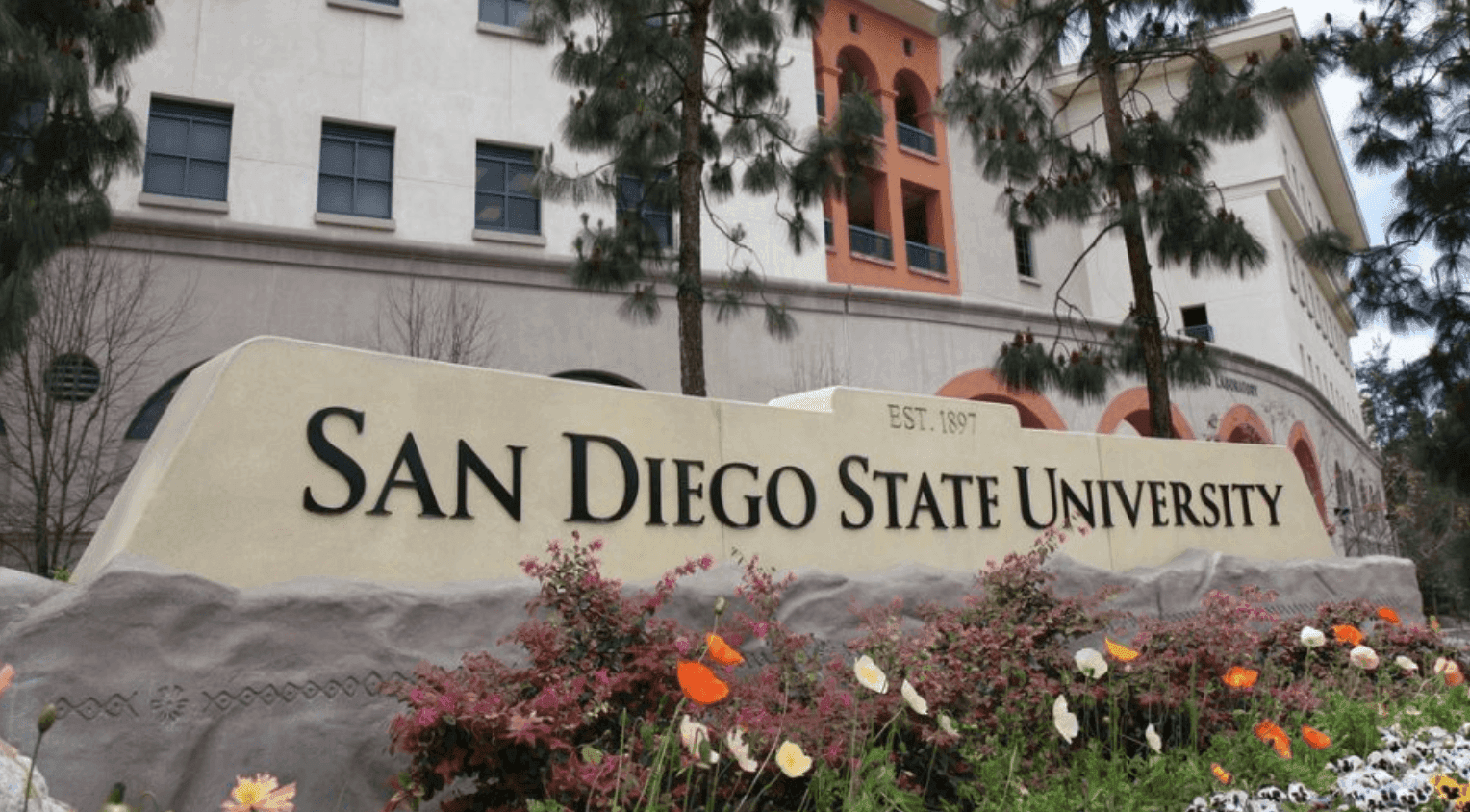 San Diego State University is a fantastic school to attend for endless reasons. Not only is it located in sunny southern California, but it is a great school to receive your college education. SDSU offers over 75 majors, but it is a school filled with various research and study abroad opportunities. Here are 5 reasons why you need to attend SDSU.
#1 Location
San Diego is known for its sunny weather and sandy beaches all year round. If you are an ocean and sunset lover, San Diego is the place for you. The beach is only 15 minutes away from campus, making it super accessible to students. Not only is the beach super close, but San Diego has so much to offer to students. From trendy cafes to huge shopping centers to parks to even the zoo, you will never be bored over the weekend in San Diego. Being in southern California is so amazing because if you ever want to leave San Diego, LA and Disneyland is only about 2 hours away! Laguna beach is another popular location for students to go to especially because it is only 1 hour and 30 minutes away.

#2 Education
Not only is SDSU in a great location, but the education there is amazing as well. San Diego State University is one of the nation's premier urban research universities actively engaged in preparing graduates who will make an impact on the San Diego region and beyond. SDSU's ranking in the 2018 edition of Best Colleges is National Universities, 140. SDSU has over 75 majors to choose from, making it a perfect fit for everyone. Overall, SDSU is a great place to be.

#3 Study Abroad
SDSU education abroad programs provide students with the knowledge, understanding and skills that are essential to a 21st century college education. Studying abroad is an exciting, challenging and rewarding experience that transforms students and opens doors to new opportunities in life. Not only does SDSU offers hundreds of programs in over 50 countries, but studying abroad will satisfy major, minor and/or general education requirements. You can go any time after your first full-time semester at SDSU from one week to a whole academic year.

#4 Greek Life
Greek life at SDSU is very popular. SDSU's social fraternities and sororities, including both general and culturally based organizations, are represented by 4 governing councils. Each chapter at San Diego State University has a unique experience to offer its members! Not only does SDSU offer a wide range of both sororities and fraternities, but greek life is a great opportunity to make new friends and become involved in campus life. There are a total of 9 sororities and 16 fraternities.

#5 Food
Sometimes food in college especially when you have a meal plan is known not to be the best in taste. However, at SDSU, the food is great. There are 2 main Starbucks on campus, making it super convenient for students. There is also a healthier smoothie place called Shake Smart where you can order acai bowls, oatmeal, and smoothies. In East Commons, there is a variety of places to eat from Panda Express to Subway to Rubio's to even SoCal Chicken. There is also a salad place if you are looking for a healthy option.
In conclusion, SDSU is an amazing place to get your education. Not only are you surrounded by constant sunny weather, beaches, and a great atmosphere, but at SDSU you will be get a great education that will set you up for the real world. If you attend SDSU, you need to take advantage of all it has to offer. From greek life to study abroad opportunity, these experiences will make your time at SDSU one to remember.
---
---
Related Articles