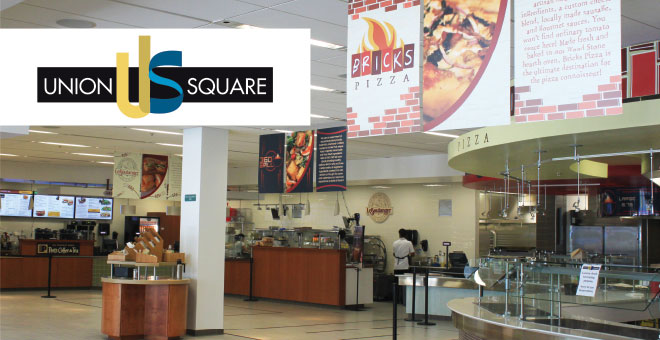 The nice thing about San Jose State is the sheer amount of choices you have when you want to get food. Got a long stretch of free time after class and you're in the mood for Taco Bell? No problem. Just bombed the final in that one really hard class and you'd rather get some pizza than think about all the questions you got wrong? Consider it done.
Except – not exactly. There are definitely tons of places at SJSU to get food, like the Union Square, the Commons, Just Below, On Fourth, etc., but they have store hours too. Besides, even if they're open, their hours can (and often will) conflict with your class schedule. And there's the problem of having enough money in your bank account to get food in the first place, which is a whole other can of worms, especially if you don't have your Tower ID card with a Balance of Dining Dollars yet.
And sometimes, even if you have enough money to get food, you're just not gonna like all the food places on campus.
With that in mind, here are the various San Jose State dining establishments, ranked best to worst:
1. Union Square in the SJSU Student Union
As every SJSU student knows, the Union Square is the university's biggest food court, full of great places to eat like Taco Bell, Panda Express, Subway, In the Mix, etc.
The Union Square is at the top of this list because of the sheer amount of good choices of food it offers. You like burritos and tacos? Check out the Taco Bell. If you're in the mood for (maybe not 100% authentic) Chinese food, check out the Union Square Panda Express! There's Bricks Pizza for pizza lovers and Smokin' Sammy's for BBQ and meat aficionados, In the Mix for those who prefer salad, etc., etc. If you're not looking to get food, you can grab a coffee at Peet's. No matter what your preferences are, you're bound to find something you like at the Union Square. Not only that, the Union Square has tons of tables where you can sit down to eat after getting lunch, study, or both, which saves a lot of time that would otherwise be wasted in walking to the library. Also – they have soda fountains, so no more having to get soda in a crowded restaurant while your family judges you from three feet away.
The one big problem with Union Square? All the good places (Taco Bell, Panda Express, etc.) open at 10 A.M. This is especially bad news for students with 8 A.M or 9 A.M classes; the only options you have then are Le Boulanger's and Peet's, and sandwiches and coffee aren't everyone's favorite breakfast.
2. On Fourth Cafe
Most of the reason this SJSU cafe is getting a high rating, to be honest, is because it's a cafe in an actual library. It's definitely a good cafe that serves delicious food and coffee, along with other drinks and ice cream too, but On Fourth stands out because it's so unheard of outside (perhaps) college – a cozy little cafe in a library that serves good food and coffee and also provides a place for students to sit and relax (or study). In high school, there was no concept of eating in the library at all, let alone providing a cafe in the library. To be fair, On Fourth is more in the entrance to the library than in the actual library itself, but you get the point.
What does On Fourth serve? Mostly sandwiches, many of them cleverly named for famous novels such as "The Great Gatsby",, "The Merchant of Venice", "The Joy Luck Club", "The Three Musketeers", etc. (these sandwiches are specially known as the "Novel Sandwiches"). On Fourth also has two soups of the day every day, each of which you can get in a bread bowl if you want. On Fourth's baked potatoes are especially good; you can get a variety of toppings on them, such as cheese, sour cream, green onions, etc. Problem? The more toppings you get, the more it's going to cost extra. On Fourth furthermore has several breakfast options for when you have an 8 AM, such as Nutella toast and bagels with a huge variety of toppings (yes, they have Nutella bagels too), and it also sells soda and ice cream, in case you needed to know any more.
3. The Commons
First, the good stuff about the SJSU Dining Commons. In the Commons, a wide variety of food is served – there's pizza, pasta, sushi on good days, ice cream, burritos, Jamba Juice, soda, etc.
The pizza is kind of blah, to be honest, since the crust is sorta thin and it doesn't stay warm for a long time, but the pasta is a lot better. The Commons' "Southside Pizza and Pasta" (where they serve pizza and pasta, duh) serves different kinds of pasta, like beef ravioli, pasta with alfredo sauce, pasta with marinara sauce, etc., so most people can find something.
One of the best parts of the Commons is "El Mercado", the burrito and taco station. Here, you can build your own burrito or taco and get it "to go" or "for here", no questions asked. You can get a burrito with cilantro rice and pinto beans, or Spanish rice and black beans, or even add meat if you're in the mood. If you don't like burritos or tacos, you can get a quesadilla or even a burrito bowl! The problem? Some of the burrito rice/bean fillings aren't available till lunch, i.e. if you walk in at 10 AM and you're looking for your usual cilantro rice and pinto beans burrito, you're flat outta luck because they only serve Spanish rice and black beans until around 11 (or perhaps earlier).
Also, there's ice cream. Soft serve! Two ice cream machines! There's chocolate/vanilla/swirl for the first machine, and the other ice cream machine has strawberry/orange (no swirl there though). Pro tip: try the vanilla and strawberry ice cream together if you're ever at the Commons. The result is actually pretty good. There are also tons of toppings, including Oreos!
So what's the problem with the Commons that has it as #3? Well…a lot, surprisingly. For starters, remember some burrito rice/bean fillings not being available till lunch? Turns out a lot isn't available till lunch. Pro tip: if you go to the Commons before 11 (or at least before 10:30), you really aren't going to see much. There are bagels and there is bread, and you can also get pancakes, but there isn't nearly as big a variety of food; not to mention, "Southside's Pizza and Pasta" won't even be open yet! You've got the Union Square problem: all the good spots aren't open yet. It's pretty annoying.
Also, the ice cream machines break down a lot, and the Commons Jamba Juice is usually so swamped with customers that it takes forever to get your drink made.  A student even made a video with other students where they brought attention to the Commons' lack of good hygiene practices, etc. (the glasses are somehow always dirty), and the Commons are also stuck in the Joe West dorm building, which is really far away from anything on campus, except the residential area, so if you don't dorm, get ready for a LOT of walking.
With all this in mind, the Commons drops to #3 on this list, although it is still an easy source of reasonably good food (if you don't forget to get your meal plan and student ID though, you need those to get in).
4. Village Market
The SJSU Village Market is a little store near…the Commons. It's technically right across from the Joe West building, so it's a good place to pop into for a snack if you didn't like the Commons food that day.
The Village Market sells a variety of tasty things (see a pattern in ratings here?), like Flamin' Hot Cheetos, pizza, ice cream, etc. In terms of setup, it looks a lot like Just Below, except it has pizza.
AND ICE CREAM.
The Village Market has its own little ice cream parlor in the back corner and it's delicious (pro tip: try the raspberry sherbet flavor, that one is sweet and tangy). You can not only get scoops of ice cream, but milkshakes and ice cream sandwiches.
Problem? The Village Market doesn't accept Tower ID Dining Dollars or cash. If you don't have a debit/credit card with you, you're screwed. That's probably the biggest reason why the Village Market is lower on this list, because why would you make sure your store only accepts a certain method of payment? That just sounds like bad business.
5. Just Below
"Just Below" is (another) little store, but this time near SJSU's MacQuarrie Hall, where they basically sell in-the-moment necessities. It's no decked-out Union Square or Commons; you duck in, grab whatever you want/need at the moment, and go.
Yeah, there's a sort of "sandwich and soup bar" in Just Below where you can get soup and sandwiches (a lot like On Fourth), but Just Below is chiefly a cool place to get convenient food that you're probably going to need in a few minutes.
Case in point: there is an entire shelf devoted to ramen. It is amazing (pro tip: the Spicy Kimchi Noodle Soup ramen is much tastier than the Shrimp Cup Noodles, as weird as that sounds).
Moreover, most of what Just Below sells is stuff like nutrient bars, candy, ready-made food that you can heat up in your dorm/apartment, ice cream bars, etc.
Just Below is lower on the list because it isn't so much an eatery as it is a convenience store (albeit a good convenience store).
6. Street Eats
Street Eats is basically the ubiquitous SJSU food truck. You can generally find it on the average afternoon, and it serves food like calzones, wings, etc.
The reason its rating is so low is not because it's bad food (it sounds like really good delicious food tbh), but because it isn't always there. A lot of the time it's chilling in the heart of SJSU waiting for students to order, but sometimes it just isn't there. The rating will probably improve as the year goes on.
7. Snack Shack
Ah, the Snack Shack. It is basically a random place near (or below) the Boccardo Business Center, and a relatively short distance away from the Joe West building. The Snack Shack is a decent place to get snacks to keep yourself going, like chips, Hostess Donettes, soda, hot dogs, etc.
The reason the Snack Shack is the lowest on the list is…well, there isn't very much. The most substantial item on the menu seems to be a hot dog, and that can be a problem when you're a college student and you need to fill up.
To be fair, it's a relatively new SJSU dining establishment (term used loosely because it is literally a place that sells light snacks), and of course, it's made to sell snacks, so this low rating will probably improve in the future.
---
So, overall, these are the most well-known SJSU dining/food establishments, rated best to worst. These ratings are subjective, and the extremely low ones will probably improve with time.
Take care!
---
---
Related Articles