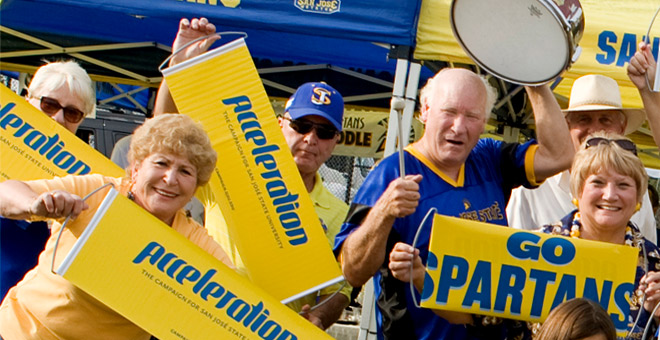 Each school has its own culture and vibe, from its student body to the off-campus hangouts to the architecture of the school itself. At San Jose State, these things make our school as special and unique as it is:
1. Thursday night is just as lit as the rest of the weekend.
Since a good majority of SJSU students only have classes from Monday to Thursday, every weekend is a three-day weekend. Lots of parties and kickbacks happen on Thursday nights, so when the classes end, the fun begins. Stay safe, Spartans!
2. Hungry? House of Bagels.
Especially for students living on campus, Ho Bags is the go-to for all your breakfast needs. They have bagels you never even knew existed, and all for way cheaper than any of your regular breakfast (or lunch! They're open until 4 p.m.) options. You'll often find students hanging out outside of the small neighborhood cafe on the corner of 11th and San Carlos.
3. Finding a place to sit in the Student Union is harder than winning an Olympic gold medal.
If a seat opens up, you better run faster than Usain Bolt. Students and campus staff crowd the S.U. from the morning until late afternoon, especially near "Union Square", where the campus' best food options are. Starbucks on the lower floor of the newly renovated building brings even more of a crowd, leaving virtually no table or seat unattended.
4. Thursday has it's own Spartan dress code.
If you go to SJSU, you know that we "Spartan Up" every Thursday. We deck out in blue, white, and gold to show our spirit for our school. In reality, though, most of our hard-working student body tends to forget about these designated days, and there are so many students wearing SJSU swag at any given time that every day is a spirit day!
5. No one will ever agree what the best coffee place on campus is.
We've got the brand new Starbucks in the Student Union, a Tully's in the library, Peet's in a snack shop called Just Below, and a small-batch coffee roaster in the Dining Commons. Lots of students grab a cup of joe before, between, or after classes, so you'll see all kinds of cups everywhere you go on campus. While some people just go to whichever place is closer, others swear by one particular brand of coffee. The debate will never end…
6. On-campus construction has become a normal part of student life.
For several years, construction teams were busy rebuilding the entire central and east wing of the Student Union. When that finally finished- several years behind schedule- work began on the newest housing building where current freshman now live. This important project woke up every resident of the campus village for the entirety of the 2015-2016 school year. After a few brief weeks of piece, the famous Bricks (the oldest residential buildings on campus) were torn down, and for the next year or two there will be constant work near 7th Street on the all new recreation center and aquatic center for students. It will never end!
7. If you want Chinese food, be prepared to wait a while.
Panda Express is the only Asian food on campus, which means it can get very, very crowded. Since Panda is right in the middle of the chaos of the Student Union, getting to the line is just as difficult as waiting for over half an hour, finding that the one entree you really wanted is all gone, and not getting a fortune cookie because they're all out. Don't forget to give major kudos to the students who work at Panda during the lunch rush!
8. Registering for classes is the closest to Hell college can get.
Imagine competing in the Hunger Games with the entire student body, and you've pretty much figured out what it's like to register for classes at SJSU. Unless you're a notetaker, athlete, or a very lucky student with priority registration, you've better click fast when it comes time to enroll.
9. Semesters begin at the end of the week and end at the beginning of the week.
No one knows why exactly this is. For the past several years, all semesters have begun on a Wednesday or Thursday and ended on a Monday and Tuesday. Finals begin at the end of the week and run through the first half of the following week, as well. It makes sense to have a weekend break between final exams, but there's still no explanation as to our odd semester days.
10. The only holiday that SJSU students have off is Cesar Chavez day…which is during the spring break.
No, seriously. No President's Day, no Lincoln's Birthday, no Memorial Day since we're already out for summer break…but we do have Cesar Chavez Day! Chavez played a big role in California history, so it's only fitting that the first public university in the state celebrates! The only downside to this is that this holiday always seems to fall right into Spring Break.
11. The Martin Luther King Library is only for the brave of heart.
Since the MLK Library is a public library, anyone can read, browse, or nap in its 8 stories of wonder. The unfortunate reality is that there are a great number of homeless people in downtown San Jose, and lots of them spend time in the library. There are often reports of theft, assault, and even stalking in MLK, but security is always high and students are rarely involved in these crimes.
---
---
Related Articles