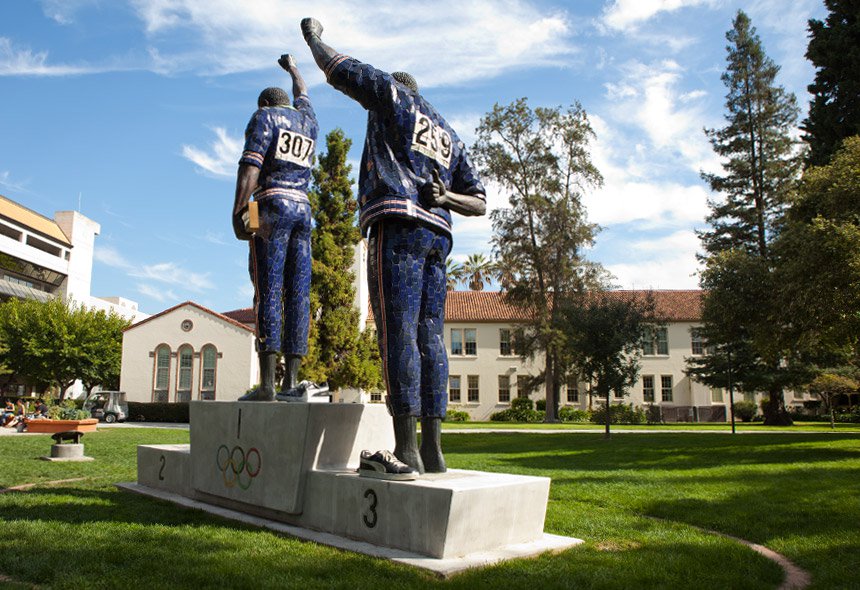 1. It's in the heart of the Silicon Valley.
Why would anyone, especially in today's technological day and age, want to be in the Silicon Valley? It's only the home of tech-giant companies like Apple, Google, Oracle, HP and Intel. What's the big deal? Not to mention, it's one of the best places for tech start-ups. Of course, no college student fresh out of college would want to have the opportunity to work at such huge companies through internships, jobs, and scholarships. No, the fact that Apple, inventor of the iPhone, hires more SJSU alums than any other university, including Stanford, probably means nothing to you.
2. It's located in the most boring, lamest place ever-Downtown San Jose
If being in the Silicon Valley wasn't big enough for you, then try being in the heart of the city itself! San Jose State has easy access to the Paseo De San Antonio, which can lead you down popular food hotspots such as Quickly's, Phil's, Starbucks, and Boba Bar. Just a short walk and you'll arrive at SoFa, the bustling, vibrant art and entertainment district. If you're into the party life, there are plenty of bars and local favorites to choose from. And, again, the amazing food, whether you're craving tacos, sushi, boba, or even some good ole' Burger King's. Downtown San Jose does not disappoint.
3. FREE PUBLIC TRANSPORTATION FOR SJSU STUDENTS – ABSOLUTELY HORRIBLE
SJSU Students each receive a free Clipper Card that is on valid on nearly any VTA Bus or Light-rail. That means virtually unlimited bus rides and light rails. And, with the VTA Light rail station located less than 10 minutes away from campus, it's perfect! Downtown San Jose is a huge transportation hub with access to countless bus routes, and San Jose State is located right in the center of it all. Whether you need to go grocery shopping at Target or you want to have a fun day at Great America Amusement Park, transportation is free and there for you! Explore the city around you, saving both money and the environment, as you ride the bus and light rail all around Santa Clara County.
4. It's so hard to travel and visit other cities across California.
San Jose State University is located in San Jose obviously-but what does that mean? Well, it's not only in Silicon Valley, but it's in the Bay Area. That means major tourist attraction, San Francisco, is easily within reach for those looking to hit the big City. And with the San Jose Diridon Center a short bus ride away from campus, there are transit connections all over the state of California. Whether you're thinking of a bus trip to the picturesque Santa Cruz Beach Boardwalk or the Amtrak all the way down to Southern California, San Jose is a great starting point for your adventures. Why would anyone want to be able to explore and travel the rest of California? Long road trips with friends blasting music? Ew. Definitely not.
5. There's so many different people everywhere.
According to SJSU's Institutional Effectiveness and Analytics Statistics, the undergrad student population comprises of about 58% minorities. This includes 32% Asian, 23% Hispanic, and 3% African American accompanied with 22% White and 11% Foreign National. That's a huge variety of students from all different walks of earth. Who would want to surround themselves with people from other countries, people that can bring their own experiences from their world into your life and give you new experiences?
6. Campus Life.
A college campus that actually looks like the movies? Well then, 7th Street Plaza is definitely not the place for you. Nah, that's too cool for you. There's only about 400 student organizations on campus. Pssht, that's not impressive at all. It's not like you walk through Tower Lawn and see a casual game of Quidditch being played. Or otherwise, walk past the Art building and see the Game Development Club working on an arcade machine. Not to mention all the hundreds of other clubs located inside Student Union and across various buildings on campus. Oh, and don't even get me started on Greek Life. 40 houses to choose from? Lame. Walking through campus on 7th Street and seeing campus alive with people bustling around, eager to talk to one another and socialize with their friends and other organizations? Yeah, that sounds super boring. Definitely not the campus for you.
7. It has the largest library in the Western United States.
An eight-story high library that is open 17 hours a day on schooldays? Gross. After all, what's worse than procrastinating your homework till last minute, and actually having a place to go to do it? The SJSU MLK Library will certainly disappoint you if you need a place to study, or even just to relax in a quiet atmosphere. There's 8 floors, with the top 3 "quiet floors" offering not only complete silence, but an excellent view that overlooks campus on one side and the downtown SJ skyline on the other. Plus, there's books, books everywhere, along with contemporary art galleries on one floor, cultural heritage arts on another, and so much, much more. Nah, you're right, the library isn't great at all.
8. The campus is completely ugly and disgusting.
If a pretty school is what you're looking for, then SJSU might not be the one for you. Sure, we have Tower Lawn, with its huge open-space grass area and all, but that's nothing. Wake up early enough, and you might see people playing with their adorable dogs. Take a stroll in the afternoon and see various activities going on, whether it's a big group of people playing Frisbee or a whole team playing Quidditch. Sometimes, you can even see people stargazing on a clear, late night. No, that all sounds terribly boring. Who would want to be on an ugly campus like that?
9. SJSU was rated one of the worst public schools in the country.
US News listed San Jose State University as #6 in Top Public Schools. Sixth place? Out of over 600 public universities in the United States, sixth place is nothing! There's nothing that impressive about SJSU. With amazing colleges, such as the Lucas college of Business and the Engineering department, SJSU's academics are terrible. And, being in the Silicon Valley is horrible, what with being the hotspot for start-ups, huge companies, and entry-level positions. On top of that, why would anyone want a fun, entertaining campus life? No, SJSU is definitely not the school for you.
---
---
Related Articles