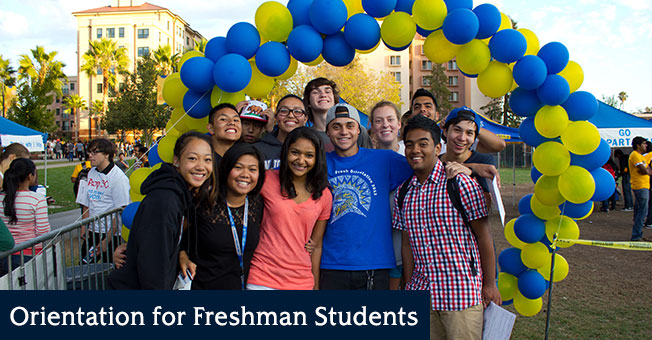 That new campus feeling can be hard to shake even once you're familiar with your home away from home. Throughout your four (or more) years in college, you'll come face to face with countless challenges that will have you feeling unsure and even a little scared. Here are 10 tips to surviving your freshman year at San Jose State.
1. Introduce yourself to as many people as you can.
Friends can come from anywhere, so keep your eyes and opportunities as open as possible. Many students meet lifelong friends at freshman orientation and in dorms during their first year just by bonding over how clueless you both are. Some professors may have your class play name games on the first day of instruction, and for a good reason. It'll come in handy to have friends and acquaintances to study with when midterms and finals come around.
2. Create good study habits from the start.
You may have been an all-star student in high school, but college is very different. Class sizes are bigger, lectures move faster, and you're responsible for a lot more than what you learn in class. Remember, habits take time to learn, which is why it's so important that you establish good study habits early in the semester. Finals will be here before you know it, and you won't want to be struggling with basic study skills.
3. Learn how not to procrastinate.
As tempting as anything other than homework might be, procrastination is not your friend. From finding a quiet place to study uninterrupted to turning off your phone for an hour, there are many ways to fight procrastination. It'll take some trial-and-error to figure out what works for you, but make sure to catch yourself in the act and get back to that assignment immediately!
4. Keep up with regular exercise and a healthy diet.
When you feel good physically, you'll feel good- and perform well- mentally. There's been many scientific studies published that show the correlation between healthy bodies and better academic performance, so hit the gym!
5. Don't underestimate the power of a good nap.
College students are notorious for staying up late, but that doesn't mean that sleep is any less important. Make up for those late nights of partying and last-minute essay writing with an afternoon power nap. It'll renew your energy and boost your mood to make each day as productive as possible.
6. Take advantage of your campus resources.
San Jose State has tons of academic, social, and other resources for students. The new wellness center holds health related workshops and gives out free condoms to encourage students to be safe in all that they do. University housing holds free tutoring sessions on campus every week, and the Student Success Center even provides free breakfast! Keep your eyes open- you never know what you'll find.
7. Get to know your professors.
Especially with larger class sizes, it can be hard to get one-on-one help when you're struggling with a certain subject. Take advantage of your professors' office hours and any out of class opportunities they give you. A good way to get a professor to notice you is to sit in the front of the class and participate as much as you can in class discussions. Most professors want to help you and get to know you too, so don't be afraid to say hi or ask for help!
8. Check out SJSU's countless clubs and student organizations.
San Jose State is one of the most diverse schools in the nation, with tons of student-run clubs to match. There's something for everyone, so look around at each semester's student organization fair and on class Facebook pages. Lots of clubs are partnered with a certain department on campus, so it's likely there's a club for your major, too!
9. Get out of your comfort zone.
College is all about the new: trying new things, meeting new people, and learning lots of new things about the world and yourself. Embrace the new everywhere you find it, no matter how scary or weird it may seem. Try taking yourself out to dinner or a movie, or maybe learn how to conquer a fear. Soon these things will be totally normal, and you'll have another skill under your belt.
10. Don't forget a little fun every now and again.
College is about fun and being social as much as it is about academics. Campuses are always busy, but living in place like downtown San Jose makes it easy to find something to do at any time of any day. Grab some friends for a night on the town or a movie night in the dorms, anything will do! Have fun, Spartan
---
---
Related Articles