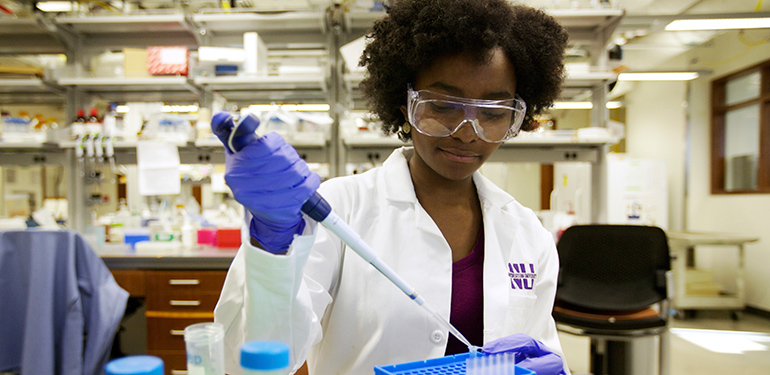 A chance to work with renowned scientists at the vanguard of an exciting experiment? To some STEM majors, that might sound like a dream come true (albeit unrealistic). However, Stony Brook University happens to be a major proponent of undergraduate research. With its close proximity to Brookhaven National Lab and cutting-edge on-campus resources, it is quite commonplace for undergraduate students to participate in their professors' experiments. While some professors prefer older students that have completed certain coursework, others are willing to take freshmen and sophomores under their wings. Either way, working with a research group is a once-in-a-lifetime opportunity; if not, a precursor to your future career. But if the thrill of making a grand discovery before you graduate college is not enough incentive, here are five reasons why you should look into participating in undergraduate research at SBU.
1.  You'll stand out on your resume/CV.
In this day and age, work experience is a limited, yet crucial, resource. Unfortunately, in STEM it is difficult to find jobs or internships that do not require a college degree (more on internships later). Many STEM majors end up graduating with many skills, but little to write in that dreaded "Past Employment" resume section. Thus, the biggest motive for going into undergraduate research is gaining experience in one's field. Even if you do not plan on pursuing a career in academia, research showcases a lot about one's character. It demonstrates that you can use what you learned in the classroom in a workplace setting, therefore "verifying" your skills. It shows good time management, commitment, and responsibility, as you would have to balance coursework with extracurricular lab work and projects. Also, since not all universities have as many undergraduate research opportunities as Stony Brook, it is a great way to stand out from the crowd. This is especially crucial for those looking to apply to graduate school.
2.  You'll end up networking within your department.
Many faculty members within a department work with or help each other on different aspects of one larger project. You might find yourself at a research group meeting with your future professors, TAs, or classmates, creating opportunities for some solid first impressions. Additionally, you will most likely form a close working relationship with your PI (Principal Investigator, aka, the one calling the shots for your experiment). But why is networking so important? It's a frustratingly abstract term, but it describes a rather abstract idea in it of itself. At the end of the day, you'll never know where your connections may take you. Sometimes networking can lead to jobs or graduate school seats. Other times, talking with accomplished, wise professors and upperclassmen provides chances for you to pick their brain on academics, careers, or life in general. Think of college like an RPG. The more people you talk to, the more tips and secrets you'll learn, and the more likely you'll find your way.
3.  You'll apply what you learn in class, and vice versa.
Depending on what you go into, research is a unique way to understand what you learn in the classroom. The concept of electric fields may eventually click in your head, or you'll finally understand the logic behind those pesky Punnett Squares. Conversely, sometimes undergraduate research requires you to read ahead in your coursework to better understand the goals of the  project. It's a fun way to get a headstart in upper-level classes.
4.  You'll have a sizeable shot at a summer internship.
While college-level STEM internships are rare and extremely competitive, Stony Brook offers a few programs exclusively to their students. The URECA and Explorations in STEM programs support SBU students doing full-time, faculty mentored research for 10 weeks over the summer. Explorations in STEM students receive housing and professional development workshops, while URECA students get a spot to present at the University's annual poster symposium. Both programs give students a $4,000 stipend. All you'll need is a unique research project in mind, a completed application, and a letter of recommendation from your faculty mentor. The longer you've been with a research group, the more your faculty mentor will have to say about you, and the more you'll have to say about your research project, so plan ahead and get involved early!
5.  You'll test how much you really love your field.
As exciting and interesting as research is, it does require a considerable amount of dedication. You'll have to learn new topics and techniques in order to understand your professor's work in addition to your normal studies, and make time for lab work throughout the week. If you decide to take research for credit, you may also need to report back to your professor on a weekly basis and eventually submit a report at the end of the semester. All this may sound like a lot of work, but if you are interested in pursuing a career in STEM, it will (hopefully) be worth it. The best way to know whether a field or career is right for you is to experience it firsthand. And above all else, undergraduate research will fully immerse you in your field of study unlike any classroom or lab.
Overall, research is an incredible activity to participate in throughout college. Take advantage of Stony Brook University's strong support for undergraduate researchers, and find a project that interests you!
---
---
Related Articles