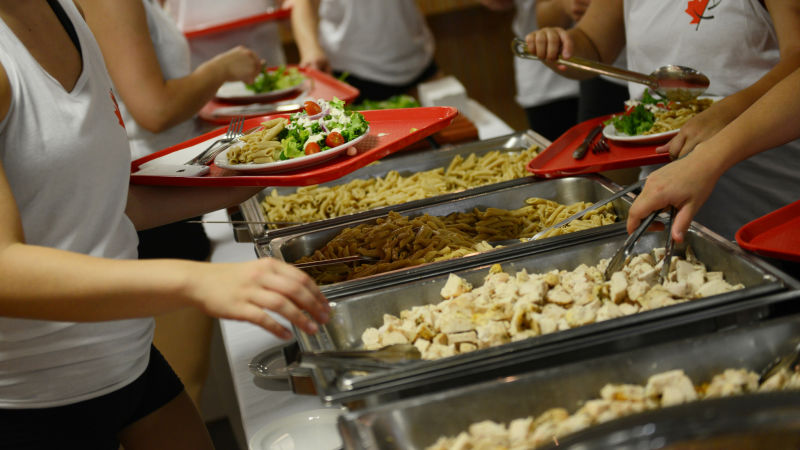 Eating campus food or food from home can be a drag at times. College food sucks in general, and cooking or preparing food can get old. For students at Suffolk University, there are plenty of other options to grab a bite.
1. FiRE + iCE Grill + Bar
Located at 205 Berkeley St, FiRE + iCE Grill + Bar is open-grill style restaurant. Customers fill bowls with food, hand it to the chefs, and everything is cooked right in front of them. There is an array of meats, pastas, sauces, vegetables, rice and other ingredients up for grabs. Also, it's all you can eat! For college students, it's only $10 on Monday nights and is a great place to take a group for a good sit-down meal after a stressful day.
2. Florina Pizzeria & Paninoteca
With the closest location near Suffolk being at 16 Derne Street, Florina Pizzeria & Paninoteca is cheap, the portions are huge and it is fast and convenient. For $7.50, you get two slices (which are basically half a pizza) and a drink; a very reasonable deal. It's also in a great spot, only a few minutes from the Sawyer building where classes take place.
3. Boston Common Coffee
Right behind the 10 West and Modern Theater dorm rooms at 515 Washington Street, Boston Common Coffee carries a variety of breakfast sandwiches, coffees and pastries. With its convenient location in relation to Suffolk University's buildings, it's never too far out of the way for a pick-me -up coffee before class or in between classes.  Though Dunkin' Donuts is everywhere, Boston Common Coffee is a quality alternative for students looking for a change of pace in their coffee routines. Also, Boston Common Coffee offers about the same variety of flavors and types of coffee as the chain.
4. Blaze Pizza
At 123 Stuart Street, Suffolk students will find Blaze Pizza. Unlike a lot of other pizza joints, Blaze Pizza is relatively quick and can almost be defined as a type of fast food pizza. Customers can choose from a list of toppings or create their own. Though orders are made right in front of you, the food is high quality for its type, and relatively low priced.
For those days when you have no desire to cook, look no further than these few restaurants to alleviate the monotony of campus food or food from home. There are tons of other places, but these four are great places to start for sit down meals, morning coffees and quick bites.
---
---
Related Articles