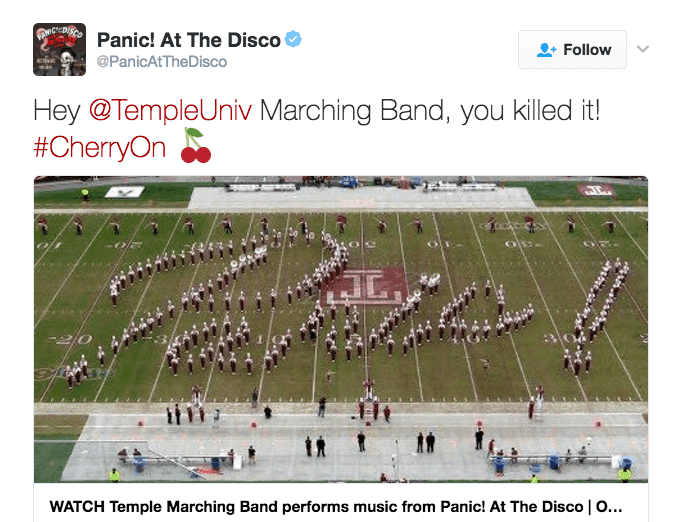 If there's one thing Temple University does right, it's social media. (Okay, so that's not the only thing—but you know what I mean.) Whether we're facing our on-campus fears in funny ways or celebrating the successes of our football team, our tweets, posts and shares are almost always guaranteed to make us stop and stare.
Ready to see for yourself how cherry and white look on social media? Here are 17 of the most accurate Facebook and Twitter shout-outs from such Philly favorites as Temple University Confessions, @TempleMakeouts and @TU_Alert, along with other solid mentions and, yes, even Panic! At The Disco.
1. We take chances
2. We fall in love
3. We do the unthinkable
4. And we shatter expectations
.@CollegeGameDay coming to Philly!!

— TempleMakeouts (@TempleMakeouts)
5. Until Stella gets a lil' too sassy
— TempleMakeouts (@TempleMakeouts)
6. And reality sets in
Meghan and Sean, sorry for your loss

— TempleMakeouts (@TempleMakeouts)
7. But we're used to setbacks
TU Alert: NCAA doesn't select Temple for the tournament. Temple hasn't been robbed this bad since… well, since last night. Avoid the area.

— TU_Alert (@TU_Alert) March 15, 2015
8. Because we're rational thinkers
"College kids literally don't care about walking in the way of cars at school because we're like "hit me i don't care pay my tuition."

— TUgirlprobz (@TUgirlprobz) November 26, 2013
9. And we fight for what's ours
TU Alert: Students spotted outside of Matt Rhule's office with a boom box asking him to give Temple one more chance.

— TU_Alert (@TU_Alert) December 6, 2016
10. Though we're not afraid to return what isn't
11. We live in a pretty city
12. One that's prepared for anything
Accurate depiction of Center City for the pope visit

— TempleMakeouts (@TempleMakeouts)
13. We're hopeless romantics
TU Alert: When you think that 2am text is from your crush, but it's actually a TU Alert.

— TU_Alert (@TU_Alert)
14. Or, perhaps, just hopeless

15. But our mayor loves us
16. Our alumni love us
17. Even Panic! At The Disco loves us
Hey @TempleUniv Marching Band, you killed it! #CherryOn 🍒

— Panic! At The Disco (@PanicAtTheDisco)
We don't win every game or lead perfect lives. However, Temple pride is real. And it's something we all feel.
---
---
Related Articles