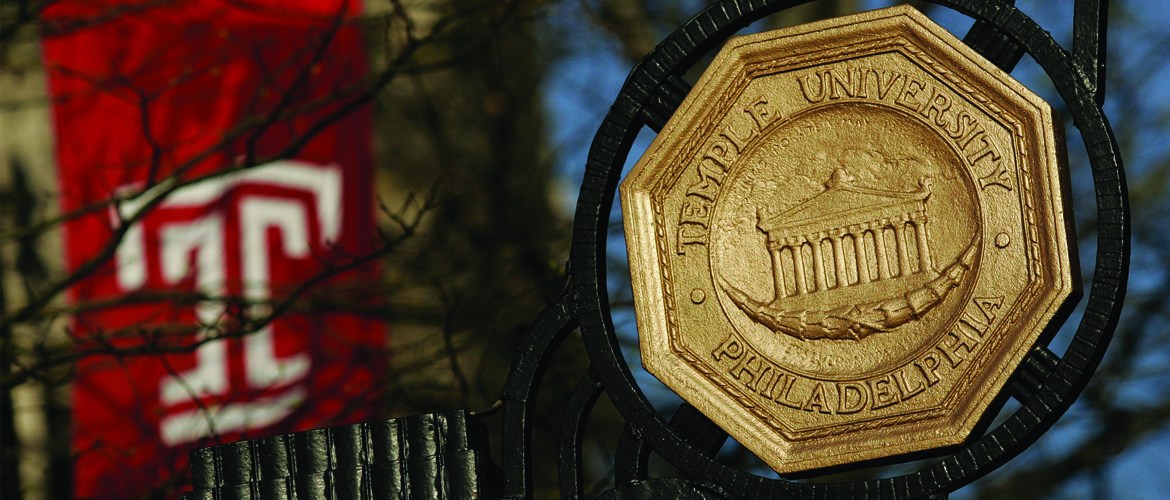 You get an email stating that your semester bill is ready to be viewed, so you hold your breath and take a look. It's big. It's scary. It's probably more numbers and dollar signs than you've ever had hanging out in your bank account. If given the option to pay it or pass the hardest chemistry test of your life, you'd hit the books in a heartbeat.
Guess what? You don't have to run for the hills to escape the high price tag! Temple may be responsible for several of your money-related nightmares, but the university actually wants to help you through them. Here's hoping that at least one of these scholarships makes your college journey a tad less terrifying.
Temple University Memorial Awards are handed out during the spring semester of each academic year. If you're an all-star in the classroom, a proven leader and/or the reigning champ of community service, then one of these seven scholarships is definitely for you! Apply http://deanofstudents.temple.edu/memorial-awards by the end of February for your chance to be honored.
The perks of Temple's Air Force ROTC program are plentiful. In addition to partial and full tuition scholarships, accepted students may be eligible for room and board, book and cold-hard cash (read: you decide what you do with them) stipends. Have a high school diploma, good GPA, solid SAT scores and the strength to pass a physical exam? Application deadlines vary, so head here https://www.afrotc.com/ to learn more.
Army more your thing? Don't worry—Temple has you covered. The Army ROTC also offers scholarships to take care of your tuition and fees, as well as a monthly stipend and an annual book allowance. You must be a full-time Temple student who earns great grades and stays in shape. Perfect your push-ups, sit-ups and two-mile run, then check this http://www.goarmy.com/rotc/schools/temple-university.html out to get started.
Turn your passion for rocks, rivers or the human body into some serious dough by applying for a Camille and Bill Cosby Scholarship in Science. Starting in late February of each academic year, Temple juniors may join the applicant pool if they are a.) natural sciences majors, and b.) in need of financial aid. If you're eligible, then snag an application from the Natural Sciences department offices and submit it by the beginning of May. Two students win, so cross your fingers!
So mad about media that you decided to major in it? Lucky for you, the School of Media and Communication (SMC) has set out to help you study for less. At the start of every fall and spring semester, SMC launches its scholarship application. Awards are given for straight-A's, unpaid internships, study abroad programs, demonstrated financial and, well, just overall awesomeness. Get the scoop here https://smc.temple.edu/admissions-cost-and-aid/financial-aid-and-scholarships
Here's what you need to know about the Henrietta S. Treen Scholarship. For starters, this money-saver is for Temple students who love ministry, medicine or law. A minimum GPA of 2.0 is required, and your personal character must be on-point. Applications are due by mid-March, so, if you qualify and can't wait to get in on this, search for the scholarship by setting up a Center for Scholarship Administration https://www.csascholars.org/ account.
The basic recipe for Temple's Supplemental Academic Scholarships (SAS) takes just two ingredients: a minimum 2.75 cumulative GPA and financial need. (Additional qualifications vary by award) When the middle of March rolls around, create your opportunity for scholarship success by completing the online SAS application [http://www.temple.edu/vpus/fellowships/undergrad-opportunities/SAS.htm]. It'll feel like a long road until recipients are rewarded in August, but the potential $$ are totally worth the wait.
Access Millions in Scholarships specifically for you! There are over $27 million in awards to help you pay for your education! Don't miss this chance and make sure to sign up here now! https://oneclass.com/scholarships
---
---