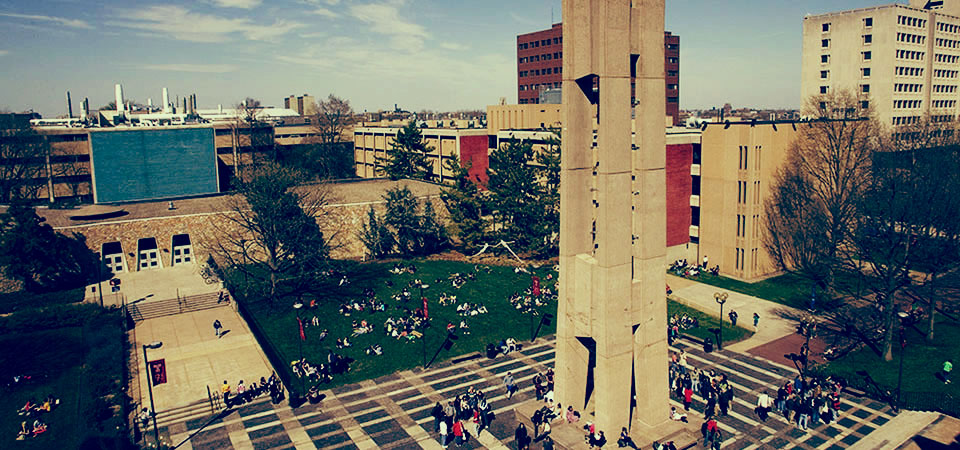 School is such a rollercoaster. You start as a low-man-on-the-totem-pole high school freshman, work your way up to senior status, and lose all that momentum the moment you move into Morgan Hall. But your first year of college doesn't have to be daunting! Here's how to make it as a Temple freshman.
1. Avoid going to the SAC at noon.
I can't stress this enough. Although the soon-to-come renovations might make a slight difference, you'll still want to stay away from the SAC during the 12 o'clock hour. Why, you ask? Well, when the clock strikes noon, that food court becomes busier than Trader Joe's on a Saturday morning. If you're trying to grab lunch in 10 minutes or less, good luck. I suggest buying a bite from one of our many food trucks. (The Creperie's my personal favorite!)
2. Keep an eye on your syllabi.
In high school, your teachers wrote assignment reminders on the board. They were hard to miss. In college, your professors pack a semester's worth of stuff into their syllabi. Unless you're lucky enough to have a prof who announces when due dates are approaching, papers and projects are way too easy to miss. Do yourself a solid by skimming your syllabi as soon as you get them. Make note of important dates and deadlines, and your mid-semester self will thank you.
3. Don't buy textbooks – E-ZBorrow them!
In addition to assignments, your syllabi will feature lists of required readings. The standard freshman move is to buy every book before the first class so that you're prepared. Yeah, don't do that. Some professors will, unfortunately, force you to shell out for brand-new editions and access codes. But this isn't always the case! For courses with a little more leeway, your best bet is the library's E-ZBorrow [https://e-zborrow.relaisd2d.com/gateway/TEMPLE.html] system. You'll be able to borrow books from other college libraries for several weeks at a time. If you throw in renewals, you may even get to keep them for the entire semester.
4. Talk it out with a Tuttleman counselor.
It'd be a shame to sugarcoat things for you, so here it is: adult life is stressful. College classes don't exactly contribute to the calm department, but Temple's campus is home to a group of counselors who'd love nothing more than to save you from meltdown status. Tuttleman Counseling Services [http://counseling.temple.edu/] offer everything from individual and group sessions to psychotherapy. Conversations center on making sure you feel as comfortable as possible throughout your time at Temple.
5. Check your email.
You have your very own tu such-and-such @temple.edu address for a reason. Actually, these special Gmail accounts exist for countless reasons! Professors use them to pass along course information, class cancelation notices, and assignment feedback. The university blasts you with important announcements. As for all those club listservs you join during Welcome Week? They, too, will be in touch frequently. Temple students can't afford to fall behind (seriously—our school's not cheap), so log in at least twice per day.
6. Go to the gym – all the gyms!
We've got TUF. We've got the IBC. Heck, we've even got a rock climbing wall. Though working out isn't everyone's cup of Wawa iced tea, I urge you to take advantage of all the treadmills, barbells, and fitness classes [http://campusrecreation.temple.edu/group-fitness] we have at our disposal (especially because Temple's already making you pay the activity fee). Nothing helps to shake off finals week stress like a good ol' fashioned sweat sesh. Lace up, limber up, and remember to breathe.
7. Leave campus.
Your parents probably told you that going past Fro Gro is a total no-no (I know that was the first thing out of my mom's mouth when she moved me in freshman year), but so much of our Temple education is taught a couple more miles up and down Broad Street. Yes, the city seems intimidating. Yes, you have a ton of homework. And yes, the parties on Gratz make for the perfect Friday night. However, these don't have to be obstacles! Take a friend or two on a trip to Wissahickon Park's tranquil trails, take your textbooks to a café on South Street, and take a break from jungle juice. For the next four years, Philly is your playground.
---
---
Related Articles