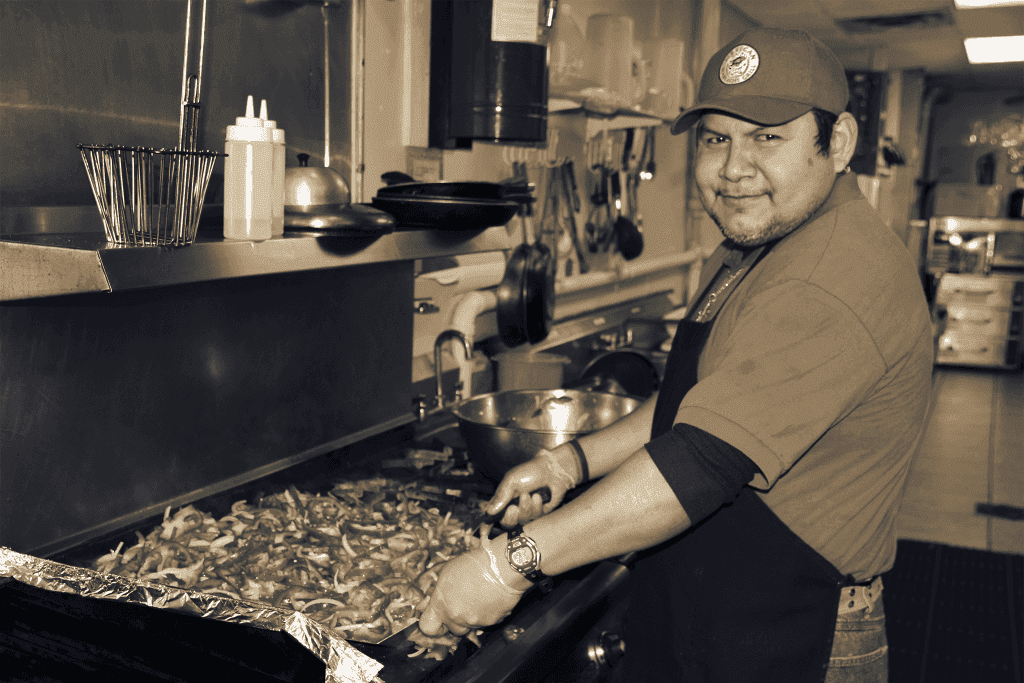 Piccolo Trattoria (800 Denow Road, Pennington)   
Topping off my list has definitely have to be Piccolo Trattoria NOT TO BE MISTAKEN FOR Piccolo Pronto. They produce significantly different quality of foods. Not to say Piccolo Pronto (located in Campus Town) is bad, because it by no means is, but it just cannot compare (the pizza) to the OG Piccolo Trattoria slices. They are ginormous and super cheap and at Piccolo's at Campus Town, they only sell individual pizzas. But I DON'T WANT THAT. I was so excited to know a Piccolo's was coming to Campus Town but DO NOT GET YOUR HOPES UP. Just take the short drive to the "real Piccolo's" as we say at TCNJ and you will never be disappointed.
Buen Provecho (1701 Hamilton Ave, Hamilton)
So I heard about this place from a friend (shoutout to Jenny C) when I was looking for a delicious Puerto Rican restaurant to go to to celebrate graduating. She raved about it and told me that everyone she was with during that dinner absolutely loved their meal! If you are Hispanic,you know what mofongo is and how incredibly delightful having an amazingly prepared one is. I was in absolute heaven and to top it off, I had a flan for dessert even though I was stuffed from my trifongo. (But there's always room for dessert!!)
Ewing Diner (1099 Parkway Ave, Ewing)
Broke-college-student-goals is finding an incredible diner with great food AND the perk of not needing to break the bank. The Ewing Diner absolutely is a beautiful, hidden gem with the friendliest staff and best food a diner could offer. Like most diners, it seems as though the options are endless and I always struggle with what I want to eat – a nice burger with fries or breakfast for dinner? Maybe next time I'll just have both!
Cafe 72 (72 West Upper Ferry Road, Ewing)
This place is definitely a hot spot for brunch. (Never did I really have as much an affinity to brunch as I did after being in college) This place is gorgeous and a bit boujie, if you ask me, however, worth it. The options of foods are great and definitely will fill you up, but don't expect to spend the same amount you would at Ewing Diner here.
PJs Pancake House (154 Nassau Street, Princeton)
Just listen to its name. Pancakes are incredible and there are many varieties at PJs. From chocolate chip, to nutella, banana and strawberries, to walnuts and cranberries – truly, what more can you ask for? This place gets a thumbs all the way up from me and is located in gorgeous, scenic Princeton -is one of my favorite places to eat at and be at night.
Mikonos (50 Scotch Road, Ewing)
Not going to lie, this place isn't my absolute favorite but definitely good enough to make my list. For one, the actual Greek island is spelled Mykonos, not like the restaurant name, and I've had better Greek food (forgot to mention I've actually been to Greece – so I'm bias). However, since it's one of the very few Greek places in the Mercer County area, I like to eat here. Their Greek fries are delicious as are their hummus and pita. But if you're Greek or a Greek food lover, I would not recommend their Spanakopitakia (spinach pie). Next time I like I'm going to try their beef and lamb gyro platter.
Masa Sushi (415 Nassau Park Boulevard, Princeton)
Sushi lovers unite – this place has ALL YOU CAN EAT SUSHI. Yep, you read that right! Lunch is $18.95 and dinner: $24.95 BUTTTT it's definitely worth it since it's basically endless food til your stomach cant talk anymore. This place also has great vibes and is BYOB for the of age friends.
On the Border (3567 Route 1, Princeton)
Okay, so this place is not necessarily unique to the area but On the Border probably is one of my favorite food places. Judge me if you want to, but it's true. I love their chips and salsa and no matter what, even if I am ordering a meal,I ask them to keep it coming. Their happy hours have amazing deals and their food, like their mini empanadas,are just so good. I also love their cheap pitchers and their house margarita is always my go to.
Bahama Breeze (3535 Route 1, Princeton)
Again, not unique to the area, but delicious! I love the island vibes, beautiful dishes and drinks. This is the only place I know that has a margarita flight. HOW COOL. I have never been there for their happy hour but I hear from friends it is more worth it than Applebee's Half Apps which says a lot, if you ask me, so I definitely need to check it out.
I love to eat and go out to eat, so I would like to say this is a pretty accurate guide of the great food places around our campus. So take a couple of weekends and go on mini food road trips to see if you agree and enjoy these places as much as I do.
Happy dining!
---
---
Related Articles