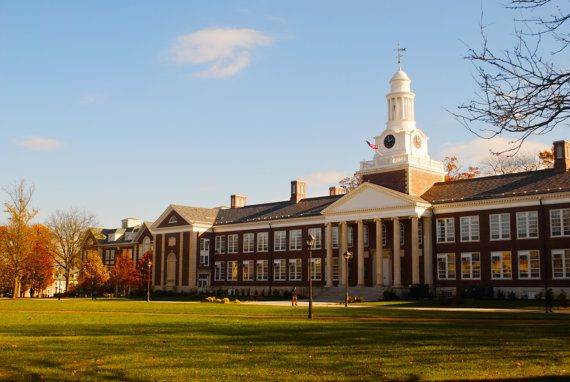 College in itself is a new time period where, at every corner, your senses are heightened with new information. Whether you're a college freshmen or a transfer student, the influx of abbreviations and nicknames for countless things at TCNJ can be very confusing.
Some abbreviations are pretty straight forward while others may elicit a raised eyebrow if you are new to this turf. Here is a quick guide to some of the most used abbreviations across TCNJ's campus.
Meal Equiv – Meal Equivalent
Even though the abbreviation is a bit obvious, it does not mean meal equiv is simple by any means. I couldn't tell you how many people tried to explain meal equiv to me. Despite all of these efforts, I still had no concept of what it was. It is definitely something you learn by doing.
I will still try to explain meal equiv to the best of my ability. Basically, everyday, from 11-1:30, if you are a freshmen or have the unlimited Eick swipe meal plan, you get a free $8. Many people use this to either stock up on snacks or get lunch for the day. Most places on campus take meal equiv during weekdays, but on weekends it is only accepted in the Lib Cafe and at Traditions.
Lib – Library
This one's pretty straight forward. The lib houses private rooms for studying, computers and the lib cafe. Typically floor 1 and 2 are known to be more of the social floors where people can expect to go do work but are not expected to be completely silent. The third floor is mostly where Greek life and orgs go to do work. So if you head there and get strange looks, that's why. (This has happened) The fourth is known for being the "Quiet floor". Despite the fact, though, many people will disregard this rule. One thing a lot of people don't know, is that at any time, you can go down to the help desk and let them know of any guests who are being incredibly inconsiderate and loud.
Rec – Recreation Center
The Recreation Center is located next to the Travers/Wolfe dorms and the tennis courts. Club sports use this gymnasium for practices and games. There are also different rooms used for the Fitness Classes such as Insanity and Zumba. ReCreate your Night also utilizes different venues in the Rec Center to host their events.
CA – Community Advisor
If you dorm and are a freshmen or even transfer student, your CAs will be one of your biggest resources on campus. They live with you in the dormitory and play a vital role in helping you to connect to your community. They have the same roles that "RA's", or Residential Advisors, have which are to ensure the safety of residents as well as making you aware of the resources and a sense apart of the larger campus community.
Stud – Brower Student Center
The Brower Student Center can be found across from Lions Stadium and next to Packer Hall. The stud houses an information desk, pool tables, a life-size Connect-Four, and dining options such as the Pride Cafe, Traditions and Lions Den. The second floor of the stud contains rooms that can be booked for events or meetings as well as seating and tables for doing work.
C-Store – Convenience Store
The C store can be found connected to Eickhoff Dining Hall, closest to the tennis courts. You can use your points to buy anything from string cheese to hot pockets to tostitos and salsa. They also sell some other things such as balloons, Advil and even condoms, but these products can only be bought with get it points, credit cards or cash.
There are also many services on campus that are abbreviated like CAPS.
CAPS – Counseling and Psychological Services
Counseling and Psychological Services is located in Health Services in Eickhoff Hall. There are multiple therapists that you can meet with shall you request one on one sessions. If you rather meet with peers who are dealing with some of the same things you are, CAPS offers many different group sessions on lots of topics such as dealing with anxiety, divorced parents, self-image and more. If there is not one you fit into, you also have the ability of creating your own group.
This is by no means is a full list of the abbreviations you may hear on TCNJ's campus. The list can go on, but as you familiarize yourself more and spend more time at the college, these will become second nature and you might even come up with some abbreviations of your own!
---
---
Related Articles