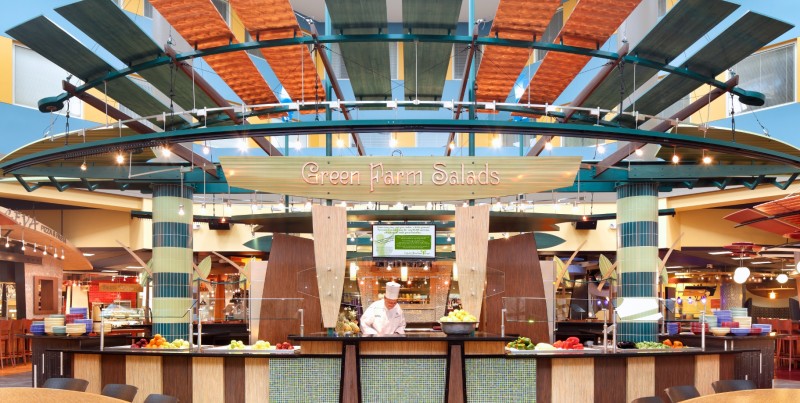 Since arriving at TCNJ, there's nothing I miss more than having the amenities to cook for myself. I dwindled in all kinds of recipes from cookies, to zucchini alfredo to sesame chicken. I ate like a queen because I cooked like a queen, but now, I am faced with fewer and fewer options because of the dreaded dorm food.
The food at Eickhoff Hall may not seem so bad at first, but once you have been here a month, I'm sure you miss Mom's meatloaf more and more. I was flabbergasted at seeing pierogies served with spaghetti sauce, but so far, that's the worse I've seen. So, we are stuck eating the same bowl of cereal or plate of french fries on the regular because we are trying to avoid the concoctions that fail to make culinary sense.
While variety is the spice of life, especially when it comes to food, sometimes we have to improvise. Here are some tips on how to get the most of your meal plans at The College of New Jersey.
1- Use It!
All meal plans for the school allow for unlimited access to the main dining hall at Eickhoff from at least 11am to closing. If you're hungry, go eat something here because as long as you have your ID (or at least a photo of it) this food is of no additional cost to you. It may not be the best, but it can be filling, and it was already paid for. Whether you are paying for your college experience yourself or you have family supporting you, it is important to take advantage of all the opportunities that you can, because they will not be available forever.
2- inside Eick, don't limit yourself to one food prep station.
Just because you got a slice of pizza doesn't mean you can't have some lo mein noodles too (if you're brave enough). The best way to handle this, I found, is to go around and get small portions of things you may have a taste for, so when you sit down, you can pick and choose what will be your meal after trying it, rather than having and wasting a whole huge portion of something that resulted in your dissatisfaction.
3- Use Eick to stock your dorm.
Like most freshman college students, we do not have easy access to grocery stores, never mind the funds to feel ourselves outside of the prepaid meal plan. Use your unlimited swipes to Eick to get things you may need for your room. Bring a small bottle to get milk for your cereal, or grab a few pieces of fruit to take back for a midnight snack. I have even snuck out some raw broccoli to steam up with my microwave pastas I had in my room. My point is, don't abuse the privileges given to you, but utilize them for your own benefit. No, Eick is not a grocery store, but it can help placate your hunger, in and outside of the facility until your grandma sends another care package.
4- Don't forget about the point system involved with your meal plan.
When you paid for a meal plan, you also prepaid for a number of points, ranging from $167-$720, that act as credit you have with the school. These points can be used at the Student Center, Traditions, Lib Cafe, T-Dubs, C-Store along with other establishments on campus (not including campus town). These points allow for students to spend a little something on themselves and get away from Eick without using their own capital. The points are great to use when you have visitors and you want to take them out, but don't have the support of your bank account, take those friends to Traditions or T-Dubs for a prepaid, better quality meal. Just keep in mind that these points can roll over from the fall to the spring semester, but not into the following year, so come April and May, depending on your ability to resist unnecessary spending, you may get to splurge completely.
5- Meal Equiv. 
This is the best quality offered by all of the meal plans that were purchased. This system may seem complicated but it is actually quite simple. So, every day, the college credits each person with any meal plan a whopping $8.03 to spend at any of the campus dining centers. You are able to use this credit at The Lion's Den, The Library Café , Education Café, and STEM Forum Café. The only place restricted from this opportunity is T-Dubs, which is a shame but this allows for students not to be monopolized by Eickhoff every day without spending their points or money from the bank. While this does not roll over from day to day, you have access to it every day. My suggestion is that even if you are not hungry during Meal Equiv hours (11am-1:30pm) still pick something up with it because its free money to buy a free meal that will help you avoid the dining hall. Even better, if you decide that you want something that costs more than $8.03, you can use your points to cover the remaining balance, and still not pull out your credit cards.
For anymore information regarding meal plans at TCNJ, use the link here!
---
---
Related Articles