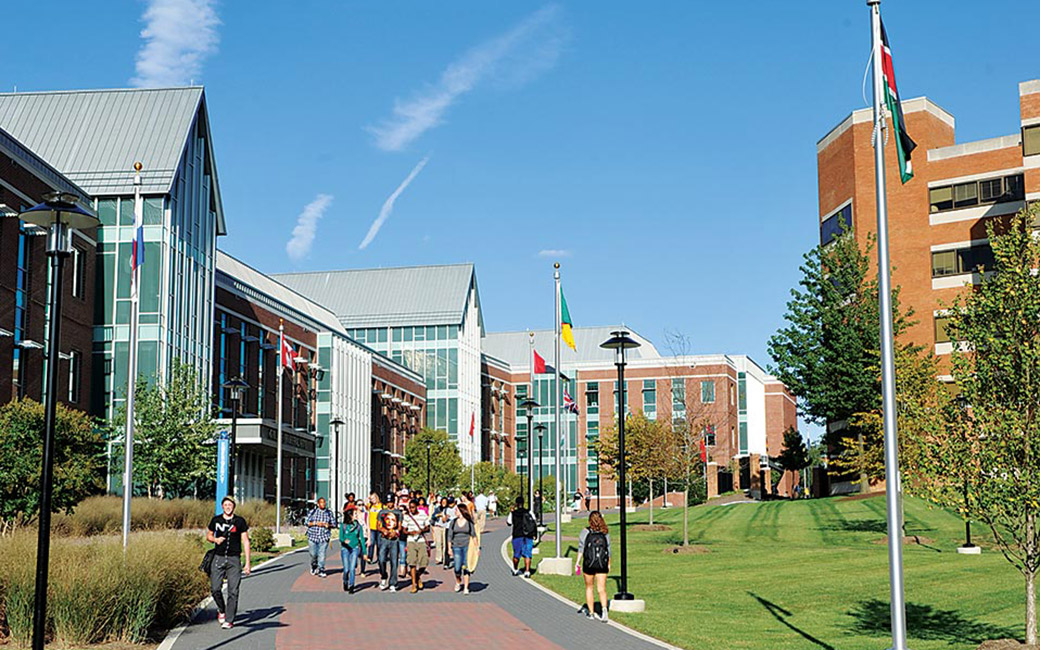 Picking a school and knowing if it is the right or wrong school is something that is very difficult to do. It is much better to pick a school at first and not have to transfer, since transferring is something that everyone dreads doing and is scared that it will happen. Towson University is the perfect school as it fills almost all types of needs. Once people chose Towson as their school they are very happy with it.
1. Big School Small Feeling 
Whether you are looking for a big or small school, Towson can fulfill both of these needs. While it is about 18,000 undergraduates, this is surely not how big it actually feels when you are in attendance. Walking on campus, you will always pass people that you do not know but you also will have the benefit of passing by plenty of people that you do know. There are small class sizes, allowing a great interaction with the fellow students in the class as well as a connection with the professor. There are not any classes with more than  50 students, and with such a large student body this is something extremely impressive. While the classes are all generally small, the school spirit feels big. Attending a sports game and seeing the size of the student body is overwhelming, as the school has great spirit and energy towards the teams they are supporting.
2. Low Tuition Cost Both In and Out of State 
Towson has low costs for tuition both in and out of state. When comparing the costs for in state, state schools it is much less expensive than other schools around. Also, for out of school residents, the cost is under 40,000 dollars when comparing to other schools similar to Towson, will seem like a bargain. Towson has many scholarship and financial aid opportunities that can be granted both before applying as well as after already being enrolled. While the cost of Towson is low, you still have all of the strong resources and academics available.
3. Lots of Resources 

Towson offers a variety of helpful resources that can help students excel. They have a free tutoring center in all subjects, a writing center to help edit any types of resumes or papers, and a career center, helping to plan out your future. By attending Towson, you have access to all these resources as well as many others.
4. Campus Events 
Towson has many free on campus events! While there are always sports games depending on which season it is, there are also shows put on by the theater department for low costs. Towson always has the dorms doing activities as well as after moving into apartments, the apartment complexes having special events to participate in. A lot of the time different spots around the campus will be giving out free food to support something specific, and who doesn't love free food!
5. The Diversity        
Overall, Towson has a lot of positive aspects to it. The big school small feeling is listed number one because it is what Towson is mostly known for. The low tuition is also a huge perk to students whether they are putting themselves through college or it will give their parents a break. All of the resources that are included in the tuition that then do not have to also be paid for on top of it is very good in that many other schools these resources are an additional cost. Lastly, the free campus events and diversity makes Towson a unique and desirable campus to be!
Overall Towson is definitely a great fit of a school. It is most known for its big school small small feeling atmosphere which is why that was the first thing listed. Having a low tuition compared to other schools is also a great perk in that whether you are putting yourself through school it is affordable, or if your parents are paying you are giving them a bit of a bargain compared to other schools similar to Towson. All the resources that the university has should be taken full advantage of, as many other schools have these resources but they need to be paid for. Finally, the free campus events as well as all the diversity at Towson allows for a feeling of at home and happiness!
---
---
Related Articles