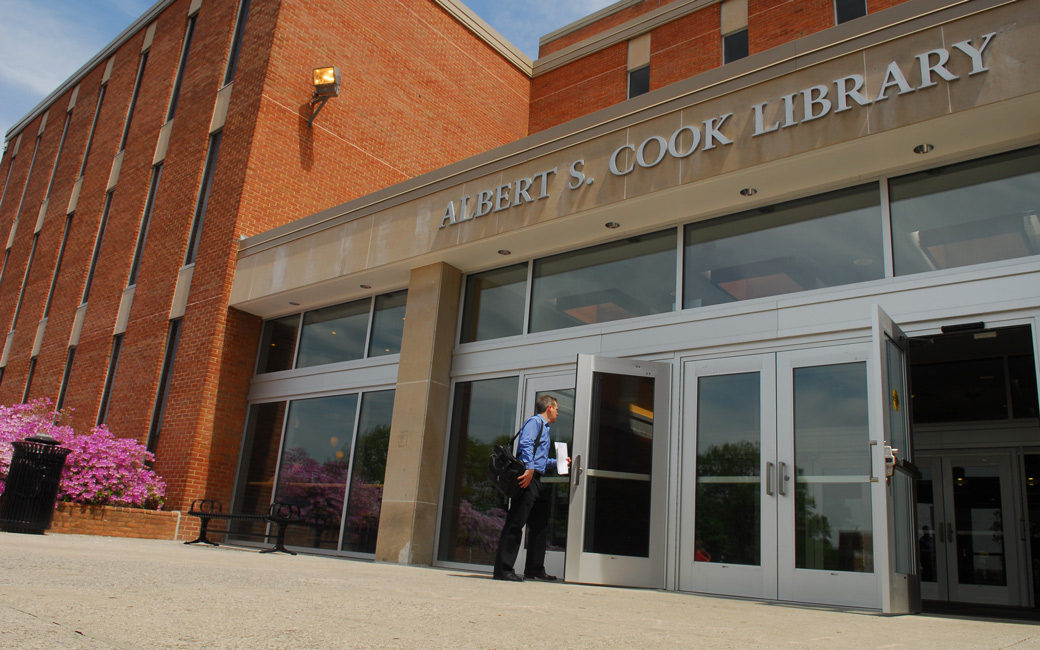 Every library at each college is different. The size, the amount of floors, the location and what it looks like overall is different. Cook Library at Towson University is perfect for Towson University. It is perfect in the size it is and the location. It is centrally located on campus, as it is in eye sight of Freedom Square which is the center of campus. There are 5 floors that make up the library and each floor is different and unique. Depending on what you like within the library and what you are specifically looking for will determine which floor you need to go to.
Floor 1
Floor 1 is not for studying. Instead, it is like a small apple store. There are students that have jobs through Towson that are good at fixing electronics. Instead of bringing your device into a place and paying some type of cost. They are able to fix all types of problem and do it quickly. If the specific person that you go to does not know how to fix it, they ask someone else who can usually figure it out.
Floor 2
This floor is made for studying. It is also referenced by Towson students as the greek life floor. This is because most people that are in greek life sit on this floor. If you have something to study for that you need no distractions, this is not the floor for you. Although, there is a quiet room that is really good to sit in, but usually during hours of busy times is filled up. There is also rooms that can be rented out for free that are for bigger study groups. This is helpful if you have an assignment with a group or want to sit in your own space with friends to talk.
Floor 3
This is actually the floor that you walk in on. The first few times you go to the library you may be confused if you should walk up or down the stairs since you did not realize you had walked in on floor 3. There is a Starbucks immediately on this floor when you walk in. After 4 pm the Starbucks takes meal swipes which is a really good way to get rid of extra meals you may have on your account. There is also a 24 hour room on this floor that has just recently opened up. Since the library is not open 24 hours, if you seem to need to study through the night, this is the room that you can go in and still stay studying at the library for.
Floor 4
This is the most normal floor of the library. It has a lot of book shelves of books as well as some larger tables to study at and  then cubbies that are quietly to be sat at lining the outside of the floor. There are some classrooms that have computer labs built into them that you might have to go to for one of your classes. A lot of TSEM classes which are freshman year classes all students have to take, have some days on this floor instead of their regular classroom since the librarian comes in to help.
Floor 5
Floor 5 is the top floor of the library. It looks very similar to floor 4. There are a lot of book shelves as well as some classrooms in the front. However, in the back of this floor is where the tutoring center is located. Towson offers free tutoring, it is just necessary to make an appointment, and then you are able to get tutored in any subject you need. This is a perfect way to ask someone that knows the topic well for some help or to just review with someone. Any resource like this that is free should be taken advantage of!
Knowing which floor has what on it is important. Since the library is rather large you may waste a lot of time figuring out which floor has what on it, or where you should be at that moment. If you are looking for a quiet study this will be different than if you are looking for more of a social scene. If you need specific help with an electronic or with a class, this will also determine you going to a different floor. Each floor has many great aspects to it and in the years you are at Towson, you should check out each of the floors and see what you like and do not like about the vibe on each floor!
---
---
Related Articles