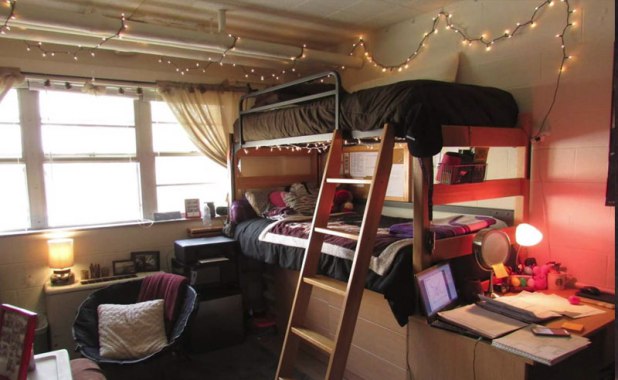 Calling all anxious college freshmen: College can be terrifying. With a whole different atmosphere and social group, along with the constant stress of schoolwork, everything can become extremely overwhelming very quickly. One thing, however, that can help make your college experience more enjoyable– aside from great friends, clubs, etc., is making your tiny dorm room feel more homey. After all, there's nothing like being able to do homework, hang out and relax in a room that makes you feel comfortable! Here are some ways you can make your room feel more like a home for your first year of college.
Hang up pictures from home. 
Being able to look up from your laptop after a busy night of homework and seeing familiar faces from your hometown can be extremely comforting in a new place. Buying a few cork boards and frames while looking for things to decorate the room with can be extremely helpful in hanging up pictures of your family and friends all over the walls of your room!
Comfy blankets, pillows, sheets, and mattress topper!
As I'm sure everyone has quickly come to realize after living in a dorm for a couple of weeks, there is nothing like your own bed at home. However, this does not mean you can't turn your tiny twin sized bunk into something you can get a good night's rest in! Be sure to purchase a mattress topper that will do it's job. These can easily make your bed feel comfy and more like yours at home! Be sure to find soft sheets and comforters as well. A good night of sleep calls for sheets that won't make you uncomfortable or itchy. Same goes for pillows! Buying ones that suit your liking is crucial for enjoying the time you spend in your bed at school. No one likes sleeping on an uncomfortable pillow! Finally, buy some throw pillows and blankets! There's nothing better than being able to crawl into bed to take a nap, to read, or to watch some Netflix with a soft blanket and some comfy pillows to make yourself more comfortable.
Hang up some string lights.
Aside from making the room look cute, string lights can also provide comfort to those missing home! The lighting that they radiate can actually relax some people and remind them of how it feels to be back in their own bedroom at home!
College is not an easy adjustment by any means. Having to move into a cramped dorm room with one or even two people can make everything much more stressful and overwhelming. However, with these tips, you will have your dorm room feeling comfy and cozy in no time, and you will feel right at home!
---
---
Related Articles