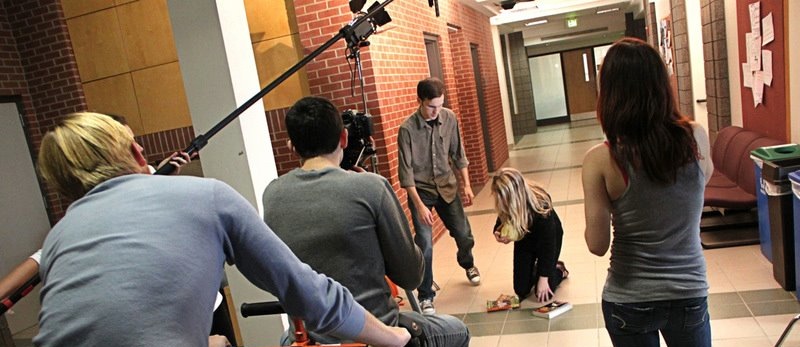 Going into freshman year as a film major, I knew I wanted to get involved with as much as I possibly could. I signed up for many clubs, but one in particular stuck out to me- the college's television station, made by students for students. Although I have only been involved with my station for a little less than a month, I can already assure you that it'll be the most fun you have in your college and communications careers.
1. Apply for whatever interests you.
My friend Tim applied for every single show on the network, but I preferred choosing the ones that interested me. The show you're on is a full-time commitment. You need to put a lot of work into your position, and it's better to be happy working on something you love than to be miserable at something you hate. There's always something towork on for a show you like, on and off screen. Which brings me to my next point…
2. Don't be afraid to put yourself out there.
Three of my friends currently hold positions of Writer, Assistant Editor, and Social Media Manager for several of the network's shows. How? They had complementary roles and experiences on their resumes from high school, and they also showed a lot of interest in learning more. You learn more from these clubs about working with creatives than your own classes. In the studio setting, everyone is a team player and everyone has their own responsibility. If you just want to know more about how things work, become a Production Assistant! PAs are positions where anybody can learn about anything ona production set.
3. Try something new.
I was so sure that I would end up doing production work on a show my first year. However, I decided to also give acting a try. I grew up going to a theater camp, I loved movies, and I was always open to trying new things. A few days later, I went to an audition for a scripted show, put everything I had into this role (I even said that I would be an extra if I didn't get cast, as I liked the project that much) and ended up getting the lead role. I was so happy when I found out! Lesson to anyone reading this- life begins at the end of your comfort zone. Don't be afraid to step out of it.
4. Time management.
I swear extracurriculars are the best thing in the whole college universe. However, as college students, we also have classes to worry about and papers due almost every week. This sense of pressure is actually a great way to figure out how to manage your time. I have rehearsals and shooting days four times a week, ranging from 8 A.M in the morning to 8 P.M at night. For me, that means I need to get work done not after, but during that. I bring my laptop and books to shoots to take notes for lectures. I also bring my phone so I can also call my family after the shoot's done. College life is stressful, but nobody can teach the word 'commitment' better than a club that gives you a position similar to a job.
5. You're gonna make so many friends.
I'm very fortunate to be friends with the cast and crew of my show. They're some of the most talented, most creative individuals I've worked with so far in my career. I went from not knowing my costar at all to eating lunch with her after every rehearsal and talking about life. Make friends with these people. They will be your colleagues and collaborators in the future- and they might just become life-long friends!
To support IC-TV, visit ictv.org
To support shows like 'Blinded' and 'The Legend of South Hill', visit their campaigns at (https://www.gofundme.com/480efug) and (https://www.indiegogo.com/projects/ictv-s-the-legend-of-south-hill-television#/).
---
---
Related Articles