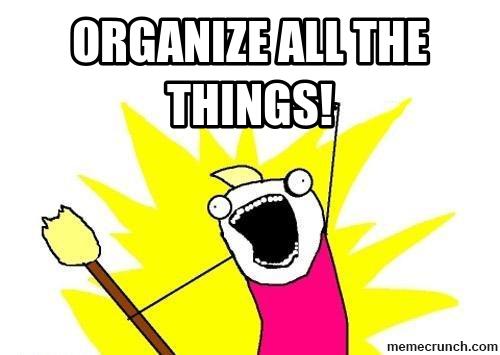 Staying organized in school is hard with everything going on. We have jobs, homework, classes all day plus trying to have a social life. My freshman year of college I had to learn quickly that a key way to succeed in school is to stay organized. Here are some of my tips to stay organized with not only your classes but also in your dorm or apartment.
1. Buy a Planner & USE IT!!
The first thing that has helped me stay completely organized in college is my planner. I bought my planner from TJ Maxx at the beginning of the semester for $9.99 and it goes for 18 months so I wont need to get another one until next year. This planner also includes stickers to stay organized and just to spice up your planner.
The way that I organize my planner is I write down each class and then the assignments next to it. I also write down the times I work and any other important dates coming up.
2. Write down important dates
When your professor gives you the syllabus the first day, go through your planner and try to write down all the important dates like test days, when homeworks due, when projects are due etc. Make sure you write it in pencil in case the dates change later on.
2. DON`T procrastinate
Everyone is guilty of procrastinating. With everything going on in school like jobs, homework and trying to have a social life its hard to stay on top of things. Write down in your planner that an assignment is due 2 days before it is actually due to prevent having to do something the night before.
3. Get a notebook
I have an extra notebook that I got from Target for $1 that I use to write down my assignments and to cross them off when I get them done. I find that doing this helps me to not miss any important dates because I have them in my planner and also in my notebook.
4. Put your index cards on book rings
My best friend Maisie who goes to Pitt told me about this next organizational tip which helps a lot. Put your index cards with terms for each class on book rings by subject and lecture. You can organize them with  It makes it a lot easier to flip through them while studying for an important test.
5. Color Code
Try to color code your notes with a highlighter or a different color pen. Some examples
Dates in red
Names in green
Anything you`re confused about in orange
By doing this it helps to find important things fast when studying and getting ready for quizzes.
Now to some organizational tips for your dorm room:
1. Make a day to clean
I went to high school with my roommate this year and we decided early on that we needed to keep our dorm clean. We set a specific day to clean so that we would both be on the same page with it. Every Thursday we clean everything in our dorm. We clean the kitchen, bathroom, our common area and our bedroom. I think by doing this we both wont be as stressed with the mess around the dorm.
2. Don`t leave your laundry sit out
After washing your laundry, try to fold it and put it away as soon as possible. Having clothes sit on your desk for a week makes it a lot harder to clean up.
3. Make a grocery list for the room
If you and your roommate are like me and my roommate, we both pull equal weight in getting groceries for the dorm. To make sure we don`t buy the same groceries we keep a sticky note on the back of the door with all the groceries that we need to buy.
4. Clean out the fridge
Mom made you food to bring back to school thats been sitting in there for a couple weeks? Throw it out otherwise your food will start to smell and it`ll make the whole room smell.
---
---