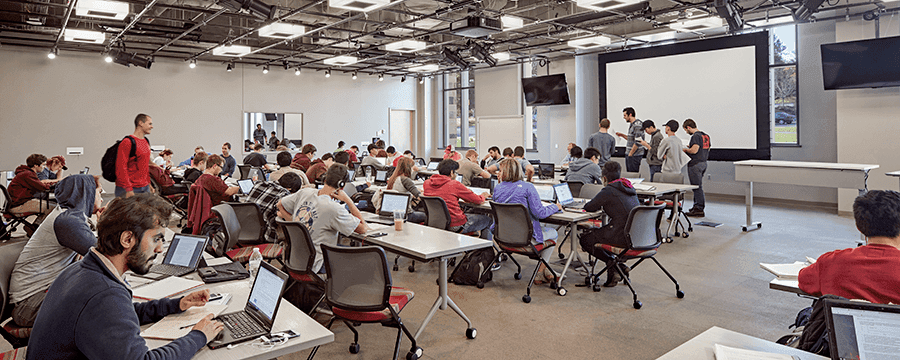 In college, you often hear that a professor can make or break a class. Sites like ratemyprofessor.com have become primary sources students use when adding/dropping classes. This idea that your success and interest in a course stems all from one person is simply not true. There are many things you as a student can do to make your courses easier and more enjoyable.
To expand on this perspective, I interviewed my Foundations of Business professor, Stephen Skripak, on what he wishes his students would do more of. Read on to discover 5 ways to be a better student, according to a college professor.
Communication
One year I had two students fail an exam to the point that their combined grade was a 30%. I reached out to them and told them to come see me and get some help but they never did and consequently failed their next exam. They had to use one of their Ws -a Virginia Tech policy that says you have three chances, or "Ws", to drop a course after the deadline- which could have easily been avoided if they had just come to me earlier seeking help. Only two students this current semester have visited me during office hours for help so far, and I hope this changes. Instead of telling yourself "I'll do better on the next one", be proactive and communicate your struggles to your professor.
2. Prepare for Class
This one is a pipe dream but I'll still say it. If students read the material posted online and prepared prior to class, they would find it much easier to retain information. Instead of doing this, I often see them showing up and expecting it to be laid out in front of them. Then they spend the week before the final cramming and trying to memorize concepts that they could've already mastered if they had followed the class prep guidelines. I understand the temptation to go out and have fun, trust me I did plenty of that during my time as a Virginia Tech student. Just get your work done first and then have at it. 
3. Put Your Phone Away
I'm only asking for an hour or so of your time. It can't be that hard to put your phone away and give me your attention. This way you'll actually process the information being presented and not have to reread the chapter before the quiz. Plus, you're paying for this education so why not be attentive and engaged. So instead of shopping for shoes like I've seen my own students do, give your professor your undivided attention; it will pay off in the long run. 
4. Feedback
Give me feedback. Good or bad, but honestly the bad is what I'm looking for. I can speak for myself and the majority of all professors when I say that we appreciate constructive criticism. Okay you think this class sucks, but tell me why! No professor wants to be the one students avoid because of their reputation as being boring or harsh. We are always open to hearing what our students have to say and making improvements. Now I know face to face confrontation isn't the easiest, so send an email or even slip a note under my door; just give feedback.
5. Study Abroad
I highly recommend all my students to look into studying abroad. I've had students come home and say it was life-changing and they are not the same person they were before. I've never once heard a student say they wish they hadn't gone or that they had a bad experience. You'll come back with a new perspective and newfound passion and enthusiasm. There's programs for everyone, from one week trips to a semester in various locations. I myself have taught courses in France and have had absolutely incredible experiences. Don't let finances hold you back, there are many scholarship opportunities out there. I even have my own scholarship that was once used for football, now being used for students desiring to study abroad. I wanted to invest my money in something worthwhile, something that I believe in. So go explore what your college has to offer abroad and challenge yourself to go outside your comfort zone; you won't regret it. 
So there you have it! Five golden pieces of advice straight from a respected Virginia Tech professor. Work on adding these five habits to your daily and overall college experience and you will find yourself thriving.
---
---