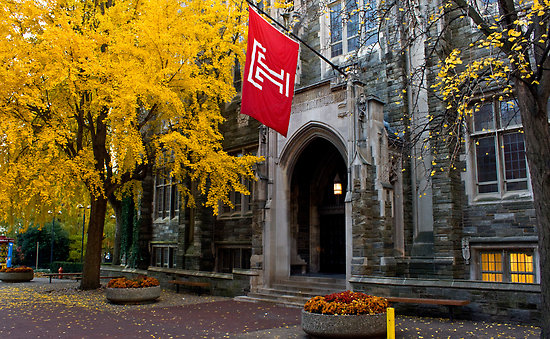 Raise your hand if no one's noticed you go to Temple University and immediately questioned your decision-making skills. Oh, what's that? Not a single hand in the air?
We've all been there: Grandpa Dwayne tells you to watch your back on Berks, Aunt Patty encourages you to pick up pepper spray, etc. Honestly, it feels like the warnings never end. But are they warranted?
According to data from the U.S. Department of Education, from 2013 to 2015, there were no on-campus murders. (Sadly, student Jenna Burleigh was killed in an off-campus apartment this semester.) There were 21 reported cases of aggravated assault, 9 robberies, and 77 burglaries. In 2013, there were 9 forcible sex offenses. In 2014 and 2015, there was a combined total of 14 reported rapes.
Although these numbers are a few years old, they indicate a key thing to keep in mind: Temple's not immune to crime. There are plenty of amazingly kind-hearted people who'd never consider theft or violence. However, given how many individuals attend, work for, or visit our school, your back's worth watching. Here's how to keep it in check.
(215) 204-1234 = Emergency line for Main, Ambler, and Health Sciences Campuses
This is the best way to contact Temple Police. Save it as a contact and hope you never have to look at it again.
Don't forget about 911
In times of non-Temple-related trouble, they'll connect you with the right people.
Crossing Broad Street? Wait your turn.
Your patience will pay off in the form of you not taking a speeding Ford Focus to the face.
Take Flight
If you live off campus (specifically, between the boundaries of Cumberland Ave., 5th St., Girard Ave., and 20th St.), download TapRide and start ordering on-demand evening shuttles to/from Temple's Regional Rail station, the SAC, J&H, and other Main Campus mainstays.
Request a walking escort
While not a 24/7 operation, security bike officers do offer escort services from 4:00pm to 6:00am daily. Call (215)777-9255 to set yourself up with a safer walk home.
Register your bike
Not-so-fun-fact: my friend's bike was stolen (from his fenced-in backyard!) two days after he moved into his apartment. Protect your pedals by registering them with Temple.
Lock your doors. And your windows.
Every gadget and gizmo you own is valuable—and vulnerable. Locks may be a pain in the butt, but the tiny inconvenience they create totally outweighs having your camera stolen twice. (One of my classmates had the distinct displeasure of going through that.) If your place has two doors, lock both! If your windows have bars, you'd better believe they're worth locking!
Look out for yourself, look out for your friends, and, most importantly, don't let fear get in the way of your education and experiences. Stay safe, Owls!
---
---
Related Articles