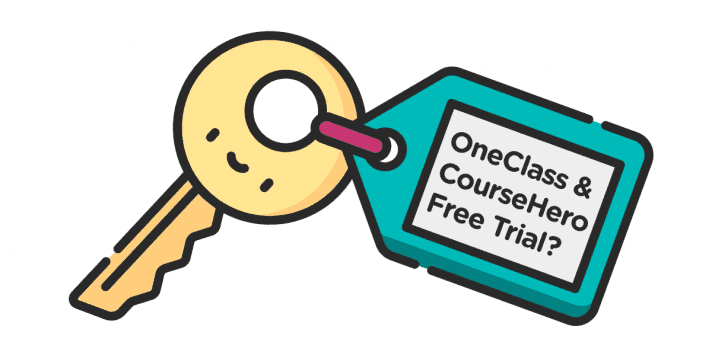 When there are numerous education platforms providing notes available, we think you should be able to test them with a free trial before you buy. How can you tell which one provides you with better, quality notes for the classes you're taking?

That's why OneClass has a free trial – so you can take a peek at what we offer and see how our study resources can help you improve your academic grade.
Read below to see if there is a Course Hero free trial, and keep reading further to see how you can sign up for a free trial on OneClass to get unlimited access to study documents at your school.

OneClass free trial vs. Course Hero free trial

For a student on a budget, making purchases can be a tough decision. It's not easy to know how either note-sharing platforms will benefit you academically without seeing what's available.
At OneClass, we have over 11+ million pages of study notes provided by the top university students. It's not enough for us to tell you, we want to show you. You'll see why OneClass students improve their marks by a full letter grade after using our platform.
OneClass Free Trial
Course Hero Free Trial(?)
Access to ALL your school's study guides
N/A
Access to ALL your school's lecture notes
N/A
Access to ALL your school's textbook notes
N/A
There is no free trial on Course Hero. However, there are ways to earn unlocks to documents with a free account on Course Hero, similar to OneClass. You can see how here: How to get OneClass Unlocks for Free.
With a free trial on OneClass you won't need to earn unlocks to access documents. You can begin viewing all of the documents at your school at once.
The section below will show you how to sign up for a free trial on OneClass.
How to sign up for a OneClass free trial
Here are the steps to getting your 1-week free trial on OneClass, this will give you access to all the notes and study guides we have available at your school.
The first step is to sign up for a free account on OneClass. You can do that here: sign up.
If you already have a OneClass account, scoot on over to the next step.
After you make a OneClass account, login and click here to be directed to the page where you can get a free trial on OneClass.
Select the Free Trial option.
Next, add the courses you're currently taking.
After you finish adding your courses, you'll receive a referral link that you can share with your friends and classmates. If you get 2 friends to sign-up for a free trial, you get an additional free week 🙂
Finally, include your credit card and you're all done!
Don't worry, you won't be charged when you enter your card details. You'll have a full week to try OneClass out and you can cancel your free trial at any time.
Now you have access to all study guides, lecture notes and textbook notes at your school for one week.
OneClass free trial vs. Course Hero free trial: Conclusion
OneClass users can rest assured knowing what they're buying. It's not enough to be told you're receiving high-quality notes, seeing it is believing.
OneClass is an education technology company that's been around long enough to know what money means to students. This is why we offer a free trial to our users, so they see plainly what documents are available before we ask them for their money.
A Course Hero free trial isn't available, but not to worry – since both OneClass and Course Hero are both note-sharing companies for university/college students, you can find the study material you need with a OneClass free trial.
Try out OneClass for free and see for yourself the millions of study guides, textbook notes, and class notes that can help you get better grades before paying a cent.
---
Check out our other useful resources:
OneClass Homework Help – One Free Question!
How to get OneClass Unlocks for Free
---
---
Related Articles