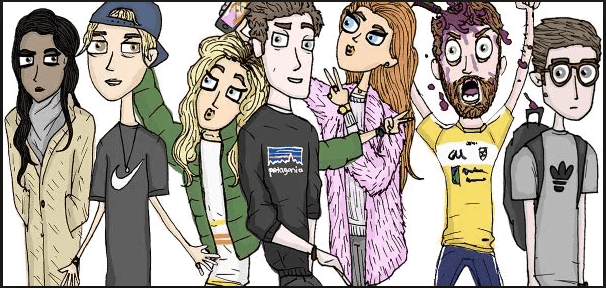 Though the days of school uniforms are behind most of us, there are still a few that are regular occurrences on most college campuses. Some of them actually convey messages, and are common enough to be understood immediately after seeing them.
1. I Just Woke Up
Most commonly seen in the early mornings, for 8AMs and 9AMs. These basically consist of sweats/leggings/yoga pants, sweatshirts/t-shirts/hoodies, and flip flops/moccasins/birkenstocks. Bonus points for a messy bun and constant yawns,
2. I'm an Athlete and I want you all to know that
Generally revolving around a keaney blue, and white theme, the major giveaway for this one is any type of jersey/embroidered item. Sneakers are a must, and common accessories include gym bags, helmets, or sticks of various kinds.
3. I'm super proud of my high school
Any kind of t-shirts, sweatpants, lanyards,anything that boasts your high school mascot, name, or your old sports number. There's nothing wrong with this, but here's a tip: live in the moment, not the past.
4. I love my sisters/brothers!
Anything that represents your sorority name, or matches with all your sisters. Or the nice fancy suit, or the dresses and heels that show up at rush times.
5. I'm a college student
The most typical, yet the widest variety. Jeans and t-shirts are a solid combination, but dresses, skirts and nice tops are not unheard of.
College is the time to break out of your shell and try new things. Try and break out of your uniforms into something that you've always wanted to wear, but were too scared. Be you. Don't be afraid to go against the grain.
---
---
Related Articles