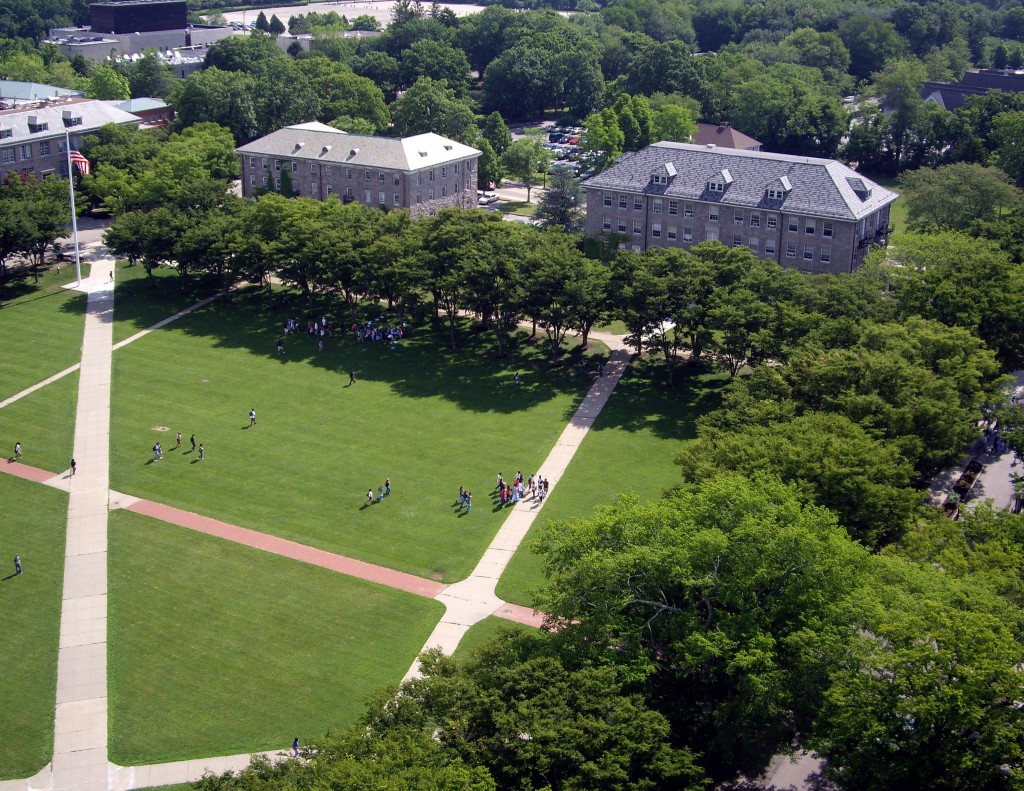 The quad. The epitome of college for so many movies and television shows. The hot spot, the center of campus, home to so many different activities. At URI, the only things permanently residing on the grassy field are trees and the tall flagpole. That leaves a huge space right in the middle of campus for students to partake in whatever activity that they choose.
1. Sleep
This might sound kind of weird for other people, but it's one of those things that is just acceptable for college students at URI. Whether you just bring a blanket and host a big sleeping party in the sun in the beginning or end of the school year, or you are one of those lucky people that own a hammock that you tie between two trees for a little peace and quiet.
2. Play Frisbee
One of the most common things that I've seen happen on the Quad, college students and these flying plastic discs go hand in hand. It's pretty easy to find a group of people who are up for a quick game of Ultimate Frisbee, or who are just semi-okay enough to throw it around without dropping it too many times.
3. Relax
One of the largest common areas on campus, the Quad is the perfect place to get some alone time, with so much space that there is almost always a quiet corner to chill, either by yourself or with others.
4. Tan
In New England, the only parts of the year where we can get some sun are the first two weeks of the school year, and the last two weeks. Not much time to tan, but hey, why not get some color while you can?
5. Study
It's understandable that you might not want to be cramming for your PSY 255 exam out in the cold in the middle of November, but like I said before, in the warmer months, the Quad provides the perfect quiet spot to study. As long as you don't get distracted by people watching, I'd highly recommend this activity,
6. Slacklining
This activity is a little bit rarer, but it can still be found rather often on the grassy area. The many trees along the edge of the Quad provide the perfect location for people who practice this quirky skill, from amateurs to experts. It is one of the most interesting things to watch when you're bored or looking for a new activity, in my opinion.
7. Attend Events
Many of the university-sponsored events are held on the Quad, because of its large area and central location. Recent past events include Rhode Island Day and Fresh Check Day.
8. Volleyball
Again, this one is slightly rarer than others, but I have seen it mostly at night, featuring cool glow in the dark balls and nets. It has been a common occurrence for us to run into many of these games on the way back to the dorms after late night a capella rehearsals.
9. Hang Out With Friends
Because the Quad is so large, it can hold so many different groups at the same time, while giving each of them enough room to enjoy whatever activity they choose, whether it's practicing gymnastics skills, playing duck duck goose, or rehearsing for different types of performances.
10. Have fun!
No matter what you do on the Quad, chances are you'll be having fun, either people watching while you're supposed to be studying, or playing silly kid games with your favorites group of people, the Quad is the center of so many enjoyable activities at URI.
There are so many things to do on the Quad at URI, just don't forget to go to your classes! Priorities are important.
---
---
Related Articles