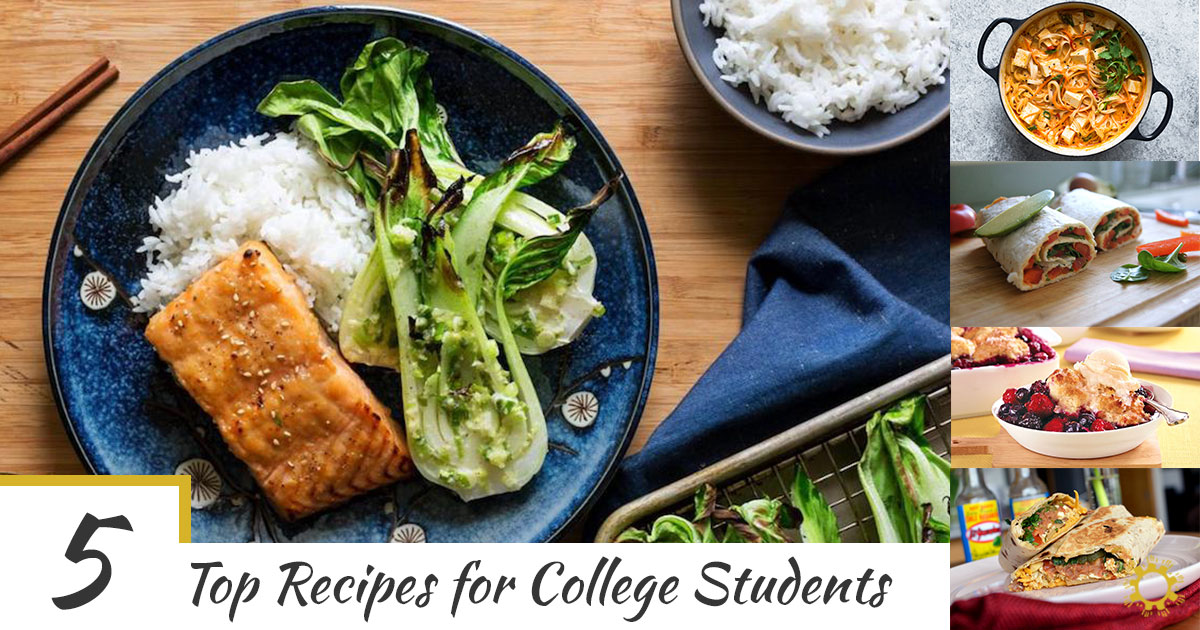 There are various options for daily meals every day while you are in college. There may be restaurants with delicious food around you. There may be dining courts provided by your college. Heck, if your in a farming town, maybe even the local farmers might even cook something up for you. However, there is still one more option. One that many may find daunting and intimidating: COOKING YOUR OWN FOOD. Well fear not, here are 5 easy recipes that you can try to hone in your cooking skills!
1. Mac and Cheese
For a delicious mac and cheese meal, you need to heat an oven to around 350°F, whisk 2 eggs and 5 ounces of milk in a bowl, then add 8 ounces of Velveeta (Google it, it's like fake cheese), 1 cup of shredded cheddar cheese, 2 tablespoons of butter, 1/4 teaspoon of ground red pepper, and cooked macaroni together. Put everything into a casserole pan and bake it for around 20 min. You should end up with a warm, creamy mac and cheese meal. You will probably instantly win the friendship of others living with you if you made them some too.
2. Cookies
While not the healthiest, cookies make a delicious snack for any time of the day. To make some cookies, heat an oven up to 375°F and lightly grease 2 baking sheets. Use an egg beater to mix 1/2 cup of butter, 1/3 cup of brown sugar, 1 tablespoon of granulated sugar, 1 teaspoon of vanilla, 1/2 teaspoon of salt, 1/2 teaspoon of baking powder, and 1/4 teaspoon of baking powder in a large bowl. Add 1 egg, mix it well, and then add 1 and 1/2 cups of flour and mix it again. If you want to add things such as chocolate chips or nuts, mix those in along with 2 tablespoons of milk. Drop a tablespoon of your mix for each cookie on the baking sheets and bake for around 10-14 minutes or until the cookies are a light golden brown. Now the last step is optional, which is to share your cookies with your friends!
3.  Chicken Noodle Soup
Chicken Noodle Soup has been around quite a while and is known for being super delicious and easy to make! Perhaps you can make some to impress your significant other! To make Chicken Noodle Soup, melt 1 tablespoon of butter in a large pan set on medium heat. Cook 1/2 cup of chopped celery and 1/2 cup of chopped onion in the butter until tender. Pour in 14.5 ounces of chicken broth and 14.5 ounces of vegetable broth and stir in 1/2 pounds of chopped chicken breast, 1 and 1/2 cup of egg noodles, 1/2 teaspoon of basil, 1/2 teaspoon of oregano, salt and pepper and then wait for your soup to boil, and then reduce the heat and let it simmer for 20 minutes. Based on how strong the taste in, you may want to dilute your soup with water. Congratulations, you now have a delicious pot of Chicken Noodle Soup!
4. Strawberry Smoothie
Whether you need a cold, sweet drink to brighten you day, or you need a refreshing sugary beverage to help you stay awake longer at night without tapping into your stash of 5-hour Energies, you should consider making a Strawberry Smoothie. All you need to do is blend 8 hulled strawberries, 1/2 cup of skim milk, 1/2 cup of plain yogurt, 3 tablespoons of white sugar and 2 teaspoons of vanilla extract. Toss in 6 ice cubes and blend the mixture again until it is smooth and creamy. And that's it! Now you can enjoy some frozen fruity goodness!
5. Spicy Grilled Shrimp
Perhaps you would like to add some seafood to your palate. Well, you can try some Spicy Grilled Shrimp! To make this recipe, preheat a grill on medium heat. Then, crush 1 large clove garlic and mix it with 1 tablespoon of coarse salt in a small bowl. Then, mix in 1/2 teaspoon of cayenne pepper, 1 teaspoon of paprika, 2 teaspoons of lemon juice, and 2 tablespoons of olive oil to make a paste. In a large bowl, toss 2 pounds of large shrimp, peeled and deveined with the paste. Lightly oil the grill grate, and cook the shrimp on it for 2 to 3 minutes on each side of the shrimp or until opaque. It is recommended that you garnish the shrimp with lemon wedges before eating.
Hopefully with these easy recipes, you will be more open to cooking your own meals if you aren't already doing so. These delicious recipes can be a great way to get into cooking if you are a beginner as the instructions are super easy to follow and the ingredients aren't too hard to find. Soon, you will be a professional cook and eventually maybe you can start your own food cooking business around campus. Just make sure you know your college's rules before trying!
---
---
Related Articles