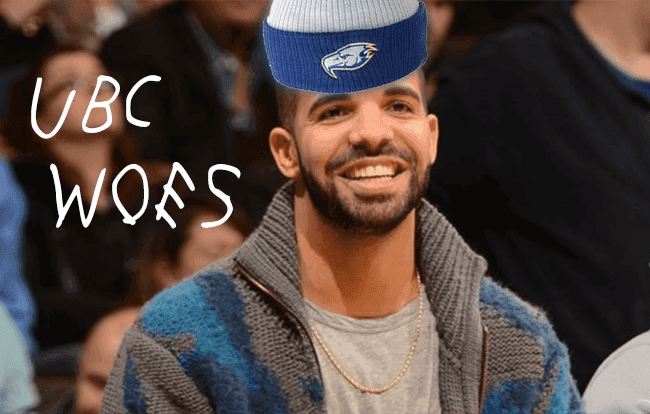 (Disclaimer: The following article contains shameless pop culture references, cringeworthy integration of song lyrics, and many attempts to sound cool by casually saying 6 God in a sentence. Read at your own risk.)
No matter how you've heard of him, Drake is a name that has crossed almost everyone's lips at one point or another. Maybe it's because he hosted the JUNO Awards and the ESPYs. Maybe it's because he's always being linked to one celebrity or another. Or maybe it's because he was recently involved in an infamous beef with Meek Mill over a couple of tweets that Mill sent out this past summer. But regardless of what you've heard about him, he can rap, he can sing, he can act – and those are only the beginnings of a long list of accomplishments that Drake has next to his name. You might even dare to think that he has achieved everything that is out there to achieve.
But hold up, hold up, hold up. There may be one thing left out there. To graduate the school of life, the 6 God needs to graduate from a school that will propel him to unseen heights. And we know exactly the school for the job: the University of British Columbia (UBC).
Why?
Let me tell you.
1. The Motto (hue hue)

He may have introduced the world to the term YOLO (it's okay everyone, he apologized for it), but it's understandable that every rapper needs a motto, and we may just have the perfect one for him: Tuum Est. Roughly translated, this Latin phrase means "It's up to you" or "It is yours". Pretty good, huh? We think so too Drake.
2. The UBC Thunderbirds
We all know about Drake's love for basketball, especially when it comes to his favourite team, the Toronto Raptors. He shows up at games, rocks their jerseys, and hangs out with the players. Well, UBC's own basketball team, the UBC Thunderbirds, is a team that Drake can definitely get behind. We might even give him court-side seats.
3. Over 350 Student Clubs

From Hula hooping to pottery to Quidditch, there is a club for everyone and everything at UBC. It's a fantastic way to pursue your passions, take your mind off of school, and make some friends that share hobbies with you. Drake, this is your opportunity to get those day-one homies you're always talking about.
4. The UBC Improv Club
This one gets a special shoutout because they always put on the best shows. And Drake, a popular pick for comedy skits on shows like SNL, would definitely become a fan favourite for comedy lovers. Maybe he can even freestyle some comedic raps on stage, but we don't want to ask for too much. Yet.
5. The Nitobe Memorial Garden
This gorgeous Japanese garden is located on the edge of campus, and its beautiful greenery, trickling streams, and delicate wooden bridges are enough to take anyone's breath away. It's the perfect place for Drake to come, relax, and feel at peace with the world and all those exes that just won't leave him alone.
6. Parties. Everywhere.
The Pit Pub. The Calendar Parties. The Frat Parties. Drizzy, we know you ain't got no time to party on the weekend, but with these many parties going on, you won't have to worry about that my friend.
7. Storm the Wall
This annual tradition involves scaling a giant wall with teams of friends and tons of fellow students. An atmosphere full of hype, hard work, and reward – it's the perfect time to feel the UBC pride coursing through your veins. And once you reach the top of the wall, it's the perfect time to sing "started from the bottom, now we here". If you don't do it Drake, I will.
8. Wreck Beach
It's located on campus. It's the perfect place to have some fun with friends. It's clothing-optional. Need I say more?
9. Comfort Food. Healthy Food. Delicious Food. We have it all.
Whether he's in the mood for Italian, Thai, Japanese, fish 'n' chips, or just some good ol' burgers and shakes: we've got so many options and types of cuisine to choose from that Drake will never go hungry.
10. Everything Else Around UBC
It's a school located in the heart of Vancouver, a city where the world comes to relax, rewind, move forward, and have a great time. If he wants to feel the cool ocean breeze, he can head over to one of our many beaches or go for a boat ride. If he wants to enjoy the fresh scent of trees, he can sit in the gorgeous Stanley Park and reminisce about his childhood. If he feels lonely, a short car ride can take him to the States where he can meet up with some of his rapper friends and convince them to apply to UBC as well.
After seeing this, other schools will jump at the chance to try and recruit Drake. People will pretend that they can give Drake much more than we can, and they'll start to think that they can win him over. And while I respect their efforts, there is only one thing that I have left to say to those people:
If you're reading this, it's too late.
---
---
Related Articles