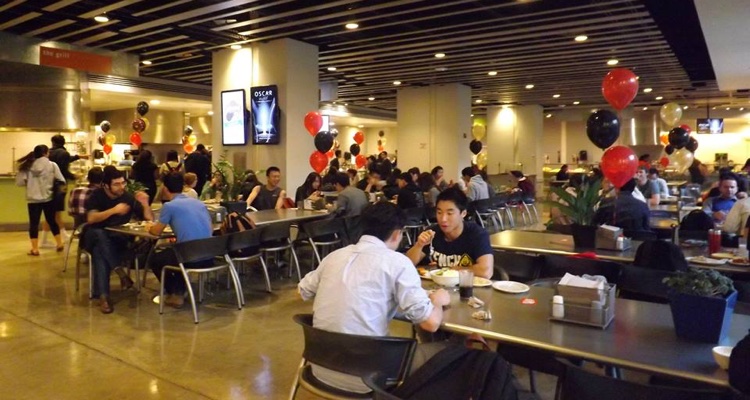 Coming to study at Berkeley or just visiting the UC Berkeley campus, and wondering about eating at the dining halls? Well, be warned that it's definitely not as good compared to schools like UCLA or Tufts. But if you are going to be spending the next four years at UC Berkeley, or just want to give the food a try, here are some things that you should know…
1. It's literally the same menu every week.
During the first few weeks of Freshmen year, there were so many options to choose from. Sadly, as the weeks went by, there was a realization that it was literally the same stuff every week and was getting bored of eating the chicken on Mondays and beef stew with noodles on Tuesdays.
2. Location
All the dining halls of UC Berkeley are located off campus. Out of all the options, Clark Kerr is the best. It is the furthest one, about a fifteen minute walk from campus, but the food is better and the seating is in a peaceful and relaxing environment. Still, unless you live at Clark Kerr, who has the time to walk all the way there and back just for a good meal on a school day? Of course, you can try catching the bus, but beware that the bus schedules are unreliable and if you are willing to spend a couple extra dollars, Uber is an option.
3. "Smuggling"
"Smuggling" (wrapping food in a napkin/container) is very common in the dining halls. When you're in college, it seems like you are always spending money to pay for membership fees, books, etc. so we need to save up whenever we can. Besides, we need to save up on those meal points or else we'll starve during finals. Besides, we paid for the food already, so taking some back to our dooms makes sense.
4. Zero Waste
There's been rumors that Berkeley is going to make zero waste by the year 2020. Will that happen? It's definitely possible. In the dining hall, take-out boxes and spoons are biodegradable and food that isn't consumed is composted. Also, sometimes the dining halls will have everyone entering the dish room to put the food that they did not finish in a box. All the wasted food is then weighed and the total is written on a board for everyone to see. This really puts pressure on everyone to not waste their food, so make sure that you don't get more food than you can eat or face judgment.
5. Eating Alone
Eating alone is quite nice actually. You don't need to wait for others, or listen to conversions, and can even get some studying in. So next time you visit a dining hall, try eating alone. You'll realize how peaceful it is and the amount of time you can save. And don't worry, we're not in middle school anymore, plenty of people eat alone in the dining halls – no one is going to judge you!
Feeling prepared to eat at one of the dining halls yet? Just keep an open mind when eating the food and don't expect too much. Think of it more as an opportunity to have conversations with people and most importantly, enjoy!
---
---
Related Articles