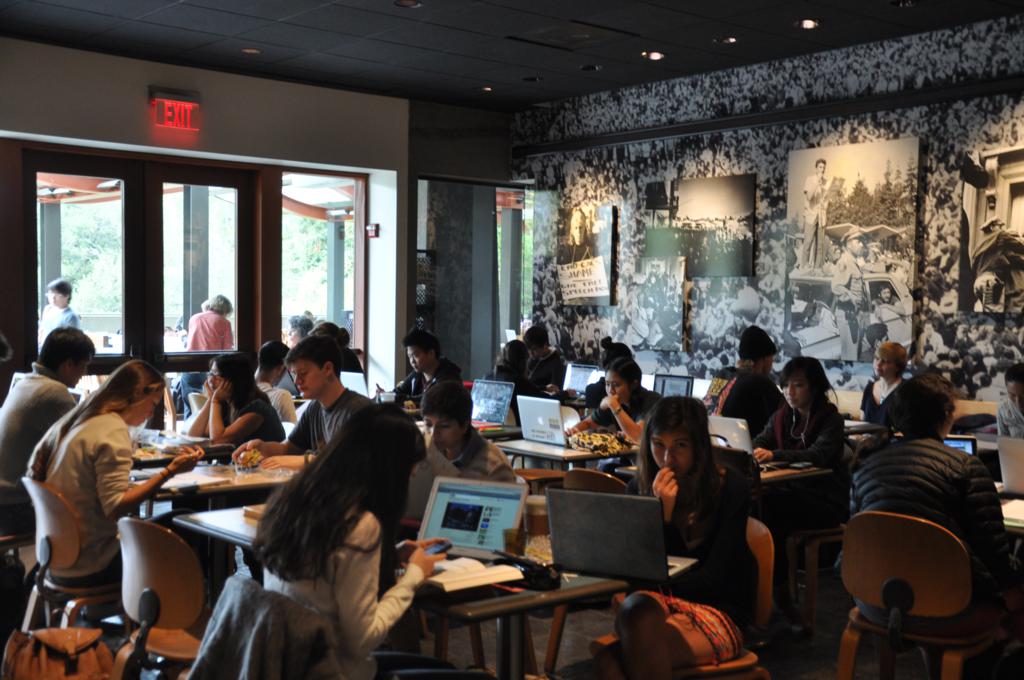 Looking for a place to study at UC Berkeley? Here are 11 of the Best Places to Study at UC Berkeley!
1. Moffitt
There are so many great things about the newest addition to the UC Berkeley Campus. Transparent walls to write long proofs on, comfortable chairs to roll around in, study rooms available for free rental, the list goes on. There's even a "Buzz" floor for studying in a vibrant space and a "Hush" floor for silence. Bonus: 5th Floor has nap pods!
2. Main Stacks
This library is the way to go if you are a person who likes to study in a pure, quiet environment. Interesting in architecture as the majority of the study space is underground, Main Stacks has been a classic go-to for years on campus. Stick around during dead week for an interesting surprise! (Hint: The Naked Run)
3. Kresge Engineering Library
No pesky Cal ID checks here! If you have lots of classes at Soda Hall, Cory, or Jacobs, then Kresge is the library for you. Not only is it close to North Side, it's right next to
Qualcomm as well! Meal points? Accepted.
4. Residence Hall Lower Levels
A hidden spot for lots of students on campus, the lower level of the Residence Hall Units are always accessible by someone living in the building. Small rooms, no restrictions on food, the lower levels are a sweet spot to study. Open 24 Hours during dead week!
5. Memorial Glade
Prefer a change of place? Memorial Glade is definitely one of the most beautiful spots on campus. Feel free to add a nice picture of Doe Library and the Campanile to your Snapchat story as well! As long as you stay away from stray Frisbees, this grassy area is a nice place to pop open a textbook.
6. East Asian Library
This library is one of the most well-kept places on campus. It is as beautiful on the inside as it is on the outside. Submerse yourself in vast texts of East Asian culture by coming into this library for the long haul. Peaceful, quiet, may the spirit of tradition serve you well on your upcoming exams.
7. Café Strada
With both indoor and outdoor seating, Café Strada is a close to campus hub that is a excellent spot for studying. With delicious and top rated snacks and coffee for order on a quick note, Café Strada is a go-to for avid coffee drinkers and A.M. work sessions.
8. Faculty Glade
Those pesky frisbees from Memorial Glade get to you? No worries, Faculty Glade is here to save the day. A more low-key outdoor study spot, Faculty Glade has plenty of shade to offer you and all of your studying needs.
9. RSF Stationary Bike
Never thought of this? Well, I just did for you. Being a student at UC Berkeley probably means that you spend a ton of time studying and sitting around. Well, this is your chance to change that! Take a book with you to the upper level and hop on a stationary bike. You'll burn calories and boost your GPA in no time.
10. Café Milano
Ah, the wonderful smell of coffee. The second floor of Café Milano is a sweet spot for all coffee drinkers. A perfect place to go during gloomy, windy, or rainy weather (commonplace during the school season), Café Milano is an authentic study area with the added bonus of being close to campus.
11. Eshleman Hall
Searching for a chair is arguably one of the most time-consuming things a student has to go through when finding a study spot. It's never a problem at Eshleman Hall. Right next to MLK and the ASUC Amazon Lockers, this place will help you on your way discovering new places to study on campus.
---
---
Related Articles