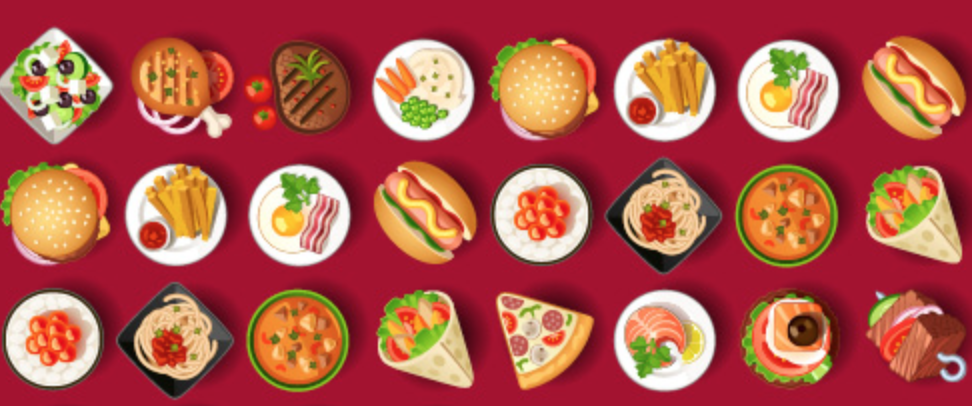 Davis being the charming college town that it is has some of the best restaurants, fast food joints and even food trucks! There is a variety of food ranging from Indian cuisine to Mexican delicacies and Japanese dishes. Here are a few spots in Davis that really hit the spot.
1.Ali Baba
Ali Baba serves middle eastern food and serves dishes from gyros to bowls to breakfast burritos. The breakfast burrito is what most college students go for, it is stuffed with gyro meat, fries, and a delicious sweet tasting sauce. The restaurant is in a great location, right next to the Social Sciences Building…might even call it heaven.
2. Crepeville
Crepeville has a very busy modern vibe with amaazzzzinnnng food. Their menus are plastered above and it gives the room a chic and vibrant atmosphere. There have a numerous variety of breakfast… Crepes with strawberries and whipped cream, potatoes, chicken pasta, omelettes.. and many more. You have the option to sit inside or outside to enjoy  the view of downtown.
3. Burgers and Brew
The name says it all.. BURGERS!!! They have an amazing variation of burgers with comes with different sides such as curly fries, sweet potato fries salads! They have great beers, with friendly staff members .It is super right in the middle of Davis downtown and you can sit outside !
4. Raja's Tandoor
If you love Indian Food, this is the place to be. Raja's Tandoor has an all you can eat daily buffet for about $7. The owner Mr. Karam Chand Singh is the sweetest man and he care about every customer! They also have really good mango smoothies and it is right next to the UC Davis Campus.
5. Woodstock's Pizza
I love Pizza, You love pizza, Everybody loves Pizza. Woodstock's Pizza go out their way to provide great service to their customers. They open till 1 am on the weekdays and it perfect for those late night snacks especially during final season.
Davis has a fast variety of food, whether you crave pizza, Italian, Chinese, Indian or burgers! WE HAVE IT ALL. Prices are moderate and some do deliver right to your dorm building or apartment  ! So eat up!
---
---
Related Articles