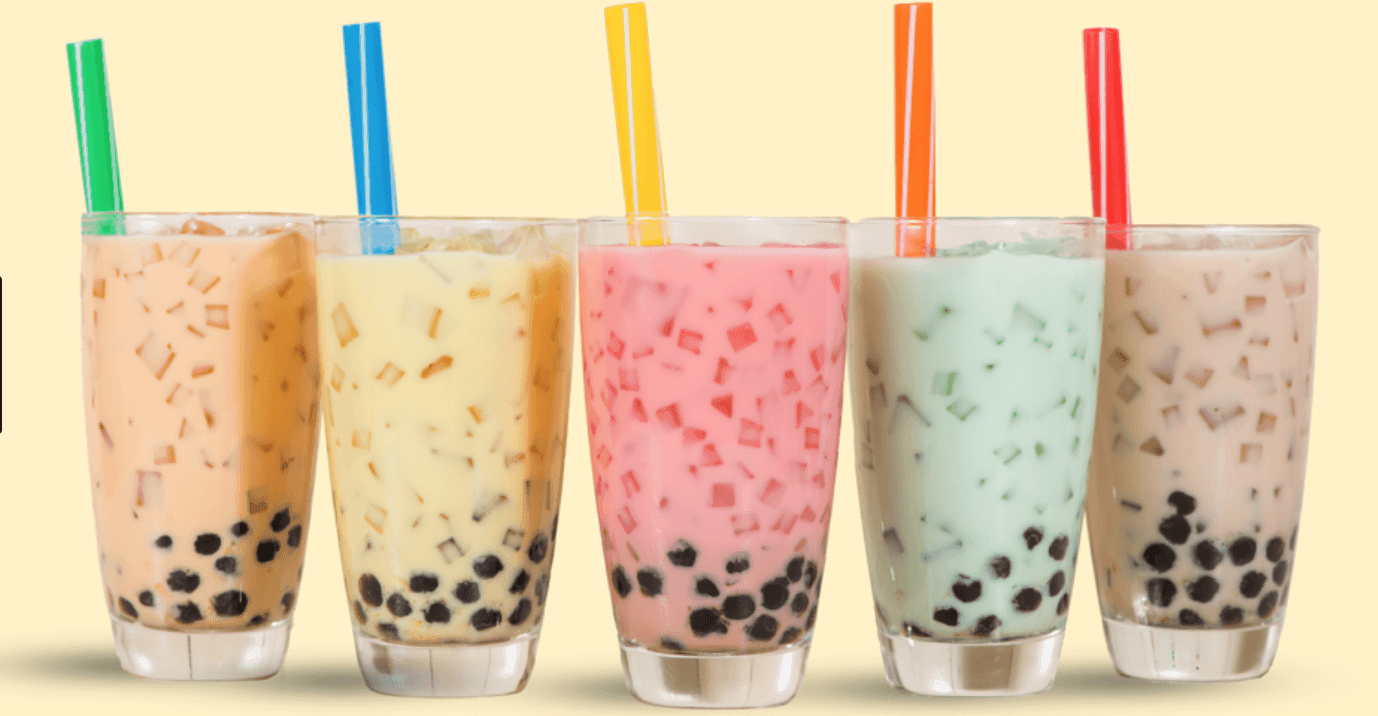 If you've had any social media account for the past few years – or had friends living in the Bay Area – you most likely have heard of boba, properly known as bubble milk tea (the bubbles are the tapioca pearls inside). Commonly served cold and originally from Taiwan, this delicacy (and addiction for many) can be found throughout Davis.
Below, you'll find reviews of the most accessible milk tea places in Davis, organized by closest to farthest from the school.
1) Wandering Boba
This food truck hasn't been seen on campus since November, but offers $4 teas & $5 milk teas you can purchase with your Aggie cash.
The selection of flavors isn't too shabby, featuring White Tiger to Lychee milk tea – they also offer smoothies and regular jasmine green tea. Generally, stick to their smoothies and teas (no milk); you can taste powder in the milk tea, and it leaves an aftertaste. Their tapioca also tends to be on the harder side, but they also offer a decent selection of jellies and popping boba.
Average price: $4 for tea, $5 for smoothie/milk tea (toppings included)
Overall rating: 2.5/5
2) Sharetea
Located on the fringes of campus, Sharetea has your normal range of tea flavors, from Okinawa milk tea to fresh milk tea. You'll often see students near the quad milling around with a Sharetea drink in hand for good reason: it's cheap. It's accessible. It's, quite frankly, good.
Sharetea delivers reliable quality both on the milk tea and plain tea ends, and their toppings are similarly perfectly cooked, although you'd do well to stick to milk and plain tea instead of veering into the smoothie/iced slush category.
Average price: $4.25 (including the extra fifty cents for one topping)
Overall rating: 4/5
3) OnTap
One of two boba shops located in the U-Mall complex just a hop, skip, and a bike ride away from Segundo, OnTap is a popular destination for people who love to customize their drinks. Alongside their selection of $4 signature drinks, such as the XOXO (strawberry jasmine milk tea, strawberry jelly hearts, and boba), OnTap offers a "make your own boba" option where you can select your choice of tea – oolong, thai, green, or black – and your flavor/s and topping/s.
Though they don't adjust sweetness levels – so flavored teas are slightly on the sweet side – their toppings are usually spot-on, and the customizability of their drinks makes OnTap a good option for your boba home base.
Average price: $4 for their signature drinks, $4.50 for a customizable drink with one flavor & one topping
Overall rating: 4/5
4) The Old Teahouse
The second of the aforementioned two boba shops in the U-Mall complex, The Old Teahouse was recently renovated from top to bottom. Though their tea options are relatively limited – where some of the other places have around 20-30 different flavors of tea, The Old Teahouse has 10-12 – their teas and toppings are well-made.
Flavors & ice levels are adjustable. However, their milk tea can taste a bit powdery at times, although honorable mention is given to their Thai Green milk tea, which is an unexpected but delicious deviation from the norm. Their Peach Oolong tea is also a good choice, light and fruity without any pesky fruit pieces.
Average price: $4.50 with one topping
Overall rating: 3.5/5
5) T4
A popular milk tea chain, located in Downtown Davis, T4 is just…average. You know what you're gonna get, especially because pretty much everyone who's lived near a boba hot spot has been to a T4, so the taste is universal. Though some may rave about it, it's honestly only great for a quick boba fix if nothing else is open or if you're particularly in the mood for it. For those of you who know what Quickly is, the author is more pro-Quickly and eh-T4.
Average price: $4.25 with one topping
Overall rating: 3/5
6) Teaone
Also located downtown, Teaone is across from T4 and offers essentially the same flavors as both T4 and Sharetea. Notable are their Thai milk tea and their glass bottles, which they offer in a similar vein to Lazi Cow (discussed below) and OnTap (certain "special" drinks come in the bottles). Plus, their cups are pretty cool, too.
A solid choice to go for your milk tea cravings!
Average price: $4.25 with one topping, $5 for a glass bottle drink, boba included
Overall rating: 4/5
7) Lazi Cow
Located near the Regal theatres in Downtown Davis, this joint is usually teeming with people and is well known for its funky furniture, including clever couches and a swing in the corner. However, the furniture is its high point; tea here tastes too watered-down and the pearls are more often hard than not, plus every drink amounts to about $5. The one plus is that all drinks come in a take-home glass bottle that, if you bring it back, enables you to get one free topping.
If anything, this is worth one try for aesthetic pictures & getting the iconic glass bottle, but for a consistent boba fix? Pass.
Average price: $5 with topping, glass bottle included
Overall rating: 2.5/5
8) Open Rice Kitchen
ORK is a hit and miss for many people, but you can't deny that no one offers as much milk tea for as cheap as ORK does. The first topping is included in your order & additional toppings/flavors are fifty cents extra, but if you're just searching for straight up milk tea with boba, you can't beat the prices here. Taste-wise, ORK's teas lean toward the powdery/watery side, but the spectrum of powdery/watery differs based on the time you go – try to go when it's not completely busy in order to maximize the taste of your super chubby boba.
Average price: $2.25 for tea and one topping, $2.50 for milk tea and one topping, $1 with food & FB check-in from Mon-Wed
Overall rating: 2.5/5
9) Teabo
Unlike any of the above, Teabo isn't anywhere near the heart of Davis and the UC Davis campus; it's closer to the Safeway in Davis, which is quite a ways away. However, Teabo offers quality tea, with a similar apparatus (pick your own flavors) for each drink.
The distance might be worth biking, though: Teabo's teas are the best this author has tried, although some boba fanatics may agree to disagree. Based on experience, they particularly shine with their fruit teas, but their milk teas are nothing to be scoffed at, either. Unlike many other places, they also offer snows ("blizzards") and smoothies.
Average price: $3.50 for a small and one topping, $4.50 for a large and one topping
Overall rating: 5/5
Boba places not listed (Mandro, Boiling Point, GongCha) are not within an easily bike-accessible area from UC Davis [this post was not sponsored by any boba place, and all opinions are the author's own]. However, hopefully this helped you plan some new boba-hunting adventures in Davis!
---
---
Related Articles