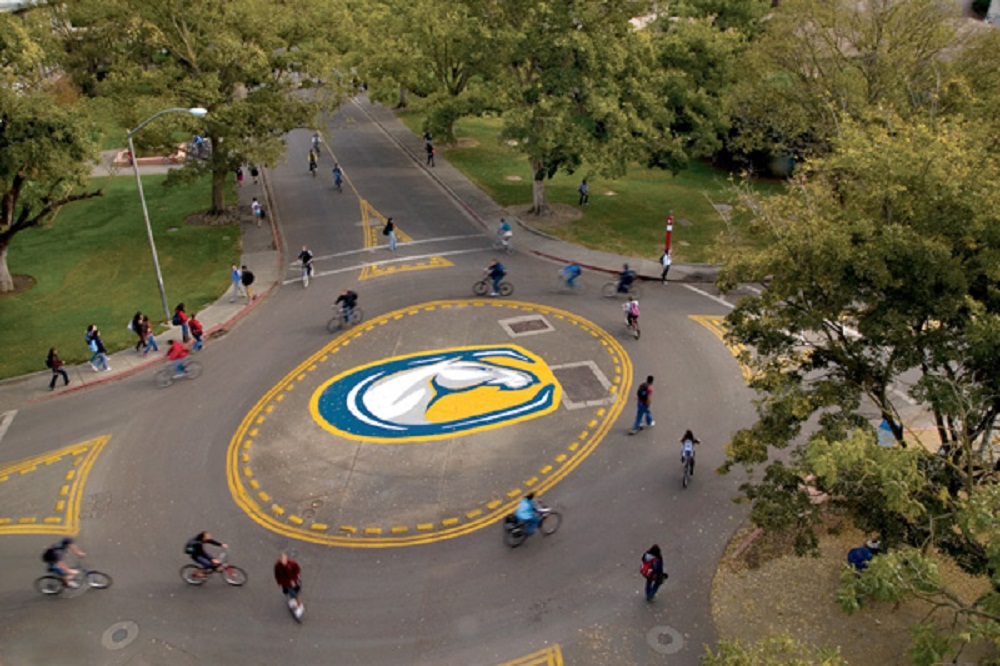 While UC Davis is mainly perceived as an "agricultural school", the diverse public university offers plenty of things to do on and around campus. With many appealing places featured, the large campus attracts many, but the most interesting finds are not always easily seen. Underneath all of the crops you'll be amazed by the hidden gems that you will find.
1. The Arboretum
If you haven't heard of the Arboretum before, then you are definitely in for a treat. Covering 100 acres with a ton of wildlife; whether it's luscious greenery, otters playing in the waterway, or bright flowers everywhere you look, this is a student favorite. Although the Arboretum is no secret, there are plenty of hidden treasures that you won't find upon first glance. Getting lost among the redwoods, stumbling upon the locks of love bridges, or discovering the edible garden, you can always find adventure at the Arboretum.
2. The Farmer's Market
A 5-minute bike ride downtown on Wednesdays and Saturdays will take you to the famous Farmer's Market. Not only is it full of locally grown, organic produce, freshly made smoothies, delicious tamales, fancy avocado toast, and other interesting finds, it is also a great place to observe the gem that is Davis culture. With live music in the middle of Central Park, it is easy to fall in love with the Davis community. While UC Davis's large campus may feel like its own community, it's refreshing to branch out and see locals, tourists, families, and friends out and about. Rain or shine the Farmer's Market never fails to lift spirits and bring people together.
3. Jan Shrem and Maria Manetti Shrem Museum of Art
The Manetti Shrem Museum is a beautiful part of the UC Davis campus which is sometimes overlooked. With gorgeous, diverse exhibits, the museum can be an enjoyable family outing, a romantic date, a fun place to explore with friends, or a place for creative thinking and inspiration. As one of the most picture-perfect places on campus, the Manetti Shrem Museum serves as an excellent place for aesthetic photos that you can bless everyone's timeline with. If you're lucky, your professor may even have class in the museum!
Yes, this is a thing. As a college student, no matter how much sleep you get (or don't get) you will always need a nap. Waking up for that 8am class you thought you can handle, all you are thinking about is the next time you get to sleep again. While some can escape to their dorms for some rest, not everyone has the luxury. To ensure that you make it through the day and can pull another all-nighter, check out the Nap Map for the best napping spots on campus.
5. Picnic Day
Picnic Day is probably the best time of the year. During Spring, UC Davis puts on a huge event starting with an amazing parade going around campus and downtown. There are tons of interesting exhibits ranging from Honey Tasting, an Insect Scavenger Hunt, and learning how to milk a cow to a Fashion Show by the Fashion and Design Society, Winery Tours, and the Biomedical House of Horrors. This spectacular event is open to the public and free to attend! It is the largest production that UC Davis puts on and it never fails to wow you. With special annual events like the Doxie Derby, where Dachshunds race to see who's the fastest and the Battle of the Bands, there is always fun finds at Picnic Day. There is a new theme every year, with different exhibits and fun finds. Picnic Day is a must!
As one of the most diverse universities, UC Davis has so many things to offer. While there is a multitude of things to do on and off campus, some of the best discoveries are one's that you make yourself. There are more hidden gems of UCD that are waiting to be found.
---
---
Related Articles