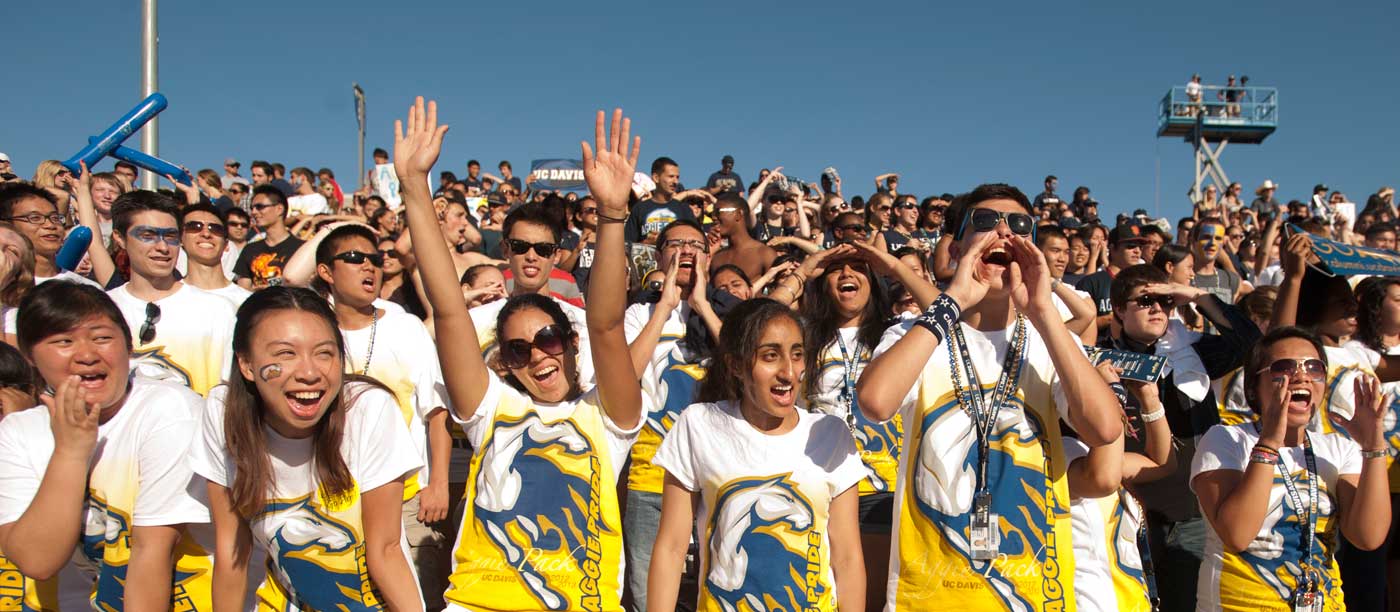 In my time at UC Davis, I have taken a number of unforgettable classes, classes I continue to think about (some even years later!) because they offer so much, in terms of education and personal experience. There have also been classes that I never stopped hearing about, because students enjoy them so much. These classes follow – but don't miss your pass time! Classes as incredible as these fill up quickly. Here are the top 19 Coolest Classes at UC Davis.
Take this with Dave O. if you can! I was standing in the hallway waiting for another class when I heard Dave (loudly and passionately) lecturing. When a student came out for water, I had to ask what the class was – it seemed so interesting! And indeed it was. I got to write my final paper on electronic dance music and the bonds this music fosters, so there's a lot of room to engage with your personal interests in this course, which makes it so great. It's applicable to our daily lives, and Dave is always playing music before and after class. These lectures are absolutely never boring and examine the human nature of relationships and identity. A must take!!
Professor Hibel is a well-known researcher and sociologist in education. This is an eye-opening course that is relevant and interesting to anyone who went or goes to school in the United States and wants to learn more about the experiences they have had. Moreover, if you are interested in teaching, this course presents a lot of interesting research about the ways in which learning and schools are affected and shaped by society.
ETX 10 is not only pretty easy, but it's also an interesting science course! Here you learn more about plants and their uses in medicine and in everyday life. If you were ever interested in holistic medicine, pharmacology, or just plants in general, this is a very enjoyable course. Professor Tjeerdema makes lectures easy to follow, often offers podcasts of his lectures, and has interesting weekly topics on hazardous substances with cool history facts – like how "nightshade," a deadly plant, was used for beauty rituals in medieval times. Also, midterms are usually online and open note.
This course offers insight into the effects language has on society, and how individuals come to define themselves and others through language use. Think of it as an introduction to sociolinguistics. A thought-provoking course, as we all use language in various ways, and this course sheds light on the different uses and outcomes language produces, in addition to simple communication. I got to write my final paper on the use of villains with foreign accents in American animation.
Explore current topics of nutrition (e.g. is paleo clinically proven to be a healthy diet? Are energy drinks really bad for us? Etc.) and topics of personal interest in nutrition. Great writing experience and presenting class that is also easy.

Learn about livestock and animals, while getting to work with them in lab! Practice goat and cow milking, and learn how to flip sheep – an effective practice to keep sheep calm for shearing, teeth checking, and hoof trimming.
A classic UCD course, learn about fermentation and brewery processes on a large-scale. Additionally, learn about the quality of beer and the ways in which a number of sciences combine in the production of beer. Explore the cultural and scientific significance of this international beverage and its various forms.
Learn how to drive diesel and gas tractors, as well as how to work on them. Get dirty and oily while you learn to troubleshoot! Being an ag school, this is the quintessential Davis experience. Learn about cropping practices and experience what makes the central valley one of the best agricultural hubs in California.
A great overview of all things related to reproductive systems, scientifically and culturally.
This course should be taken with Alan Klima if possible. If you let it, the course enlightens the understanding we have of ourselves in our daily lives, paying particular attention to the use of technology. Alan Klima also directs meditations on campus and via podcast, so he offers some great insight on how to live a more fulfilling and freeing life every once in a while, which makes this a fun class to attend. I had the best TA in my entire undergraduate career here, and my section enjoyed our discussion sections so much that we literally did not want to leave on the final day of class. Enough said.

Learn about viticulture, grape growing, wine production, and the geography of major wine production regions. Learn about the health effects of wine and wine evaluation. As you learn about various wine varietals, you increase the knowledge you can take with you to wine tastings! No wine tastings offered in class though.
Grow your own crops (like herbs!) while learning about the interconnectedness of agriculture and society. If taken in the spring or before a major holiday, you have the opportunity to harvest other students' crops if they leave for vacation. Assist in creating a productive relationship between society and the natural worldMUS 106 – Rock. Open to non-majors, this course explores the history and evolution of rock styles. Explore the cultural and historical significance of rock.
Listen to soundtracks of famous films! Learn how music narrates film and informs film structure.
Learn about South Asian religions, and let them ease your life! Learning about Buddhism was an incredibly enjoyable experience, and though we learned about it in an academic setting, I still take some of the teachings to heart, as they offset worry. Super helpful when college gets stressful!
Grow your own mushrooms! And learn about their growth by keeping a journal. Similarly, learn the culinary uses for various mushrooms.
Gain understanding of modern day foods and their properties. Examine ancient and modern food folklore through the lens of modern science, which informs these practices through health and well being.
Learn about the social construction of religion. Topic varies by quarter, but explore different religions and their similarities. Create your own religion for the final project!
Examine feminist traditions within cultural studies. Explore a wealth of increasingly pertinent information and educate yourself about intersectionality.
Being that these classes are so small, it's a great way to meet people at a big university like UC Davis while fulfilling language requirements if you have them. Professors are often graduate students, which makes classes more fun and leaves room to form friendships with other students as you learn or strengthen a language. You may even love the language and new friends so much that you decide to minor in it! For that, I recommend the Portuguese and Luso-Brazilian Studies series.
___________________________________________________________________________
You May Also Like
---
---
Related Articles