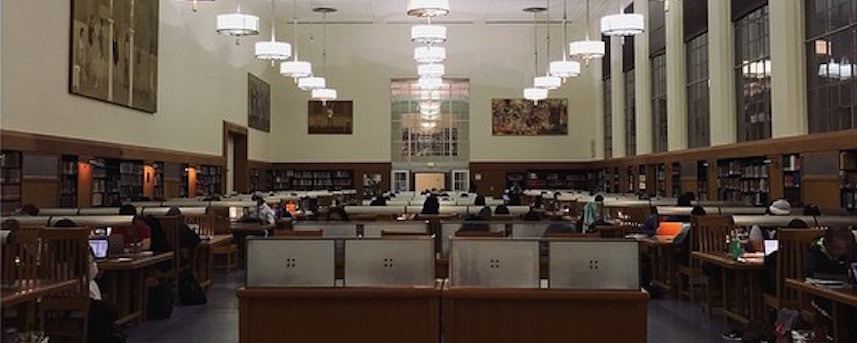 So you're looking to cram the last few chapters of your math textbook into your brain before the midterm you forgot was next week, or you're trying to frantically memorize chemical formulas right before your final. Need a place to study on (or off) campus? Check these areas out!
On campus:
SCC (Student Community Center):
Located across from Rock Hall and right next to the Silo, the SCC is a roomy and welcoming place to study, with multiple cultural centers opening their doors to any students and a number of open conference rooms available for students to work in. The South Coho is right next to the entrance, and since it takes Aggie Cash, it's a great place to stop by and purchase a snack for studying. Its hours can be found here.
Shields Library:
The main library on campus, this expansive building has four floors and a whole lot of study space. However, there's a reason why students meme finding outlets in Shields: it's incredibly, incredibly difficult to find open outlets in the library, so BYOEC (bring your own extension cords). The fourth floor is the least crowded, but the first floor is the most aesthetically appealing. There is also a study room open 24 hours, complete with fluorescent light & the stench of sad college kids who don't remember what showers are because school (cramming haha) is life. Its hours can be found here.
The Silo:
The Silo is a surprisingly spacious study area, with two levels of tables for students to both eat and study. Because it is also primarily a food court, it does get difficult to find seating around lunch or dinnertime, but if you arrive between those peak hours, sitting down and chugging out that paper that you've been meaning to write for the past two weeks shouldn't be a problem; there are a relatively ample amount of outlets, especially because most people eat – rather than study – here. Plus, they have microwaves upstairs, and easy access to food you can purchase with Aggie Cash (Peet's, Spokes, Gunrock Grill, Crepe Bistro). Its hours can be found here.
Engineering & Health Sciences libraries:
This duo of libraries is rarely discovered by freshmen, who usually end up studying in Shields or in their dorms. Consequently, both these libraries are more niche areas that have a more manageable number of people within their walls, making them an ideal place to stay if you don't like being around or being distracted by fellow studiers. That being said, there are a growing number of people using the Engineering library. Hours for both can be found here for Physical Sciences & Engineering and here for Health Sciences.
Off campus:
John Natsoulas Gallery:
This art gallery is immediately noticeable once you look across the Davis Commons (the complex with Mikuni & Gap) – it's the one with the funky cat/dog/animal made from a bunch of CDs and mixed materials that has light-up eyes. It offers free water, coffee, and iced tea daily, and there are multiple study areas scattered throughout the building – you can stay in the first floor lounge looking outside, or you could head up to the second floor, which is where the actual study lounge is located. If their roof is unlocked & the weather is nice, that's also a great place to do work. Bonuses: free wi-fi & cool art to check out when you need a break from staring at your computer, plus open mics every first & third Thursday of the month. Its hours can be found here (scroll down to the very bottom of the page).
Let Them Eat Cake:
Unlike most bakeries, this one is a literal house. Located on the north side of Central Park (if you're coming in the direction of Sharetea), it immediately feels comfortable, cozy, and cute. There are a good number of outlets & insanely delicious – although slightly pricey – cupcakes, plus it is rarely ever full, so the volume inside is always manageable & can be drowned out with some music & earbuds. 10/10 would recommend, except you might get addicted to their baked goods & high-quality coffee (they have Nutella lattes, folks. NUTELLA.) Its hours can be found here (scroll down to the bottom).
Kobe Mini Mart basement:
Forewarning: you have to purchase something from the Kobe Mini Mart to study here. However, once you do, the basement is a relatively spacious area with comparatively few people. There's not much room to get distracted amidst the benches & tables – just you, the computer, and the work you've been putting off for what feels like forever. It is open from 11 am to 10 pm daily.
This list isn't exhaustive by all means, and these are just suggestions – by all means, feel free to ignore them. Not all study spaces work for everyone, but hopefully these help you find one that works for you!
---
---
Related Articles