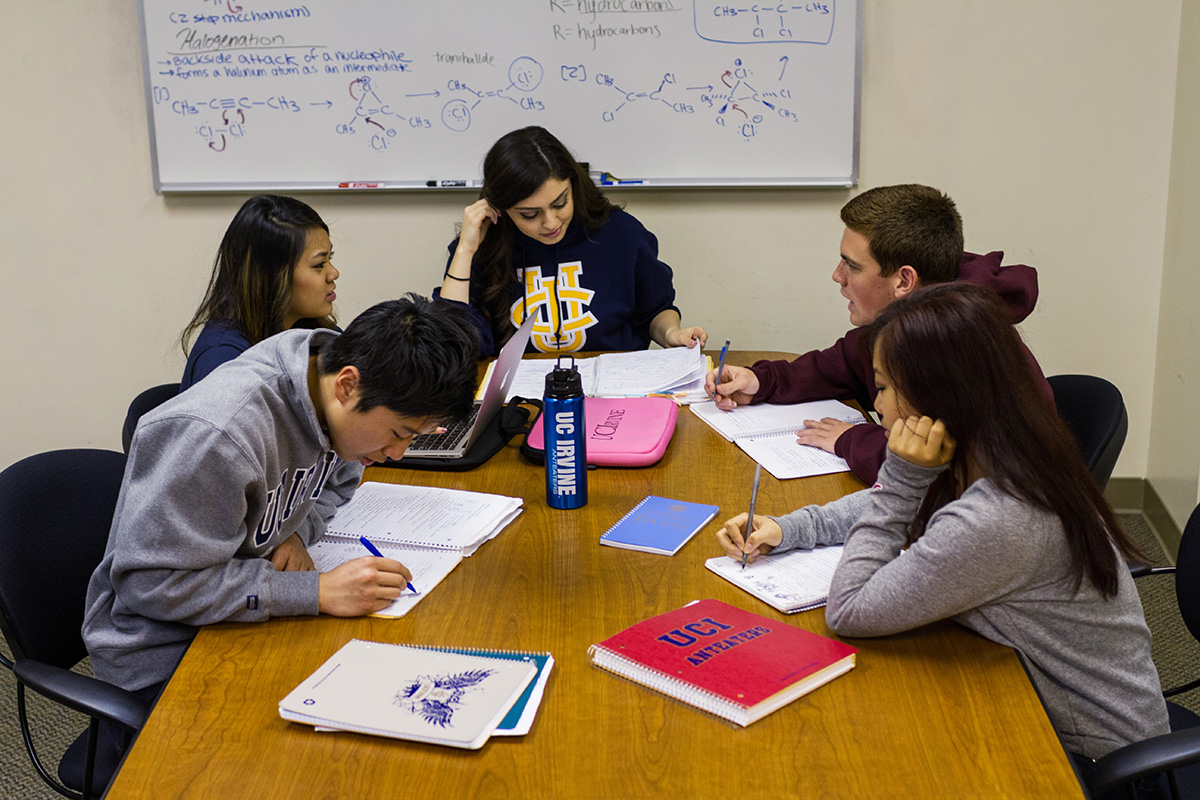 Since the University of California, Irvine is a huge campus, finding a good place to study may not be so clear-cut. After all, your grades in college do matter, so studying is a major priority as a student. Luckily, there are many places at UCI that will help you focus and concentrate so that you can succeed. Here are 5 places you should study at in UCI:
1. Langston Library
Langston Library is a quiet community-driven setting with plenty of tables and seats for studying situated across five floors. If you want to study alone and minimize distractions, there are special seats with dividers available on the front and sides of the desk to help you focus. There are also several study rooms that you can book online on the second through fifth floors if you need to study in a group setting without disturbing others on the floor. It is a great place to go to especially if you are writing a research paper as there are librarians and printing services available to help you get the upper edge on your assignment.
2. Ayala Science Library
Similarly Ayala Science Library is great for a quiet study session. There are many windows across its five floors that showcase the wonderful UCI campus if you ever need a breather from studying. Many writing tutoring services occur here if you ever need help writing a research paper. Special study rooms are available as well to help focus on your assignments with efficiency.
3. Student Center
Several visits to the Student Center will show you that it is actually a great place to study at. There are several high seats and mini tables as well as comfy seats that span entire sections of walls if you want to sit in a group. The student center is very spacious with high rising roofs that subdue a feeling of comfort. There are a couple seats on the higher levels that people rarely walk through if you want a peaceful spot to study.
4. Information and Computer Science Lounge
The Information and Computer Science Lounge is an outdoor study area that is right in between the Information and Computer Science Building and the Engineering Tower. The four sections of seating here are by far great seats in terms of comfort because they are SOFAS. Each section has a central table with the sofa around it so it is great for group study sessions. Each section has umbrellas as well to cool you down from the sunny outdoors. Plus there are plenty of outlets to charge your laptop which is a plus because outlets aren't too common in outdoor areas. If the sofas fill up there are several other tables powered by solar panels that provide shade and electricity for your electronics in the surrounding area.
5. Gateway Study Center
If you are looking for computers to advance your study sessions, the Gateway Study Center is the right place to go. This place is huge and nearly every desk has a computer that you can access. It is pretty quiet for such its large size and is also open past midnight till 3am on weekdays. This is great for late night study sessions and is right across from the Langston Library.
These campus study spots will give you an opportunity to focus so that you can study in the right environment for you. Whether you prefer studying inside, outside, in groups, or alone there is always a spot to study at. With that, success at UCI is in your hands!
---
---
Related Articles