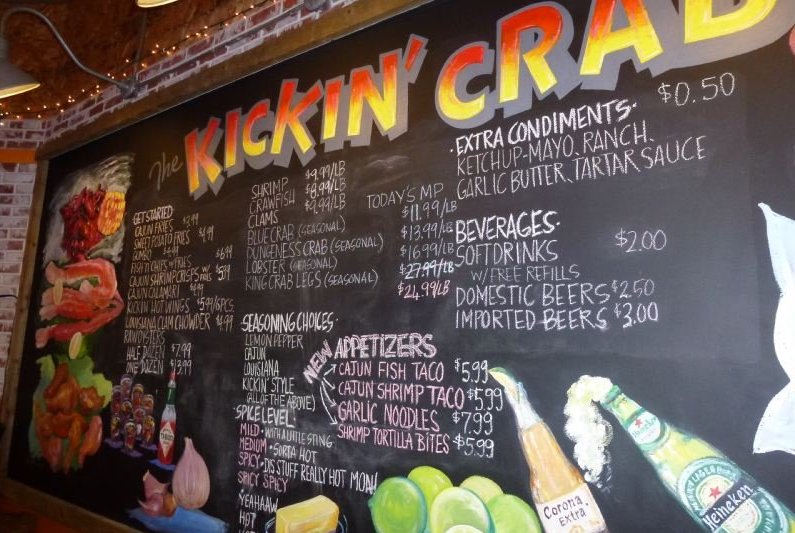 It's extremely difficult to avoid the Freshman 15 when there is a plethora of tasty restaurants and cafes nearby. During my time here at UCI thus far, I realized that although there may not be much to do, the food around here never disappoints! Based on my own experiences, I have created a list of 20 of the best places to eat near UCI:
KFC what? You haven't had real fried chicken tenders until you've been to Raising Canes! From their affordable meal combos to their thirst-quenching sweet tea, this fast food restaurant in Irvine is by far my favorite. Basically, if you're ever hungry and at a loss as to what will satisfy your cravings, Raising Canes will be the place for you.
Back home, I always went to a similar restaurant called The Boiling Crab, and both these places serve a variety of seafood from shrimp with a sauce of your choice, to fried catfish, the options are endless. But honestly, I do prefer The Kickin' Crab because one pound of shrimp seems like a lot more than it sounds, and the service here is amazing. Be prepared to wait a little, as it tends to be crowded (that's just how good it is!).
Site link: http://www.thekickincrab.com/
Continuing with the "seafood" theme, Slapfish is located right next to UC Irvine itself at the University Town Center. If you enjoy fish as much as I do, I am certain that you'll like this place! My favorite menu items are their ultimate fish tacos and lobster grilled cheese sandwich (is your mouth watering yet?). Also, if you check in on Yelp, you get a free clam chowder toast! If this doesn't convince you to go, I don't know what will.
Just typing his makes me want to walk over to Blaze right now and get a pizza. It's right next to Slapfish, so if seafood isn't for you, you can't go wrong with customized pizza! At Blaze, you are able to choose whatever sauce and toppings you want, or you can order a pre-made pizza. It's made pretty quickly and in no time, you'll be enjoying your own little pizza- this has to be my favorite pizza place.
5. Cha for Tea
If you go to UCI, there's a 90% chance you are familiar with boba milk tea. This is probably the most popular boba place close to campus because the drinks are on point and they're open until midnight, which is ideal for us college students. It does get crowded on weekends, but it's worth the wait for that vanilla rose milk tea. Cha for Tea employees are always on campus handing out coupons as well, so look out for that!
Prior to coming to UCI, I never really ate Chipotle since Mexican food never appealed to me. However, after going there one night with a couple friends, I have to say my life has changed for the better. It's a really convenient place to grad a quick bite, and their chicken burritos are to die for. Although some say that Chipotle isn't authentic Mexican food, it's still good. Trust me.
I like to think of this coffee shop as a higher end version of starbucks, and you have to actually see it to believe it. The ambiance is relaxing and it just puts you in a happy mood, so my friends and I love coming here to study whenever we see seats available. I'm not a big coffee person, but my favorite drink ever is their matcha green tea latte (green tea is the best). They also have pastries and sandwiches- 10/10 would definitely recommend this café!
Sometimes, you just feel like ditching the fries and eating healthy, right? That's why Nekter exists- to make you feel better about what you eat, and enjoying it! They create magical, fruity smoothies with fresh, natural fruit. I also love their banana acai bowls, which I just might get today. Also, if you ever wanted to try a juice cleanse, Nekter offers those as well.
I have so many memories associated with this restaurant… it was actually the first place I ate at when I moved in freshman year. Since it's so close to where my friends and I live on campus, getting a spicy chicken sandwich has never been easier. On top of that, Chick-Fil-A's special sauce is literally the best thing to have ever been created. I'm so thankful that this place is so accessible to me, and if you go to UCI, take advantage of it!
This is an Asian based dessert place, so it might lean toward the unconventional side of modern desserts. Nonetheless, if you like boba, this is essentially the same thing, but with shaved ice, taro balls, sesame balls, and grass jelly galore! If this sounds peculiar to you, I hope you'll step out of your comfort zone and see all that Meet Fresh has to offer. The line here is always long, so that really says something!
My friend took me here for the first time on my birthday, and I'd just like to say that it was by far the best gift I have ever received. Ok, I might be exaggerating, but this Korean tofu house reminds me so much of home and is perfect for those cold, rainy days. I suggest getting the kimchi beef tofu (it's not that spicy!) as it's my favorite. In fact, you could even go to Meet Fresh right after, since they're in the same plaza.
Nothing screams "California!" more than our very own famous burger joint. It's located right next to campus and is open until 1 am, which is perfect for late night munchies. You really can't go wrong with this fast food facility because the service is on point and the double double burger is heavenly. Here's a tip: order animal style fries! It's not on the menu, but I guarantee that you'll like it.
The name of this restaurant gives away its purpose- it's a vegetarian/vegan restaurant only a few minutes away from UCI! The food is just as delicious as any other restaurant, but it's definitely a healthier alternative. Their vegan mac-n-cheese and the kale caesar salad will blow your mind, and I'm not even a salad person. With all the fast food restaurants nearby, it's nice to have Veggie grill around.
With the perfect mix of salad and protein, Tender Greens is a casual eatery next to UCI that serves organic and healthy food, while still packed with flavor. While I have only been here once due to it being on the pricy side, it was definitely a good experience- from the food to the quick service. If you feel like treating yourself, this is the place to go.
I've realized that there aren't many Japanese-style restaurants nearby; but luckily, DelSushi comes to the rescue to fulfill all your sushi and sashimi needs. I personally love the tiger roll, but you can't go wrong with the original California roll! It's also not only a sushi joint, but also a snack shop where you can pick up snacks and instant noodles. DelSushi also opens till 1 a.m. so it's the ideal place for a quick late night snack.
I never knew sandwiches could be so fancy, until I came upon Mendocino Farms. The variety of sandwiches they offer is so diverse that it's overwhelming just looking at the menu. Among the choices are Peruvian, Italian, and Vietnamese style sandwiches and baguettes, not to mention the artisan breads. The interior décor of this restaurant is sleek and minimalistic, with an airy feel to it. Overall a spectacular place to dine!
If you love matcha green tea as much as I do, this little ice cream spot will be all you need to satisfy your cravings. Their specialties include green tea and black sesame soft serve, in which combining these flavors is always a good idea. It is a bit further from campus located in Costa Mesa, but if you do end up going, you won't be disappointed.
The name of this dessert shop is pretty interesting, but what they serve is even more so. At The Dirty Cookie, they not only bake a ton of fresh cookies, but are also known for their cookie shot cups, which lightly frosted cookies in the shape of cups. These cookies are then filled with milk, so when you're done taking (milk) shots, just eat the cup! It's a really cute and innovative idea- and it produces significantly less waste.
Throughout my childhood, I loved going to bakeries and putting so much bread on my tray that it would cover the entire thing. I actually still do this now, but that's just how much I like eating bread. Vie de France is a French bakery in South Coast Plaza and it has all the baked goods you could think of, along with legit French dishes. Come here for some fine dining!
Yogurtland is just one of those places where you never really think of it, unless you walk by it. Nonetheless, since it's in the midst of the other restaurants at University Town Center, it's the perfect place to grab some inexpensive fro-yo after dinner and go crazy with the toppings. Personally, I get green tea (of course) with mochi bites every time, but many people love mixing the flavors!
---
---