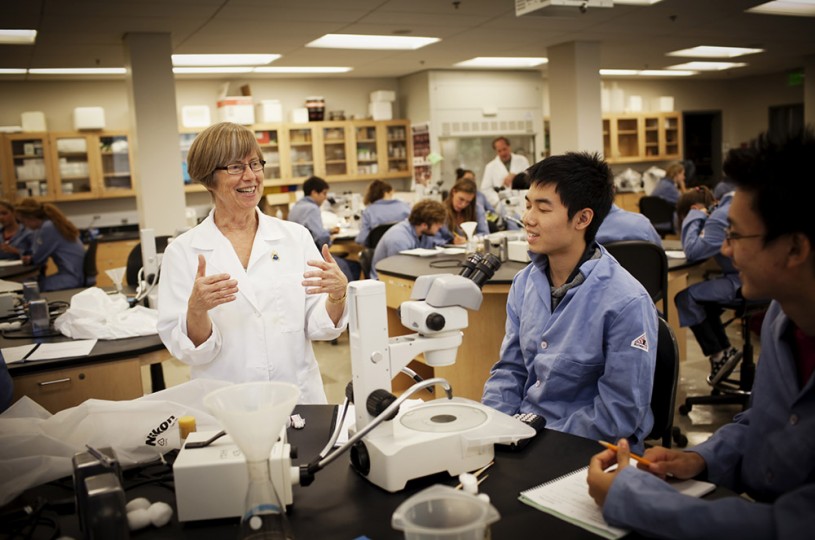 It can be very intimidating trying to get your science professors to notice you at UC Irvine. The professors are extremely involved in research and are experts on the subject that they are teaching. In a lecture full of 200 or more students, it can be hard to get your professors to notice you. However, putting in a little extra effort can definitely help.
1. Ask questions during lecture
Always be sure to ask at least one question during lecture. This will make the professor notice that you are not only a student in the class, but also a student that is curious and eager to learn. Asking questions will also force you to pay attention during lecture. Try asking insightful questions that can also benefit other students as well.
2. Go to UCI's Biosci Meetup
Be sure to take advantage of UCI's Biosci meet up, which allows for you to meet Biological Science faculty. There is a very high chance that you will be able to meet your Biology professor. It is also a good idea to talk to other professors that are there because there are chances that you will take their course later on at UCI. This is a good opportunity to introduce yourself and make yourself more noticeable.
3. Ask your peer advisor to introduce you
At UCI, Biology major students are able to get a peer advisor. Usually, peer advisors are able to give great guidance to other, younger biology majors because they have already taken many lower division classes already. They most likely know the Biology and Chemistry professors at UCI, and so it would be a great idea to ask your peer advisor to introduce you to your professor. Having a good relationship with your professor will also benefit you when it is your time to be a peer advisor for someone else!
4. Ask about his or her research at UCI
UC Irvine is very well known for its faculty research. Many faculty do not assume that students already know about faculty research. If you ask a professor about the research that he or she does, then the professor will definitely notice you. This is because it shows that you are taking interest in the subject material that he or she is involved in. Be sure to do enough research and gain a good understanding about the research that your professor does. This could lead to a possibility of being able to join your professor's research team in the future!
Getting a science professor to notice you in a UCI classroom can be difficult. However, be sure to go to UCI's Biosci meet up whenever you can, and get advice from your peer advisors! It is also a good idea to go to office hours, sit in the front of the classroom, and ask questions in order to stand out compared to other students in the classroom. Having a good relationship with your professors is important because then you can ask them for letters of recommendation. Good luck!
---
---
Related Articles