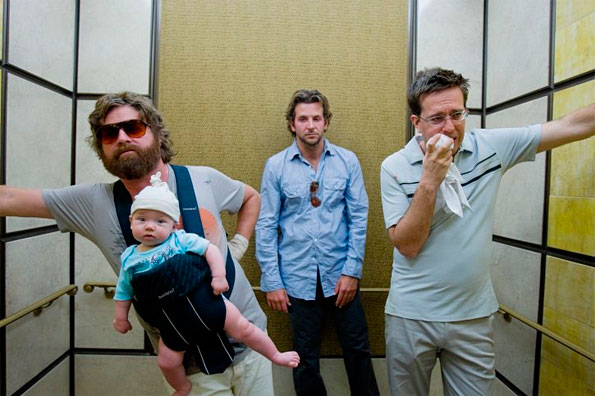 Some movies that most of us have seen or heard about have been shot at UC Irvine! Because UCI has various types of scenery, it is the perfect campus to shoot a movie. Some movies that have been shot there were shot a couple years ago, while others are as recent as 2013. The movies that have been shot at UC Irvine consist of a range of genres.
1. The Hangover 3 (2013)
The Hangover has a scene that was filmed right next to campus on the freeway. During this scene, Alan is driving in his convertible with a large giraffe in it. It turns out that the "Campus Dr." overpass is shorter than the giraffe's head, so an accident happens. Next time you are on your way to campus and are driving to campus, be sure to keep a lookout for the "Campus Dr." overpass!
2. Creator (1985)
This is a film about a scientist who tries to recreate his wife who died 25 years ago! However, the movie becomes complicated when the scientist starts to fall in love with someone else just as his experiment of recreating his wife succeeds. Many of the scenes of this movie were filmed in the basement of BIOSCI, which is rumored to this day to hold real life alligators . Portions of the film were also filmed at the UCI Medical School and in Aldrich Park.
3. Poltergeist (1982)
Poltergeist is a movie about a family whose home becomes a gateway for ghosts. These ghosts kidnap the family's daughter and take her to the twilight world. Some of the scenes in this movie were filmed in Langson Library, which is one of UCI's main libraries. In the scenes filmed here, one of the members of the family goes to visit a person who exorcises spirits from peoples homes.
4. Extreme Days (2001)
Extreme Days is about a group of friends that take an extreme journey. These friends perform all types of active sports, such as surfing, BMX, skateboarding, and snowboarding. Some of the lunch scenes that are shown in the movie are filmed at UCI. Specifically, parts of the movie were filmed by the Ariba Baja Grill and the Urban Guerrilla at the University Town Center. The University Town Center is right across the street from campus.
UCI has been the home to many different movies. Although this fact is not widely known, it is something that sets apart UCI from other UC campuses. This may be very exciting news to theatre or arts majors. If UCI students end up shooting a movie in the future, hopefully they think back to the best place to shoot a movie- UCI!
---
---
Related Articles