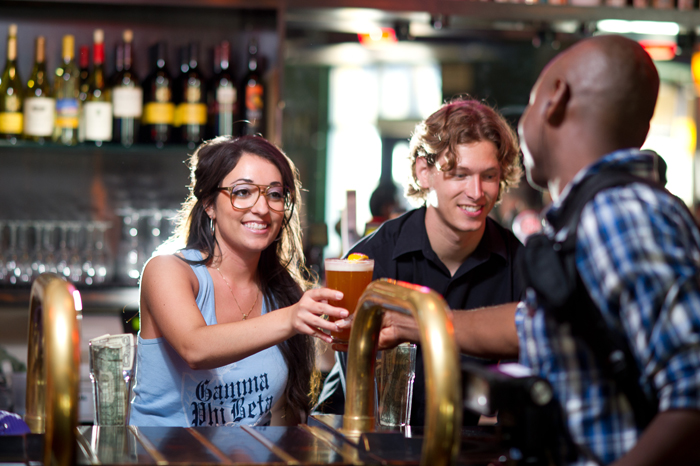 Most people at other schools seemed shocked and jealous when they hear that UC Irvine has a pub on campus. The pub is a regularly visited place because students can go there any time of the day, even if they just want a lively place to do homework at. It has a variety of food and drinks available, including wine! The Pub is an appreciable location of UC Irvine.
1. The food is AMAZING!
The food served at the UC Irvine Pub is not even comparable to the food served on campus. The menu at the pub consists of sandwiches, burritos, tacos, soups, and salads. Although many people may assume that the food doesn't taste good since it is pub food, the food is actually delicious! People looking for healthy food should be cautious, since the food isn't super healthy.
2. The prices are unbeatable
The food at the pub is reasonably priced, which is every college student's dream. The prices for the food ranges from five dollars to ten dollars, which isn't bad for on campus food. The combination of being delicious and having great prices definitely beats walking over to the University Town Center for expensive food. The pub has discounts during their happy hour as well.
3. It is at a convenient location
The pub is conveniently located at the student center, which is also by the library, Jamba Juice, Starbucks, and the Hill. The pub is also close to the Humanities building and Aldrich Park, which allows for you to take a shortcut through the park to get to class. Since it is so conveniently located, it is one of the best spots to go to on campus during a break between classes. The pub is pretty fun, so make sure you are keeping track of time so you are not late to your next class!
4. Discounted beer on your birthday
The pub offers discounted beer for people on their birthdays. Be sure that you have a valid I.D. with you that states your birthday, though. The pub is a really fun place where you can have all your friends meet you for class. Chances are, most people that come to visit you will buy you a beer on them! Definitely take the opportunity to go to the pub on your birthday.
5. Trivia Night
There is trivia night during certain nights at the pub. These nights are really fun because you can order food and drinks and form trivia groups with your friends. Although the prize varies, sometimes winners are given free beer or food. Trivia nights are popular among regular pub customers.
There are not many other schools that have pubs on campus. The pub is a special place that almost every UC Irvine student has been. It is a great place to meet up with friends or to get a quick bite to eat. Be sure to visit the pub before you graduate. You won't regret it!
---
---
Related Articles